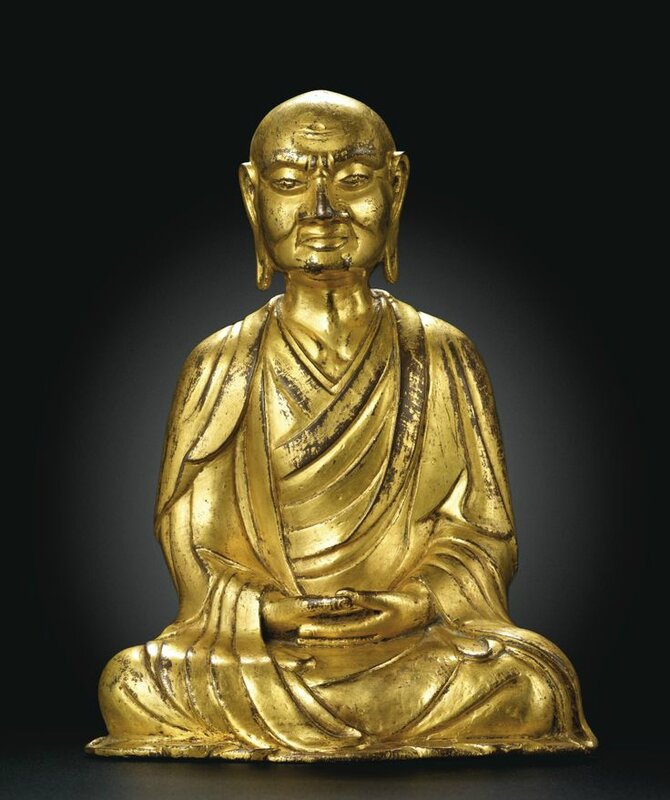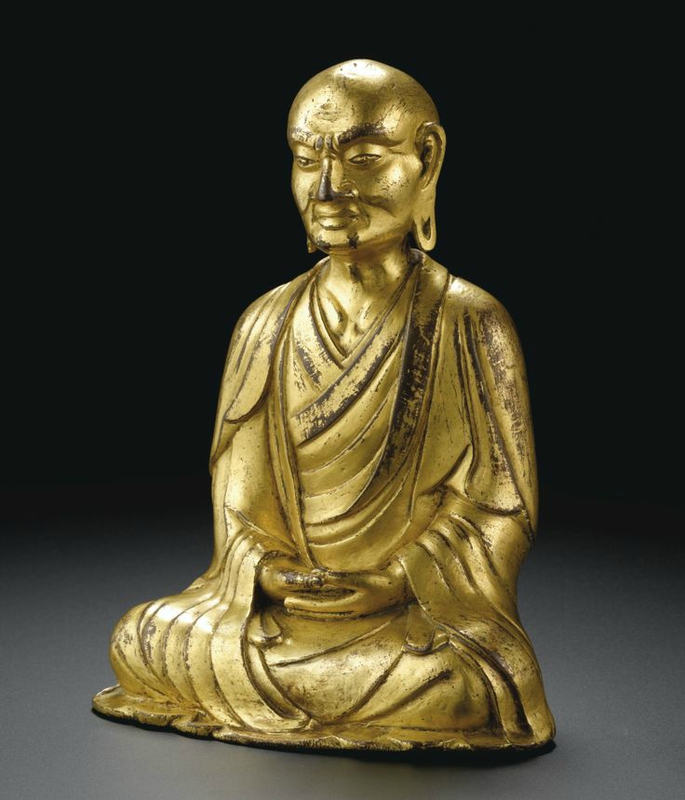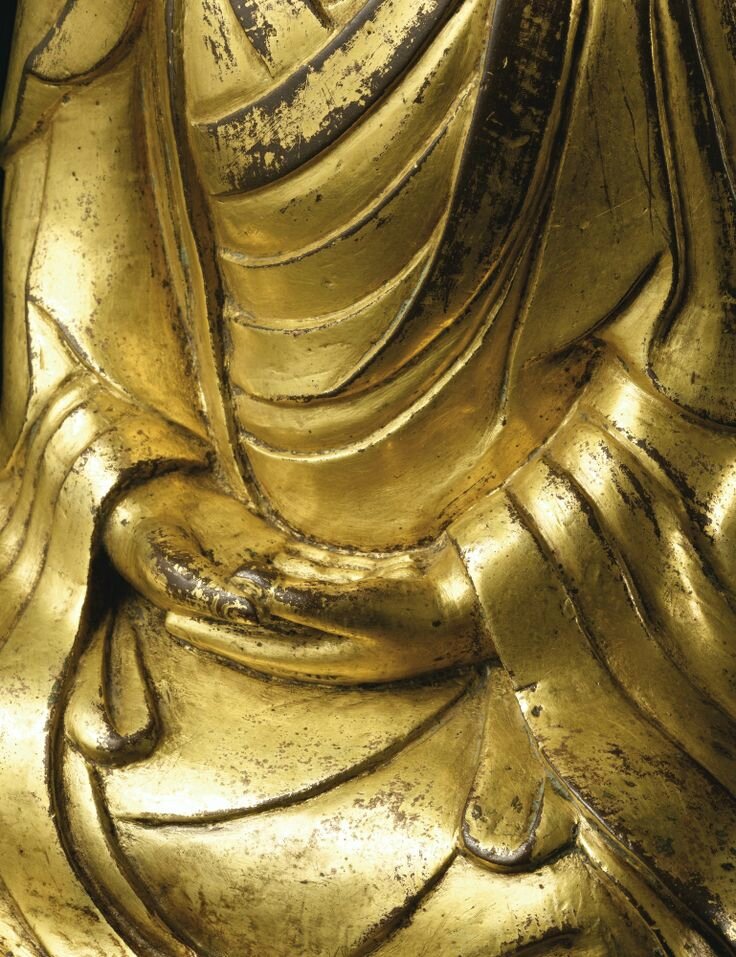 Lot 82. A gilt-bronze figure of luohan Kasyapa, Liao Dynasty, 11th-12th century; 24 cm., 9 1/2 in. Estimate 5,000,000 — 7,000,000 HKD. Unsold. Photo Sotheby's.
the richly gilded figure well-cast with a bald head and distinctive facial features, modelled with almond-shaped eyes above high cheekbones and a large prominent nose above thick pursed lips, the forehead with an urna, all framed by a pair of long pendulous earlobes, seated in vajraparyankasana with his hands held together in his lap in dhyanamudra, dressed in a voluminous robe draping elegantly over his shoulders and falling in loose folds over his crossed legs, cast with a square-shaped aperture at the reverse of the head.
Note: This intricately articulated and brilliantly gilded sculpture is the earliest Chinese representation of a luohan in bronze. Other Liao dynasty gilt-bronze figures of this large size are recorded in private and museum collections, primarily of bodhisattvas, but no other luohan appears to be published.
For a dried-lacquer figure of a luohan, dated 1099, preserved in the Honolulu Academy of Arts, see Marilyn Leidig Gridley, Chinese Buddhist Sculpture Under The Liao: Free Standing Works In Situ and Selected Examples From Public Collections, The International Academy of Indian Culture and Aditya Prakashan, New Delhi, 1993, p.64, fig. 97. The close similarity of the depiction of the current gilt-bronze luohan and the Honolulu dried-lacquer luohan, with their identical seated positions, mudras, facial expression, and even the manner in which the ends of the robe fold out, strongly suggests they were made at the same time. For a stone sculpture of a luohan in an identical seated position, with closely related treatment of the facial features and drapery, see Osvald Siren, Chinese Sculpture from the Fifth to the Fourteenth Century, Stockholm, 1998, pl. 602. The close similarity of the three figures, though created from gilt-bronze, dried lacquer and stone, suggests that they were all produced at the same time, based on a popular form at the time.
The almond-shaped eyes of the present lot resemble the eyes of other gilt-bronze figures dated to the Liao period such as those illustrated in Denise Patry Leidy and Donna Strahan, Wisdom Embodied: Chinese Buddhist and Daoist Sculpture in the Metropolitan Museum of Art, New Haven, 2010, cat. nos. 25 and 2. For a Liao gilt-bronze sold at auction, see a smaller gilt-bronze figure of Guanyin cast with similar treatment of the aristocratic facial features, robes and drapery, sold in our New York rooms, 30th March 2006, lot 276. For a large sancai-glazed figure of a luohan in a similar pose dated to the Liao dynasty is in the collection of the British Museum and illustrated in Hai-Wai Yi-Chen: Chinese Art in Overseas Collections, Buddhist Sculpture I, Taipei, 1998, pls. 151 and 152.
A luohan is a perfected being, a disciple of Buddha who has attained enlightenment, but chooses to remain engaged in the world, postponing nirvana, in order to aid all sentient beings. The distinctive facial features of the present lot with its high cheekbones, prominent nose and wrinkled forehead indicate that this luohan is elderly, and appears to represent Kasyapa, who was one of Sakyamuni Buddha's ten principal disciples. Kasyapa came from the kingdom of Magadha and by the time he met Buddha, was already well into his eighties. He was a renowned ascetic and had a large following of his own.
In the Chan Buddhist tradition, Kasyapa is considered the first Indian patriarch and Ananda, the second. They are often portrayed together on either side of Buddha. This arrangement is commonly found in caves in China dating from the Northern Wei dynasty (386-535), with Ananda to Buddha's right and Kasyapa to the left, as seen in the Central Binyang Cave at Longmen, illustrated in Angela Falco Howard, Li Song, Wu Hung and Yang Hong, Chinese Sculpture, New Haven, 2006, p. 238, fig. 3.39. This standard iconographic arrangement continued through the Sui, Tang, Liao and Song periods, all the way to the Ming dynasty.
Sotheby's. Gods and Beasts – Gilt Bronzes from the Speelman Collection, Hong Kong | 08 Apr 2014 - www.sothebys.com