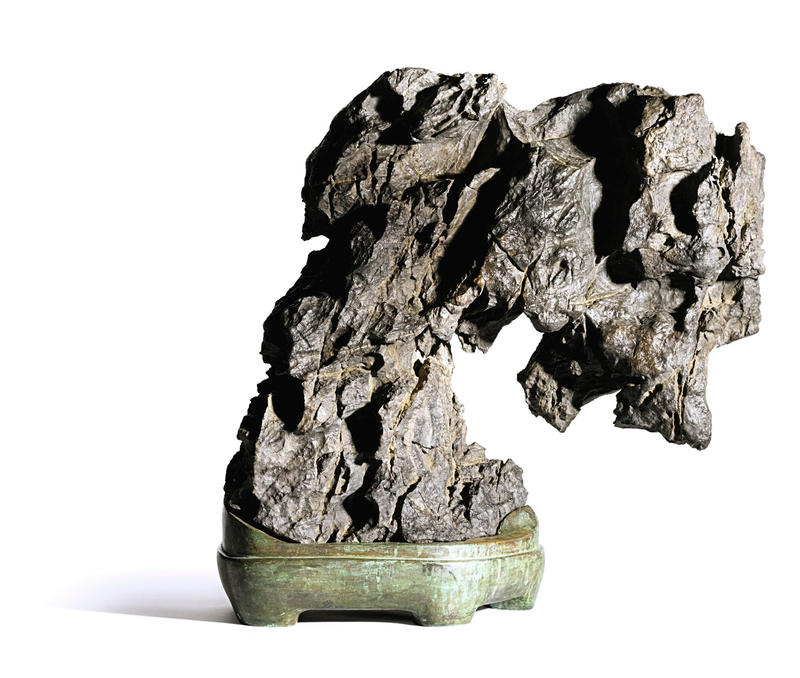 Llot 3632. A large overhanging 'Ying' scholar's rock, Qing dynasty; height 71 cm., 28 in. Estimate 1,200,000 — 1,500,000 HKD. Lot sold 1,840,000 HKD. Photo Sotheby's
vertically oriented curving at the top and overhanging to the right side, the dark grey stone with a jagged surface formed by deep crevasses and sharp edges, the back side almost completely flat, supported in a bronze planter fitted with a metal rod.
Provenance: The Richard Rosenblum Collection.
Note: This present lot, along with lots 3627 and 3666, comes from the Richard Rosenblum Collection, arguably one of the largest and finest collections of Chinese scholars' rocks in the world. More than thirty pieces from the Rosemblum Collection were displayed at The World of Scholars' Rocks: Garden Studios and Paintings, Metropolitan Museum of Art, New York in 2000. Rosenblum, a sculptor and cyber-montage print artist, also drew on contemporary literature and shed light on the problematic axiom that the rocks most sought after in ancient China were those that were untouched.
The appreciation of rocks dates back to the Song dynasty. Closely linked with, if not predominantly influential on, this movement is the contemporary social and intellectual landscape. Far merely acting as decorative objects, the rocks acted as objects of philosophical contemplation, and to an extent, a tangible bridge that enabled scholars to grasp the metaphysical concepts of Taoism, Zen Buddhism and Confucianism that were prevalent in China at the time.
For a further discussion of the Rosenblum Collection, see Robert D. Mowry, Worlds within Worlds: The Richard Rosenblum Collection of Chinese Scholars' Rocks, Harvard University Art Museum, Cambridge, 1997.
Sotheby's. Contemporary Literati — A Gathering, Hong Kong, 07 april 2014