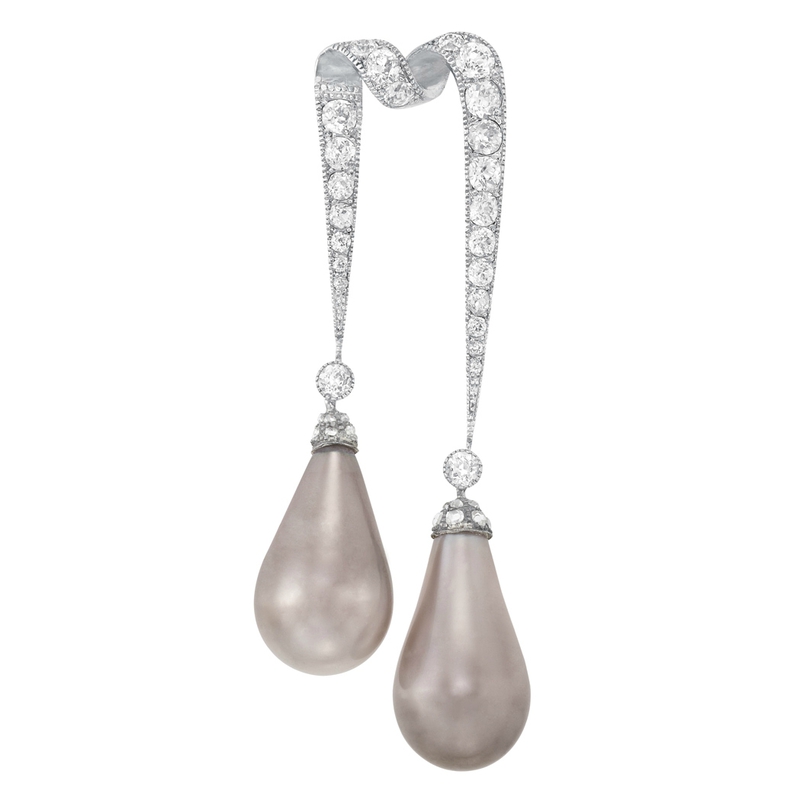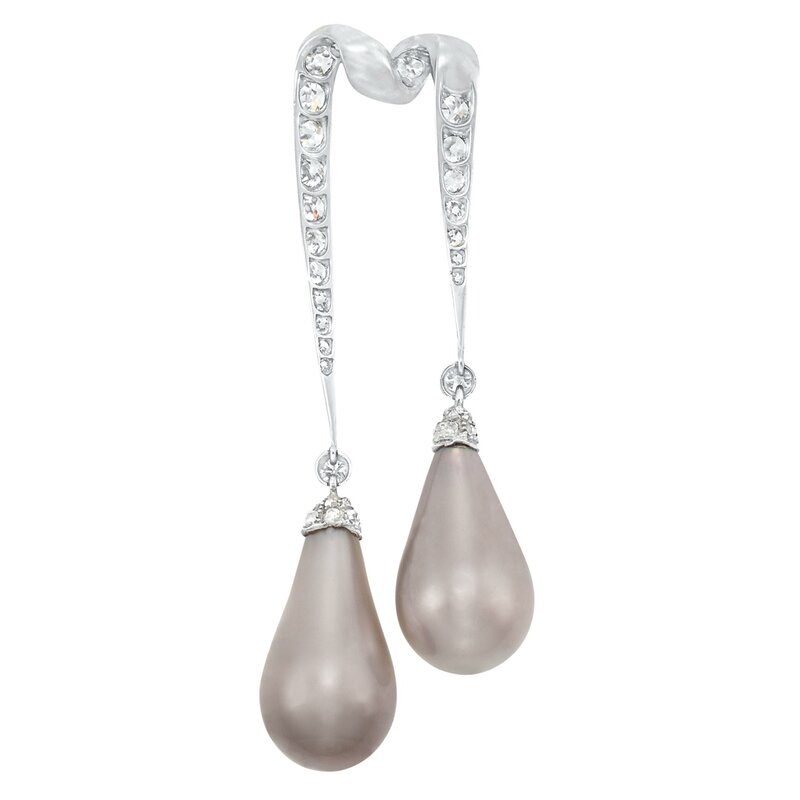 Rare and Exceptional Platinum, Silver, Diamond and Empress Eugenie's (?) Natural Pearl Pendant. Photo Doyle New York.
Topped by a looped ribbon set with 23 old-mine cut diamonds approximately 2.00 cts., suspending 2 drop-shaped slightly brownish gray pearls approximately 12.90 to 12.95 x 23.85 mm. and 12.90 to 13.05 x 22.45 mm., with silver and rose-cut diamond-set caps, with later pendant mounting circa 1920. With fitted box. Estimate $100,000-200,000
With SSEF report no. 72885 stating that the pearls are saltwater natural, with no indications of artificial colour modification.
With SSEF appendix letter stating that the "... matching pair of natural pearls of this size and quality is very rare and exceptional, and thus this pair of pearls can be considered a very exceptional treasure of nature."
The lot is accompanied by a note stating in ink: History of Empress Eugenie's Black Pearls & Necklace Brought to this country by George Crocker. Kept by his wife & his daughter Mrs. Philip Kearny _ Emma Rutherford. These in possession of Henry R. Benjamin for his eldest daughter. With an additional notation in pencil: Given to Dorothy R. Benjamin to wear on Xmas 1925 and hold until Anne R. B. is of age. HRB. A notation on the reverse states in ink: Sometime must be put on top of box neck (necklace?) pearls in Guaranty Safe Deposit box 789. So careful of keys. And in a different hand, below the fold: Roger
George Crocker (1856-1909) was the son of Charles Crocker, who founded the Central Pacific Railroad in California and left a fortune estimated between $300-400 million at his death in 1888. In 1894, George married California mining heiress Emma (Hanchette) Rutherford, a widow with three grown children. The new couple settled in New York and built an imposing Beaux-Arts townhouse on the corner of Fifth Avenue and 64th Street. They also owned Shields Villa, a "cottage" at Ochre Point in Newport, RI, and they built a lavish country estate in Darlington, near Ramapo, NJ. In 1903, their youngest daughter, Emma Wallace Rutherford, married Philip Kearny, the son of General John Watts Kearny of Washington, DC.
Henry Huttleston Rogers (1840-1909) of Fairhaven, MA, was an American industrialist who made a fortune as a partner in Standard Oil and a founder of the Virginia Railroad. He and his wife, Abbie Palmer Gifford, both descended from families who had arrived on the Mayflower. He was also a close friend and confidant of author and humorist Mark Twain.
Henry Huttleston Rogers' grandson, Henry Rogers Benjamin, married Dorothy Rennard, who wore the pearls on Christmas, 1925. Their daughter, Anne Rogers Benjamin, wore the pearls at her debut in 1941 at a ball hosted in her honor by her aunt, Beatrice Benjamin Cartwright, in the ballroom of New York's St. Regis Hotel.
In 1945, Anne Rogers Benjamin married Robert Raymond Barry, and the couple settled in Bronxville, NY. In the 1959, he was elected to the United States House of Representatives, where he served three terms.
The Sale of the French Crown Jewels
The note accompanying the lot mentions Empress Eugenie. In 1887, following the fall of Napoleon III and his wife, Empress Eugenie, an historic auction of the French Crown Jewels took place in the Louvre, lasting twelve days. The New York firm of Tiffany & Co. was the largest purchaser at the sale, successfully buying almost a third of the crown Jewels.
Provenance: George Crocker, by descent to his daughter
Emma Wallace Rutherford (Mrs. Philip Kearny)
Acquired circa 1925 by
Henry Rogers Benjamin, by descent to his daughter
Anne Rogers Benjamin (Mrs. Robert R. Barry), by descent to her daughter
Mrs. Lewis A. Shea
C Property of Mrs. Lewis A. Shea
Photo Doyle New York. Important Jewelry - Monday, April 28, 2014 at 10am - www.doylenewyork.com