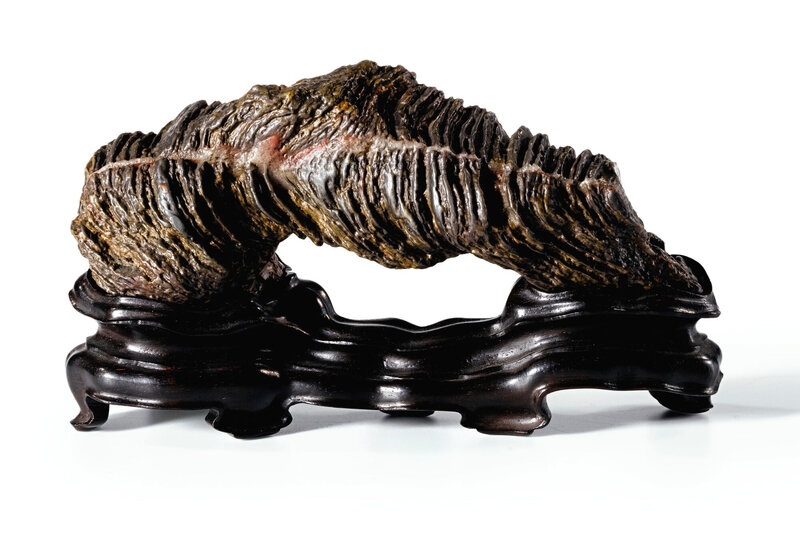 Lot 3636. A 'Qilian' limestone 'Bridge' scholar's rock, Song to Qing dynasty; rock: 12.2 cm., 4 3/4 in.; painting: 138 by 40 cm., 52 3/4 by 15 1/4 in. Estimate 1,000,000 — 1,500,000 HKD. Lot sold 3,640,000 HKD. Photo: Sotheby's
naturally arched with two points resting on the stand, the dark gray stone with concentrically swirling wrinkles bisected by a white and pink translucent vein running longitudinally and buff undertones, zitan stand, together with a hanging scroll depicting five views of this rock in ink on paper by The Master of the Water, Pine and Stone Retreat (2014).
Exhibited: Gerald Tsang and Hugh Moss, Arts from the Scholar's Studio, Fung Ping Shan Museum, University of Hong Kong, 1986, cat. no. 9.
Note: Rock sculptures for the scholar's studio have been admired and collected as early as the Song dynasty, as evident from the famous manual on ornamental rocks, the Suyuan Shipu (Su Yuan's Compendium of Ornamental Rocks) compiled in 1613 by the Ming dynasty scholar-collector Lin Youlin. The Suyuan Shipu contains woodblock illustrations of sixty-five scholar's rocks, supposedly from the collection of the Huizong emperor (r. 1100-1126) of the Song dynasty. Upon its publication, it became the classic reference work for the appreciation of natural stones that gave much delight to their owners. The present rock is delightful for its delicate small size and naturalistic quirky shape, in the form of what appears to be a rock bridge. It would have been placed on a scholar's desk to give inspiration and pleasure while its owner contemplated on aspects of life and nature. It is aesthetically pleasing and also small enough to be help in one's palm. In fact, the smoothness of its surface suggests that it was held and caressed over an extensive period. According to Gerard Tsang and Hugh Moss in Arts from the Scholar's Studio, Fung Ping Shan Museum, University of Hong Kong, Hong Kong, 1986, p. 46, the earliest reference to guishi, which translates as 'strange stones', appears in the early classical text of Yu Gong [Tribute of Yu], a chapter in the Book of Xia (Xia shu) and also in the Shanhai jing (The Classic of Mountains and Seas). Edward Schafer in Tu Wan's Stone Catalogue of Cloudy Forest, Berkeley and Los Angeles, 1961, p. 13, notes that the origin of the love of stones for their own sake and for their microscopic mimicry of mountain landscapes may be found in the ancient interest in stones shaped naturally like living creatures. Schafer has translated the Yunlin shipu that was originally compiled by Tu Wan in 1125, a comprehensive work which includes about 116 stones from all over China, which are classified under twelve different headings. From the Song dynasty onwards, members of the literati, such as Mi Fu, Su Shi and others have composed poems on the subject of rocks, with rocks also becoming important subjects in paintings throughout China's history.
While all rocks are of different shape, hence their great attraction, for a related piece see a miniature ying scholar's rock, attributed to the Ming and Qing dynasties, included in the exhibition Arts of the Scholar's Studio, Fung Ping Shan Museum, University of Hong Kong, Hong Kong, 1986, cat. no. 150, sold in these rooms, 8th April 2010, lot 1707, together with another related rock, also included in the Hong Kong University exhibition, cat. no. 41, and sold in these rooms, lot 1702.
Artist's Inscription: Stones exist as much in the mind as in the Dusty World. Like all high art they are part of the process in the transformation of consciousness so they change as we do: they are not static. I have been asked several times to identify a favourite stone but that depends upon shifting focus. I usually reply that it is the one I am currently painting, either with the ever-changing, ephemeral, ink-strokes of the mind, or on paper. So it is appropriate that on this occasion I am painting not from the imagination but perhaps the most favoured of all my favourite stones. I acquired 'The Bridge' from an antique shop in Kowloon in 1978. Its title arose not only from its form but because it was also a bridge for me to the inner world of strange stones. Now Nicolas Chow has asked if I would part with it so he could include it as a centre-piece in his own creative endeavour, a special sale of the literati aesthetic. I admire his extraordinary creativity and we have been friends for many years; I have also enjoyed the friendship of the stone for more than thirty years, so I shall cut my love for it, grant my friend the favour he asks, and pass on the stone to another Stone Fool who will enjoy it as I have. Meanwhile I have the joy of painting it lovingly as a token of my appreciation for all those years of pleasant companionship, and to record its progress through the realm of the Stone Fool.
Bridge Stone
A little likeness, inscribed by The Master of the Water, Pine and Stone Retreat, January '14
Sotheby's. Contemporary Literati — A Gathering, Hong Kong, 07 april 2014