ZURICH.- The focus of Koller's Spring Auctions was on Old Art. Among the Old Master Paintings, Koller auctioned off the painting «Mary and Child» by the Flemish painter Jan Gossaert to an international private collector for CHF 2.37 million, slightly higher than the estimate. This is a new world record for a work by this painter, reached at an auction.
Depictions of Madonnas high in demand
The top lot of the Old Master Paintings' auction on 28 March was the painting "Mary and Child" by the important Flemish Renaissance painter Jan Gossaert (called Mabuse). The painting, which is one of the last works by this artist to be traded on the art market, was estimated at CHF 1.8 to 2.2 million and reached CHF 2.37 million (lot 3017), an auction world record for a work by this painter.
The oil painting "A Hermit praying" from 1670 by Gerrit Dou, which was estimated at a maximum of CHF 500 000 (lot 3038), also sold for over 1 million (CHF 1.05 million).
In addition to the Madonna depiction by Jan Gossaert, other religious paintings from the Late Middle Ages and the Renaissance were high in demand.
The two altar wings depicting the Annunciation to the Blessed Virgin Mary, with Saint Bartholomew and Saint Peter, by the so-called "Master of the Holy Kinship" sold to a European private collection for CHF 572 000 (lot 3014).
The probably Sicilian altarpiece from 1460/70, which was estimated at CHF 7 000, reached CHF 31 200, and the Madonna oil-on-wood by the so-called "Master of the Brocade Background", which was likewise estimated at around CHF 7 000, changed hands at CHF 58 500 (lot 3005).
A Tuscan Madonna dell'Umiltà from the early 15th century in tempera on a gold ground sold for CHF 96 000, slightly above the estimate (lot 3004).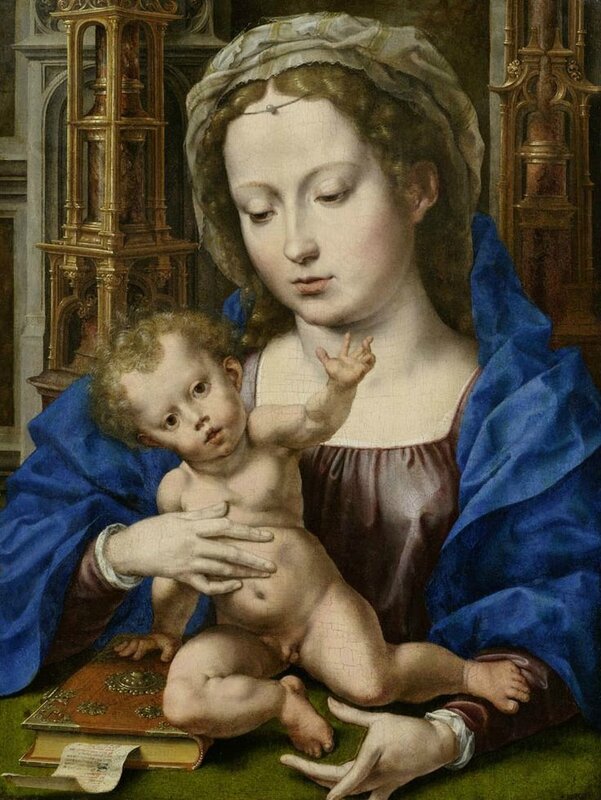 Jan Gossaert called Mabuse (Maubeuge 1478 - 1532 Antwerpen), Madonna and Child. Ca 1530. Oil on panel. 44,5 x 34 cm. Estimate CHF 1 800 000 /2 200 000 (€ 1 500 000 /1 833 330). Sold for CHF 2 377 500. Photo Koller
Provenance:
- Collection of Dr. Alfred Hausammann, Zürich, ca. 1955 - 2002.
- Auction Christie's, London, 10.7.2002, lot 97 (as "Studio of Gossaert").
- English Private Collection.
Exhibitions:
- Schaffhausen, Museum zu Allerheiligen, Meisterwerke Flämischer Malerei, 1955, no. 45 (label verso).
- Zürich, Kunsthaus, on loan from Dr. Hausammann, 1960 - 2001 (also label verso).
- Rotterdam, Museum Boymans-Van Beuningen/Bruges, Groeningemuseum, Gossaert genaamd Mabuse, 1965.
Literature:
- Exh. cat. Meisterwerke flämischer Malerei, Museum zu Allerheiligen, Schaffhausen 1955, cat. no. 45, p. 28.
- Pauwels, Henri / Hoetink, H. R. / Herzog, Sadja (eds.) exh. cat. Jan Gossaert genaamd Mabuse, Museum Boymans-Van Beuningen, Rotterdam Groeningemuseum, Bruges, Rotterdam 1965, cat. no. 30, pp. 183-186.
- Herzog, Sadja: Jan Gossart called Mabuse (ca. 1478 - 1532): A Study of His Chronology with a Catalogue of His Works, 3. vols., PhD diss. Bryn Mawr College, Bryn Mawr 1968, pp. 371-372, no. 94 (under "misattributions").
- Sander, Jochen: Anmerkungen zu Gossaert, in: Hamburger, Jeffrey F. / Korteweg, Anne S. (eds.): Tributes to James H. Marrow: Studies in Late Medieval and Renaissance Painting and Manuscript Illumination, Turnhout 2006, pp. 421 (426) - 430 (there listed as an autograph work and dated to the mid-1520s).
- Ainsworth, Maryan W. et al. (ed.): Man, Myth, and Sensual Pleasures. Jan Gossart's Renaissance. The Complete Works, New York 2010, cat. no. 19, pp. 182-183 with ill. (listed there as an autograph work and dated to 1530).
This important and outstanding painting with Mary and the Child by Jan Gossaert was recently subjected to detailed examination in the original during preparations for the large exhibition and catalogue raisonné of the Flemish master's work at the Metropolitan Museum of Art, New York, by curator Dr. Maryan W. Ainsworth and she was convinced of its authorship.
The painting is of exceptional rarity, since the limited oeuvre of the Fleming comprises about 60 works and the majority are in prestigious museums: among others, the Metropolitan Museum of Art in New York, the National Gallery in London, the Gemäldegalerie of the National Museums Berlin, the Museo del Prado in Madrid, and the Hermitage in St. Petersburg. Only two paintings of this subject are in private collections, of which the work offered here is one.
Jan Gossaert, also called Mabuse after his birthplace Maubeuge in Hennegau, counts as one of the outstanding painters of the Renaissance north of the Alps. His work combines the tradition of early Netherlandish painting from Jan van Eyck to Memling with the artistic achievements of the Italian Renaissance and transforms them into an ideal synthesis of the highest perfection. Gossaert, who was active in the first third of the 16th century, completed both religious as well as secular paintings, which he created for the major patrons of his day. Thus Gossaert entered into the service of Philip of Burgundy and followed him in 1508/09 to Italy, where he came to terms with the masterpieces of the Italian Renaissance.
The painting with Mary and the Child by Jan Gossaert offered here was in the collection of Dr. Alfred Hausammann in Zürich beginning approximately in the mid-1950s, and was on loan to the Kunsthaus Zürich for display from 1960 to 2001. In addition, the painting was shown in two exhibitions: "Meisterwerke Flämischer Malerei" (Masterpieces of Flemish Painting) at Schaffhausen in 1955 and "Gossaert genaamd Mabuse" (Gossaert called Mabuse) in Rotterdam and Bruges in 1965. The painting was mistakenly believed to be the work of a follower after the appearance of Sadja Herzog's study. In 2002, the painting came up for auction with this attribution in London.
The present owner arranged for a careful and professional restoration in which the old overpainting was removed and the original appearance was again brought to the fore. In addition to the internationally recognized Gossaert connoisseur Dr. Ainsworth, who lists it as an autograph work by Gossaert in her exhibition catalog of 2010 (which also serves as the catalogue raisonné); Dr. Jochen Sander, Curator of German, Flemish and Dutch painting at the Städel Museum, Frankfurt, also has no doubt as to Jan Gossaert's authorship. The composition shown here depicts the Mother of God in front of a late-Gothic architectonic throne, part filigree and part solid stone, with the infant Jesus sitting before her on green velvet. Each is turned towards the viewer in a frontal pose. While Mary assumes a contemplative attitude, gazing downward and embracing her child protectively, the Christ Child through his expansive gestures and direct eye contact, engages the attention of the viewer, and his childlike exuberance is expressed affectionately. Maryan W. Ainsworth sees strong stylistic and compositional parallels between our painting and a depiction of Mary with the infant Jesus before a landscape, signed and dated 1531, in the Cleveland Museum of Art (fig. 1, oil on wood, 48.9 x 38.4 cm, see Ainsworth, ibid., no. 20), and for this reason proposes a dating of 1530 for our panel.
Gossaert painted several other similar compositions with the Virgin and Child, all of which are among his late work, dating between 1525 and 1530. These include versions in the National Gallery in London (ibid., no. 13), the Gemäldegalerie of the Berlin State Museums (fig. 2, inv. no. 650, ibid., no. 15) and the Museo de Bellas Artes in Bilbao (ibid., no. 18). It is probable that this theme of the Madonna and Child enjoyed a growing demand and the paintings were conceived for the private worship of devout patrons. Dr. Sander also compares our painting stylistically with Gossaert's "Danae," dated 1527, at the Alte Pinakothek in Munich; particularly the attentive gaze of the Child and the Madonna's head type, which leads him to consider a somewhat earlier dating of the middle 1520s as well (Sander ibid., p. 430, footnote 22).
It is certainly worth noting as well the preservation of the painting offered here, as Jochen Sander has previously remarked in his article (see Literature). He emphasizes that the picture, probably painted on two vertically arranged oak boards, is largely preserved in its original state. Through the cleaning conducted recently, fine glazes in the shadows of the flesh tones have come to light. With infrared reflectography underdrawing can also be discerned in some places that enables us to reconstruct the artist's working process.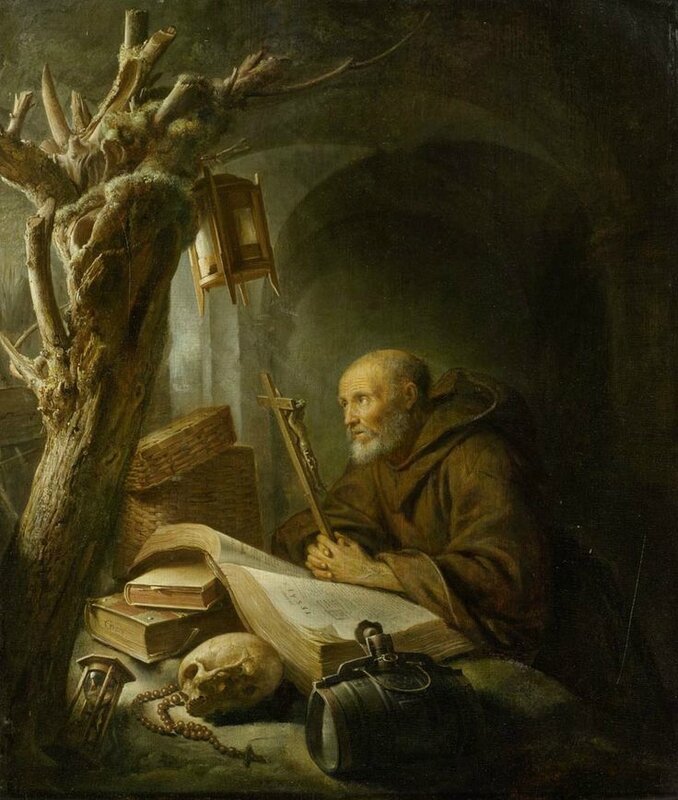 Gerrit Dou (1613 Leiden before 1675), Hermit Praying. ca. 1670. Oil on wood.. Signed on the book lower left: GDOV. 34.5 x 29 cm. Estimate CHF 400 000/500 000 (€ 333 330/416 670). Sold for 1,055,000 CHF. Photo Koller
Provenance:
- Estate of the Elector. Exchequer and Councilor of Commerce Joseph van Dufresne, 1760 (according to missing label).
- Collection of the Kurfürstliche Galerie, Alte Pinakothek, Munich, inv. no. 578, until 1935.
- Collection of the Stadtresidenz, Landshut, 1935.
- Art dealer Dr. Plietzsch, Berlin, October 1938.
- Art dealer Cornelis B. de Bruin, Utrecht, 10.7.1951.
- Collection of Jacques Salmanowitz, Versoix.
- Important Swiss private collection.
Literature:
- Smith, John: A Catalogue Raisonné of the Works of the Most Eminent Dutch, Flemish and French Painters, vol. 1, London 1829, cat. no. 114, p. 39.
- Martin, Wilhelm: Leven en werken van Gerrit Dou, Leiden 1901, cat. no. 21, p. 186.
- Kat. Sammlung Kurfürstliche Galerie, Alte Pinakothek, Munich 1904, cat. no. 400.
- Hofstede de Groot, Cornelis: Beschreibendes und kritisches Verzeichnis der Werke der her vorragendsten holländischen Maler des 17. Jahrhunderts, Esslingen / Paris 1907, cat. no. 20, p. 346.
- Dimier, Louis: Gérard Dou, sa vie et son oeuvre, Paris 1911, cat. no. 12.
- Martin, Wilhelm (ed.): Gerard Dou. Des Meisters Gemälde, Stuttgart / Berlin 1913, p. 6 (there dated ca. 1670).
- Baer, Ronni: The paintings of Gerrit Dou (1613-1675), Ph.D. Dissertation, New York 1990, no. 119.
This painting of exquisite quality by Gerrit Dou, discovered in a Swiss private collection, Ronni Baer was recently able to examine thoroughly in the original for the first time, andshe confirms that it is the one she lists in her catalogue raisonné of 1990 as no. 119 (see Literature). At that time it was known to her only through a black-and-white photograph.
The painting was once in the collection of the Kurfürstlichen Galerie, Alte Pinakothek, before it was transferred in 1935 to the collection of the Stadtresidenz in Landshut and was then passed on to the art dealer Dr. Plietzsch in Berlin in an exchange of 1938 (written confirmation from the Alte Pinakothek is available). Through the Dutch art trade the painting then came eventually to Switzerland and reemerges now on the market after a long period.
A hermit is shown in a grotto-like setting; in his hands, which are folded in prayer and rest upon a large open book, he holds a wooden crucifix. Before him are several vanitas objects: a skull, a toppled hourglass, a rosary, further books, and a withered, lifeless tree overgrown with moss, a lantern hanging from one branch. Next to the tree is placed his wicker basket and his leather flask is in the foreground. In the open book can be read in capital letters the title "de Prophet Jesaia", as well as the initial letter of the text: an intricately ornamented "H", to which Dou gave special attention. The eponymous Book of Isaiah, written by that prophet in the 8th century before Christ, addressed the messianic prophecy of Christ's birth (7:14), His Deity (9:6-7), His ministry (9:1-2, 42:1-7, 61:1-2), and His death (52:1-53:12). It was the Prophet Isaiah, more than any of the other prophets, who extolled especially the redemptive acts of Christ and divine grace. So it appears to Ronni Baer not accidental that Dou places opposite the dead tree, as well as the vanitas objects, the holy scriptures and the crucifix. The hermit therefore illustrates the triumph over death through prayer and study of the Holy Scriptures.
A similar painting of a praying hermit in the wilderness may also be found in a marriage portrait, which has traditionally been attributed to Gerrit Dou (Wheelock, Arthur K. Dutch Paintings of the Seventeenth Century, The Collections of the National Gallery of Art Systematic Catalogues, Washington 1995, 60, fig. 2). In an interior a married couple is shown surrounded by their secular interests and material possessions, while the painting of the hermit is mounted on the rear wall of the room. This is clearly understood as an allusion to the contemplativelife as opposed to the active married life. The hermit was thus in the Netherlands of the 17th century the personification of piety and devotion, and was seen as a virtuous counterbalance against the turmoil of everyday life (see also Baer, Ronni (et al.): Gerrit Dou 1613-1675Master Painter in the Age of Rembrandt, New Haven / London 2000, p. 132).
The picture of a hermit offered here sits temporally between two paintings of similar subject matter, both of which are in major public collections today: that dated to 1664 at the Rijksmuseum in Amsterdam (see fig. 1; Baer, ibid., cat. no. 91), in which the hermit is depicted in an almost identical manner and a similar ray of light falls from the left on the worshiper; as well as the one in the Minneapolis Institute of Arts (see fig, 2; ibid., cat. no. 120), which is dated 1670. Ronni Baer therefore proposes that our painting was created between 1667 and 1670.
Gerrit Dou, one of the most important Netherlandish painters of the 17th century and founder of the Leiden school of fine painting, received his first artistic training as a glass painter from 1625 to 1627, before joining Rembrandt's workshop at Leiden in 1628. There he most likely remained until Rembrandt departed for Amsterdam in 1631 or 1632 at the latest, when Dou is listed as an independent master in Leiden. While his early painting style was strongly influenced by Rembrandt, his works are characterized by an exceptional fineness in the painting and their impressive lighting. In 1648 Dou became a founding member of the Leiden painters' guild. Among his pupils were Gottfried Schalcken and Frans van Mieris, as well as his sons. He refused an invitation to England from King Charles II and remained in Leiden until his death.
The painting of a hermit in prayer offered here counts among his later works and illustrates in a splendid style the artistic perfection typical of Gerrit Dou.
We thank Dr. Ronni Baer for her evaluation of the painting in the original and confirmation of its authenticity. We also extend our thanks to Dr. Bernd Ebert for providing the information on provenance from the archives of the Bayerischen Staatsgemäldesammlungen.
The painting is archived in the RKD, TheHague, as an autograph work by Gerrit Dou.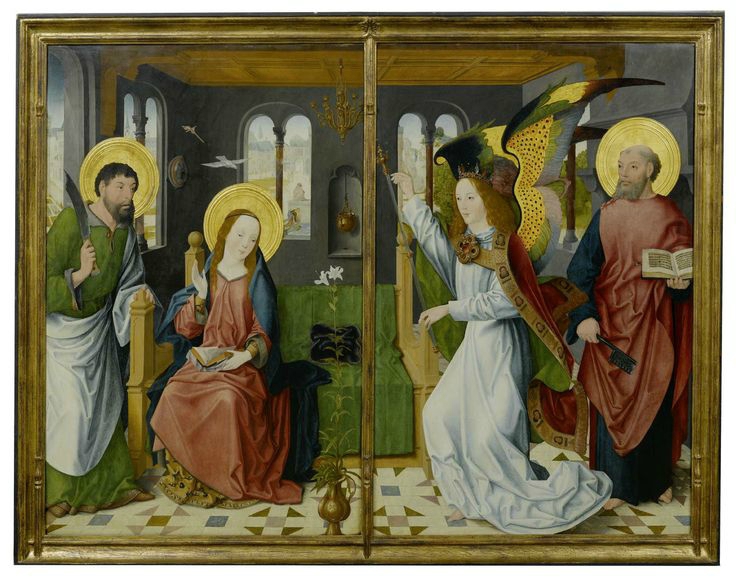 Master of the Holy Kinship (active in Cologne ca. 1475-1510). Two altarpiece wings: The Annunciation, with Saints Bartholomew and Peter. Ca. 1490. Oil on oak panels. Each 134 x 94 cm. Estimate CHF 300 000/500 000 (€ 250 000 /416 670). Sold for 572,000 CHF. Photo Koller
Provenance:
- Catholic parish church Aachen-Richterich until 1862.
- Lyversberg Collection, Cologne.
- Hörster Collection, Frankfurt.
- Baumeister Collection, Cologne.
- Dr. Virnich Collection, Bonn.
- Jesuitenklooster, Valkenburg, ca. 1902.
- Auction Christie's, London, 14.4.1978, Lot 44, where the inner and outer wings were sold separately.
- Auction Sotheby's, London, 7.7.1993, Lot 15.
- Private Collection.
- Auction Sotheby's, New York, 25.1.2001, Lot 87.
- Wolfgang Joop Collection.
Literature:
- Scheibler, Ludwig, in: Repertorium der Kunstwissenschaft, Vol. VII, 1884, p. 57.
- Firmenich-Richartz, Eduard, in: Zeitschrift für christliche Kunst, Vol. VI, 1893, pp. 334-335.
- Merlo, Johann Jakob (ed. Fiermenich-Richartz, E.): Kölnische Künstler in alter und neuer Zeit, 1895, p. 1174.
- Das Museum, Vol. VIII, 1901, p. 83, no. 78.
- Aldenhoven, C.: Geschichte der Kölner Malerschule von 1460-1500, Lübeck 1902, pp. 236-240, 350.
- Jacobsen, Emil: Quelques maîtres des vieilles écoles néerlandaise et allemande à la Galerie de Bruxelles, in: Gazette des Beaux-Arts, no. 37, 1907, p. 419.
- Escherich, Mela: Die Schule von Köln, Strasburg 1907, p. 87.
- Burger, F. / Schmitz, H. / Beth, I.: Deutsche Malerei, Vol. II., no. 2, 1922, pp. 447-448.
- Fierens-Gevaert: L'Ecole Allemande, in: La Peinture au Musée Ancien de Bruxelles, 1923, pp. 44-45, 1927, p. 152.
- Schaefer, Karl: Geschichte der Kölner Malerschule, Lübeck 1923, pp. 16 and 28, Plate 70 (there dated ca. 1480).
- Brockmann, Harald: Die Spätzeit der Kölner Malerschule, 1924, pp. 42-45, 47, 49-50, 74, 76, 84, 107-108, 184, 228, 230, 310, 317, Plates 90-91 (there dated ca. 1490).
- Reiners, H.: Die Kölner Malerschule, 1925, p. 150.
- Friedländer, M. J.: Die Altniederländische Malerei, Vol. IV, 1926, p. 67.
- Thieme, Ulrich / Becker, Felix / Vollmer, Hans (eds): Allgemeines Lexikon der Bildenden Künstler, Vol. XXXVII, Leipzig 1950, pp. 313-314 (there the central panel is dated ca. 1490 and the wings somewhat later).
- Stange, Alfred: Deutsche Malerei der Gotik, Berlin 1952, Vol. V, pp. 75-79, Plates 155-156 (there dated «no later than 1480»).
- Schürer von Witzleben, Elisabeth: Der Deutsche Passionsaltar, Dissertation Ludwig-Maximilians-Universität, Munich 1953, p. 52.
- Stange, Alfred: Kritisches Verzeichnis der deutschen Tafelbilder vor Dürer, Munich 1967, Vol. I, p. 90, no. 263.
- Friedländer, M. J.: Early Netherlandish Painting, Vol. IV, 1969, p. 39.
- Schmidt, H. M.: Der Meister des Marienlebens und sein Kreis, Düsseldorf 1978, p. 165, note 711 (there dated ca. 1500-1504).
- Stoffels, A.: Der Richterichter-Altar von 1490 kann jetzt zusammengebaut werden, in: Aachener Nachrichten, Vol. LII, 4.3.1982, p. 9.
- Hahn, Hans: Der Altar von St. Martinus, in: Aachener Volkszeitung, Vol. XLVII, 26.2.1983, p. 18.
- Hahn, Hans: Schicksalsweg eines Altares, in: Aachener Woche, Vol. VI, no. 12, 23.3.1983.
- Harik, Elsa Marston: The Hidden World of a painting, in: Research and Creative Activity, Indiana University Bloomington, Vol. VII, 1984, pp. 20-25 (21, 23).
- Wallrath: Meister der Heiligen Sippe, in: Kindlers Malerei Lexikon 11, Munich 1985,
pp. 211-214.
- Faries, M.: The technical investigation of some panels in the Master of the Holy Kinship group: a progress report, in: Le dessin sousjacent dans la peinture, Colloque 6: Infrarouge et autres techniques d›examen, 1987, pp. 63-69.
- Kessler-Van den Heuvel, Marga: Meister der heiligen Sippe der Jüngere, 1987, cat. no. 3, pp. 131-150 (there dated ca. 1490).
- Faries, M.: Stefan Lochner›s Darmstadt Presentation in the Temple and the Louvre copy, in: Le dessin sous-jacent dans la peinture, Colloque 6: Dessins sous-jacent et copies, 1991, 1524.
- Mason, Lesa: A late medieval Cologne artistic workshop: The Master of the Holy Kinship the Younger, a Technical and Art Historical Study, unpublished dissertation at the University of Indiana, 1991, cat. no. 3, Gruppe I, in an unknown private collection.
These two monumental wing panels of museum quality are the last works from a large altarpiece by the Master of the Holy Kinship located in private collections, and they convey in a majestic style the artistic virtuosity of this Gothic master.
They show the Annunciation with Saints Bartholomew and Peter, and were once part of a substantial altarpiece that originally graced the Catholic parish church of St. Martin in Richterich, Aachen. When closed the exterior of the altarpiece showed our Annunciation scene, a subject employed thus in many sacred works illustrating the story of Christ at this time because of its prefatory character. The doors would have been opened for liturgical celebrations, disclosing a Crucifixion scene with numerous figures at the centre (fig. 1), with the Adoration of the Magi on the left door (fig. 2) and a Resurrection scene on the right (fig. 3). The latter two paintings were initially mounted on the back sides of our Annunciation panels. The altarpiece was divided by 1862, when the central panel with the Crucifixion of Christ was transferred to the Brussels collection of the Musées des Beaux-Arts Royaux de Belgique (inv. no. 1498). The wings (interior and exterior) moved through several private German collections and were sold separately first in 1978 at a London auction (see Provenance). The inner panels then entered the Indiana University Art Museum in Bloomington (inv. nos 78.62.1 and 78.62.2), so that the paintings offered here are the last privately owned pieces of this important altarpiece.
Since its first reference in the literature, the triptych has been associated with the Master of the Holy Kinship, whose identity is unknown, but received his name from the altarpiece in the Wallraf-Richartz Museum in Cologne (inv. no. 165 WRM). The master was among the most important Cologne painters of the Gothic period and was active in the last quarter of the 15th and first quarter of the 16th century. His method comes out of the Cologne tradition embodied by Stephan Lochner (ca. 1400-1451), and is also influenced by Flemish masters such as Rogier van der Weyden (ca. 1400-1464), Justus van Gent (ca. 1410-1480) or Hugo van der Goes (ca. 1440-1482). Marga Kessler-Van den Heuvel in her study (see Literature) alsopoints to the influence of Jan Baegert (ca. 1465-1535) on the work of the Master of the Holy Kinship and sees in the St. Martin's altarpiece striki ng parallels with the work of the Master of the Aachen Altar (ca. 1480 - 1520), who may be considered a student of the Kinship master. The Master of the Holy Kinship created numerous important commissioned works, such as the family Epitaph for the Counts of Neuenahr, the altarpiece of the Holy Kinship for patrician Nicasius Hackeney, and the St. Sebastian altarpiece for a lay fraternity in Cologne. These works are all found today in the Wallraf-Richartz Museum in Cologne. Both the number and the size of commissioned works suggest that the Master of the Holy Kinship led a significant workshop. The latest technical studies have evaluated the master's contributions to individual works (see Kessler-van den Heuvel 1987 and Mason 1991), and they count the altar of St. Martin's among the central works by this master. However, workshop participation cannot be entirely ruled out, given the size of the panels. In regard to the dating of this altarpiece, the majority believe that it was created around 1480-90 and thus can be assigned to the early work of the master (see Literature).
Works by the Master of the Holy Kinship ingeniously combine early Netherlandish realism with the elaborate design, intricate ornamentation and luminous colour of the Cologne paintingtradition, as represented by Stephan Lochner. This produces a sense of splendour that contributes, together with its size, to the monumentality of this altarpiece. Certainly, the
Annunciation scene on the doors of Lochner's Three Magi altarpiece in Cologne Cathedral was formative for our Master, though numerous references to Netherlendish iconography and style can also be found in the work offered here. The Romanesque window arches set within these stately rooms are a direct allusion to the Annunciation of Jan van Eyck's Ghent Altarpiece, as is the niche with mounted wash kettle at centre, a symbol of Mary's purity found again in Robert Campin's Merode Triptych (New York, Metropolitan Museum of Art, inv. no. 56.70a-c); while the oeil de sorcière mirror in the left background appears also in van Eyck's Arnolfini Portrait. Moreover, in the clearly defined facial features of the two saints engagement with the work Hugo van der Goes is evident.

It is also noteworthy that the Master of the Holy Kinship incorporates in these two panels symbolism in the style of Flemish painting. For example, at the centre of the brass chandelier is a figure of Moses, the Old Testament analogue of Christ, from which the branches develop, terminating in candle holders shaped as crowns: an allusion to the royal lineage of Christ. In addition, the curling branches of the candelabrum are embellished with grapes, a traditional Eucharist symbol originating in the words of Christ: «I am the vine, ye are the branches: He that abideth in me, and I in him, the same bringeth forth much fruit: for without me ye can do nothing.» (John 15:5). The meaning of the letters «AV» on the pitcher in the foreground has long been a subject of discussion and was understood in the past to be the artist's signature. In light of the additional letter «I» on Bartholomew's knife, it is probably better interpreted as the mark of a master blacksmith. The monogram, which is significantly inscribed on the vessel holding the Annunciation Lily, could also function symbolically as «AVE», with which the Archangel Gabriel begins his address to the Virgin Mary.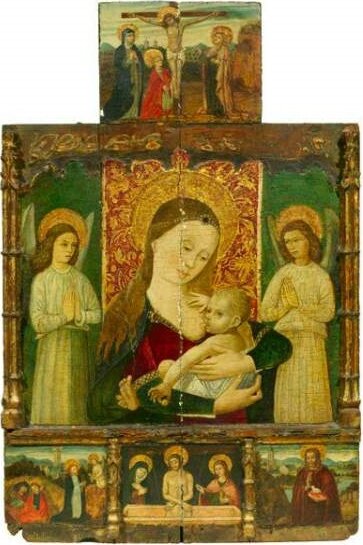 Probably Sicilian from 1460-70, Altar for private devotion with the Madonna lactans flanked by two angels praying. Tempera and gold on wood. 91 x 53 cm. Estimate CHF 5 000/7 000 (€ 4 170/5 830). Sold for 31,200. Photo Koller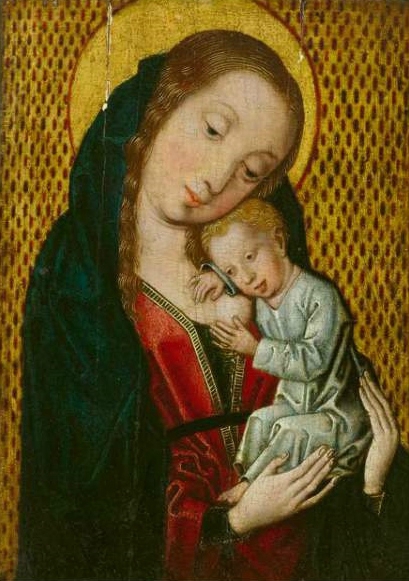 Master of the Brocade Background (active 1480 - 1499), Madonna and Child. Oil on wood. 21,5 x 15 cm. Estimate 5 000/7 000 (€ 4 170/5 830). Sold for 58,800 CHF. Photo Koller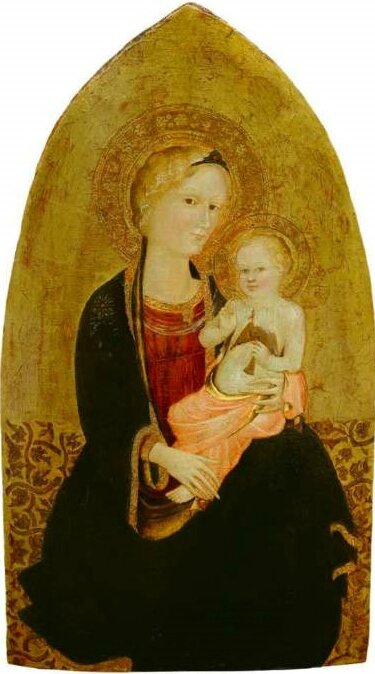 Tuscan, Early 15th century, (Florence and Lucca to 1410-20). Madonna dell'Umiltà. Tempera and gold on wood base. 81 x 46 cm. Estimate CHF 60 000/80 000 (€ 50 000/66 670). Sold for 96,000 CHF. Photo Koller
The other best sales:
Lucas Cranach the Younger (workshop) (Wittenberg 1515 - 1586 Weimar), Sleeping Diana. Oil on panel. Signed. 47,5 x 7 cm. Estimate CHF 25 000/35 000 (€ 20 830/29 170). Sold for 252,000 CHF. Photo Koller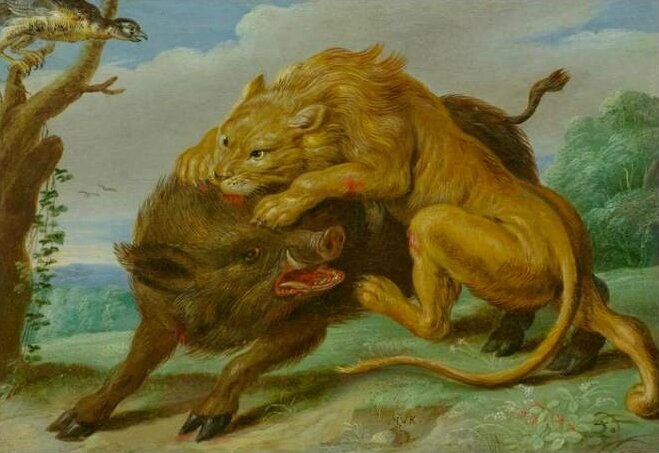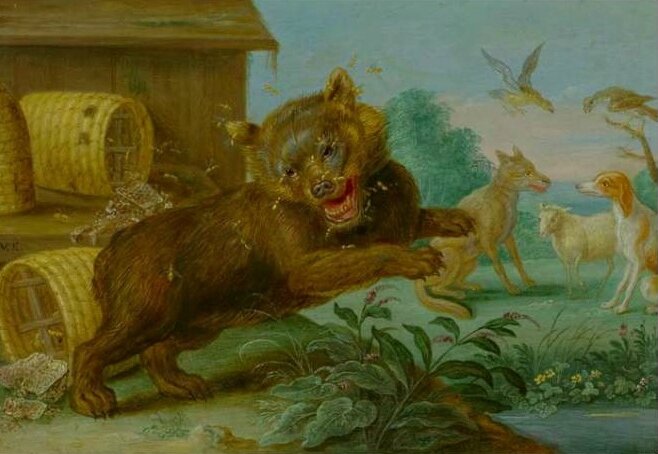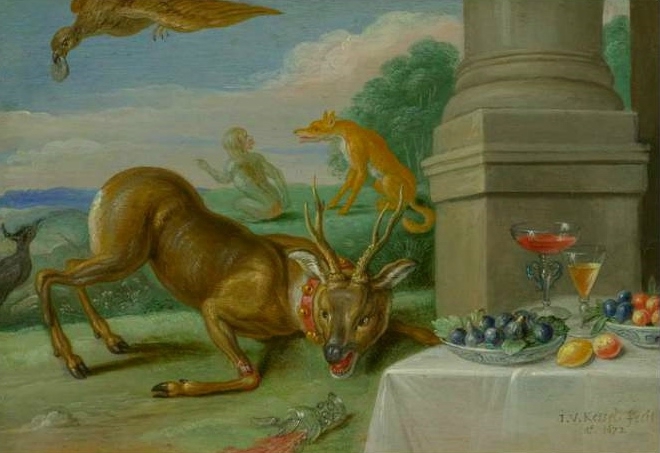 Jan van Kessel the Elder (1626 Antwerpen 1679), Four scenes from the fables of Aesop: a) The wolf, the deer and . b) The Lion and the Boar. c) The Bear and the Bees. d) The Sick Stag. Oil on copper. Each 115,6 x 21,6 cm. Estimate CHF 150 000/200 000 (€ 125 000/166 670). Sold for CHF 168 000. Photo Koller
Dirck Jacobsz (1496 probably Amsterdam 1567), Portrait of a man. Oil on canvas. 80,5 x 66 cm. Estimate CHF 150 000/200 000 (€ 125 000/166 670). Sold for 144,000 CHF. Photo Koller
Isaac Soreau (1604 Hanau am Main to 1645), Wicker basket with fruit and plum leaves. Oil on copper. 49 x 71 cm. Estimate CHF 120 000/140 000 (€ 100 000/116 670). Sold for CHF 138,000. Photo Koller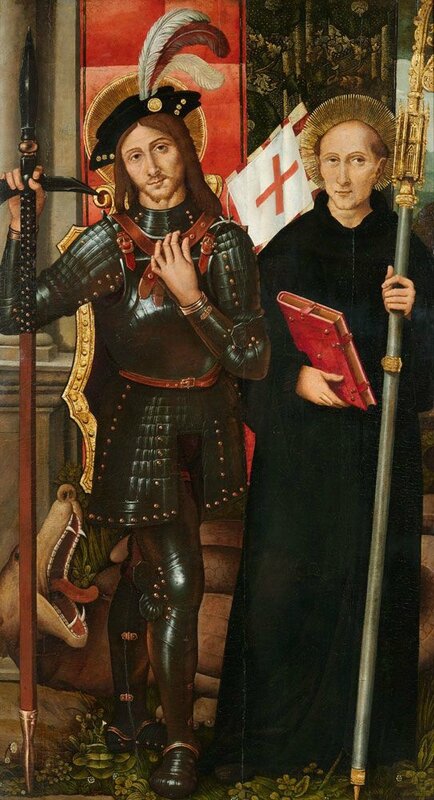 Fernando Llanos (Attr.) (probably Santa Maria de los Llano before 1506, active in Valencia to 1506-1516), The Saints George and Maurus, 1st half of 16th century. Oil on panel. 146 x 83 cm. Estimate CHF 25 000/35 000 (€ 20 830/29 170). Sold for 126,000 CHF. Photo Koller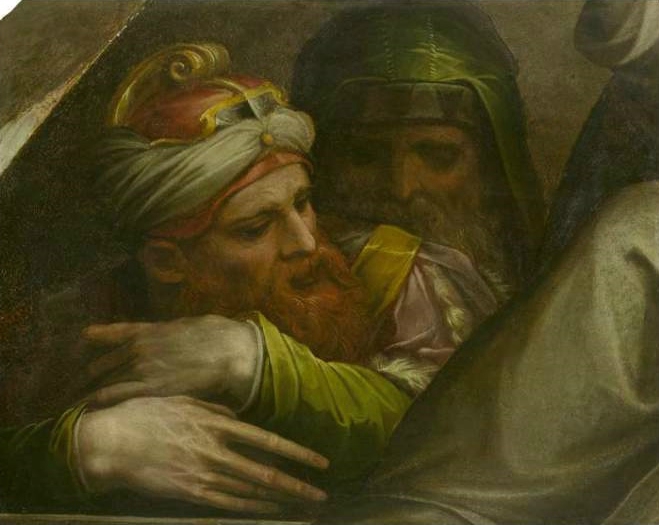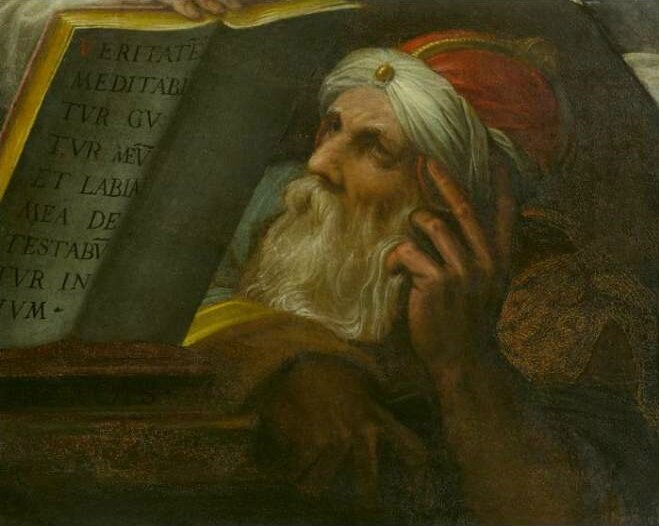 Giorgio Vasari (Arezzo 1511 - 1571 Florenz), Two boards with the heretics Arius and Sabellius left and the philosopher Averroes right out of the Triumph of St. Thomas of Aquin over the heretics. Oil on wood. 52,5 x 65,5 cm. Estimate CHF 30 000/40 000 (€ 25 000/33 330). Sold for 108,000 CHF. Photo Koller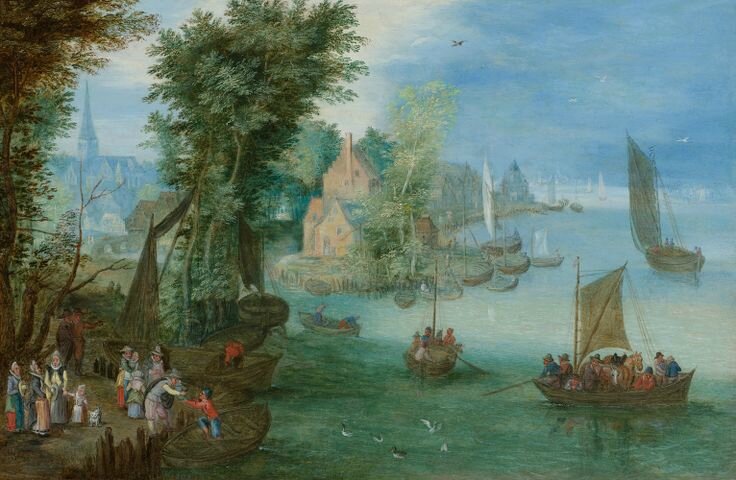 Jan Brueghel the Younger (1601 Antwerpen 1678), River landscape. Oil on copper. 21,5 x 33 cm. Estimate CHF 90 000/ 120 000 (€ 75 000/100 000). Sold for 108,000 CHF. Photo Koller
David Teniers the Younger (Antwerpen 1610 - 1690 Brüssel), The Alchimist and his students. Oil on canvas. Signed. 47,8 x 58,5 cm. Estimate CHF 40 000/60 000 (€ 33 330/50 000). Sold for 102 000 CHF. Photo Koller
and my favourites: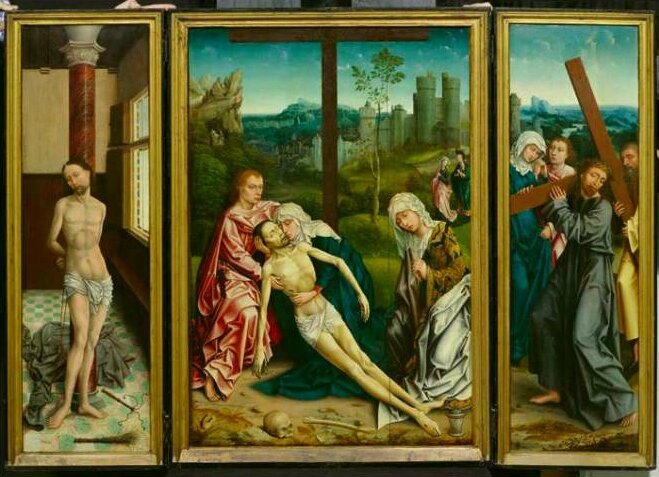 Rogier van der Weyden (Followers of the 16th century) (1398/1400 Tournai - Brüssel 1464). Triptych: Central panel with Lamentation of Christ, Wing inside with scenes from the Passion of Christ, Wings outside with the Annunciation. Oil on wood. middle panel 108 x 72 cm, Wing of each 110,5 x 33 cm. Estimate CHF 300 000/350 000 (€ 250 000/291 670). Unsold. Photo Koller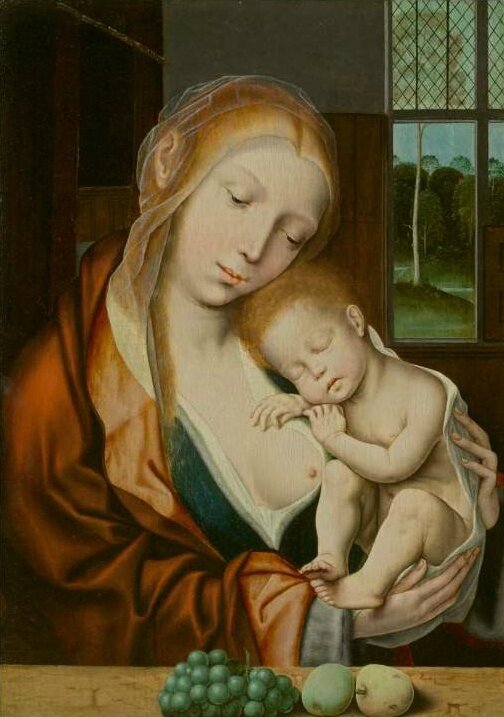 Quentin Massys (Followers of the 16th century) (Löwen 1465 - 1530 Antwerpen), Madonna and Child. Oil on wood. 53,5 x 38 cm. Estimate CHF 140 000 180 000 (€ 116 670./150 000). Unsold. Photo Koller
Hans Brosamer (Attr.) (Fulda ca 1495 - ca 1554 Erfurt), Portrait of a man. 1522. Oil on wood. Top right dated and monogrammed: 1522. HB (ligated). 49 x 34 cm. Estimate CHF 15 000/25 000 (€ 12 500/20 830). Unsold. Photo Koller
Pierre Dumontier (Ca 1543 Paris 1601), Portrait of Bernard de Nogaret, Seigneur de La Valette. Ca 1584-1585. Charcoal and red chalk on paper. 34 x 24 cm. Estimate CHF 75 000./90 000 (€ 62 500/75 000). Unsold. Photo Koller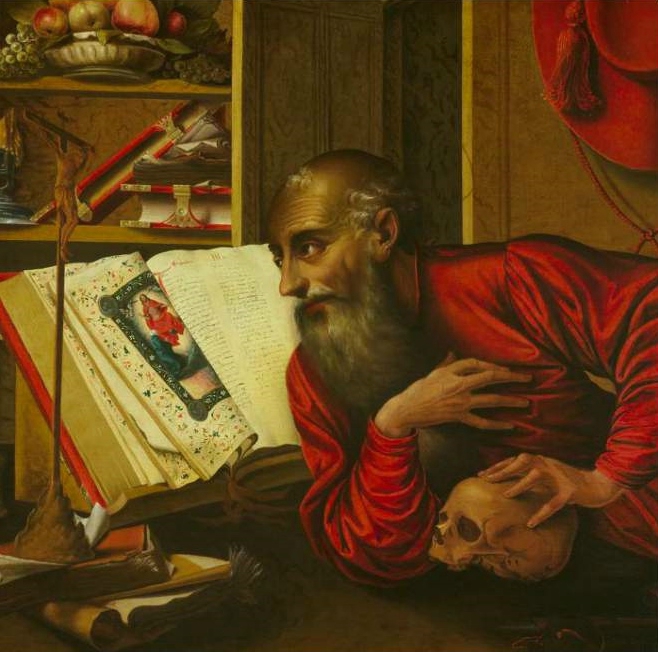 Marinus Van Reymerswaele (Followers of the 17th century) (Reymerswaele 1493 - 1567 Antwerpen), St. Jerome. Oil on canvas. 83,2 x 84 cm. Estimate CHF 18 000/25 000 (€ 15 000/20 830). Unsold. Photo Koller
Jan Van Kessel the Elder (1626 Antwerpen 1679), Still life with rose buds and insects. Tempera on vellum. 15,6 x 23 cm. Estimate CHF 40 000/60 000 (€ 33 330/50 000). Unsold. Photo Koller
Isaac Soreau (1604 Hanau am Main um 1645), Fruit Still Life with Grapes in a wicker basket and apricots on a table top. Oil on wood. 48,3 x 72,3 cm. Estimate CHF 140 000/180 000 (€ 116 670/150 000). Unsold. Photo Koller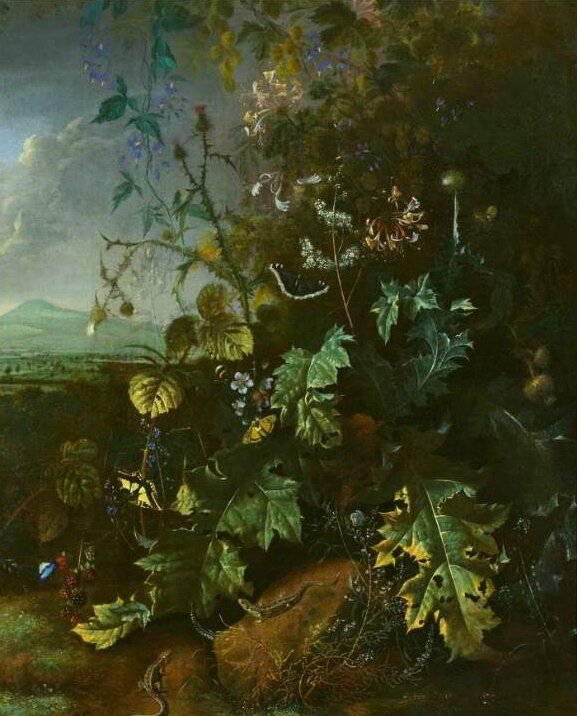 Matthias Withoos (Amersfoort 1621 - 1703 Hoorn), Forest Still life with butterflies and lizards. Oil on canvas. 84,5 x 68,5 cm. Estimate CHF 15 000/25 000 (€ 12 500/20 830). Sold for 33,600 CHF. Photo Koller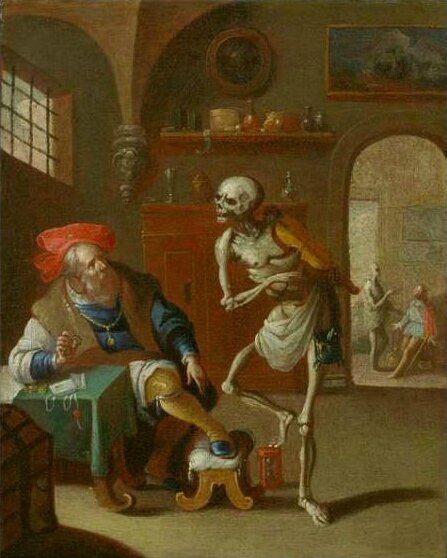 Frans Francken the Younger (1581 Antwerpen 1642), Death playing the violin. Oil on canvas. 40,8 x 32 cm. Estimate CHF 20 000/30 000 (€ 16 670/25 000). Sold for 24,000 CHF. Photo Koller
Michele Marieschi and workshop (1696 Venice 1743), View of the Palazzo Surian Bellotto on the Canale di Cannaregio. Oil on canvas. 58,7 x 80,3 cm. Estimate CHF 30 000/40 000 (€ 25 000/33 330). Sold for 48,000 CHF. Photo Koller