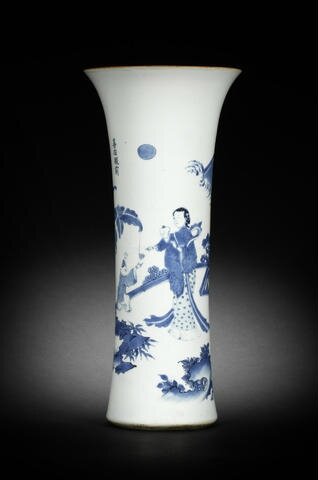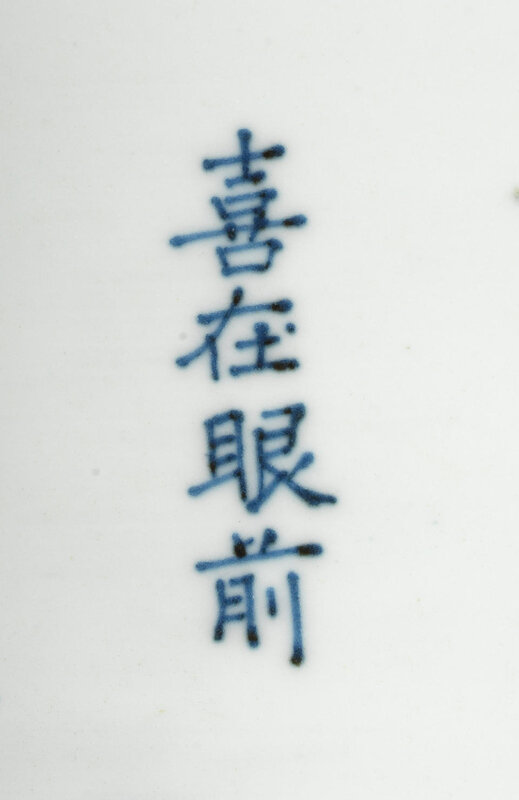 Lot 47. A blue and white flaring vase, gu, Chongzhen period (1628-1644); 46cm (18in) high. Estimate £5,000 - 8,000 (€6,100 - 9,700). Sold for £ 23,750 (€ 26,657). Photo Bonhams.
The flaring sides vibrantly painted with a lively scene of a lady carrying a baby, the baby and another boy both reaching towards a spider while two other boys play with leafy sprays, all on a terrace with plantain and bamboo and beneath the sun and the four characters Xi zai yan qian.
Provenance: an English private collection, purchased from Peter Wain, 18th August 1992.
Note: Depicted on the vase are children playing, and a lady carrying a child who seems fascinated by a descending spider. There is one type of spider, red with long legs, which is known commonly as 'little joy' or 'xizi 喜子'. The spider is therefore a symbol for joy. A descending spider is even more auspicious as it is called a 'joy from heaven', or 'xi cong tian jiang 喜從天降'. Coupled with this, there is also an inscription on the vase which reads:
喜在眼前
Which may be translated as:
'Joy before your eyes'
For a related transitional blue and white flaring gu vase, see Transitional Wares and Their Forerunners, Hong Kong, 1981, p. 89, pl 65. See also Seventeenth Century Jingdezhen Porcelain from the Shanghai Museum and the Butler Collections, Shanghai, 2005, p. 153.
Bonhams. FINE CHINESE ART. London, New Bond Street, 15 May 2014