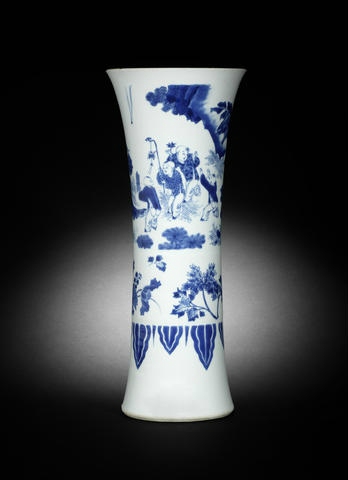 A blue and white flaring vase, gu, Chongzhen. Photo Bonhams.
Skilfully painted on the flaring neck in bright underglaze blue with a continuous scene of Houyi clasping a bow and watching boys at play with vessels, flowers and a processional banner amidst rockwork and plantain, the central section with floral sprays including lotus and peony above downward lappets on the lower section. 45cm (17 3/4in) high. Estimate 4,000 - 6,000 (€4,900 - 7,300)
Provenance: an English private collection
The vase depicts the ancient and mythical Chinese hero Houyi (后羿). According to ancient myth, there were once ten suns. As a result, the heat on the earth became intense; crops died, humans and animals collapsed from exhaustion. Houyi - who later became the God of Archery - was so angered by the suffering of the people that he lifted up his bow, and shot nine of the suns down. Houyi was hailed as a hero for mankind.
For a Transitional blue and white flaring gu vase, see Transitional Wares and Their Forerunners, Hong Kong, 1981, p.89, pl.65. See also Seventeenth Century Jingdezhen Porcelain from the Shanghai Museum and the Butler Collections, Shanghai, 2005, p.153.
Bonhams. FINE CHINESE ART. London, New Bond Street, 15 May 2014 - www.bonhams.com