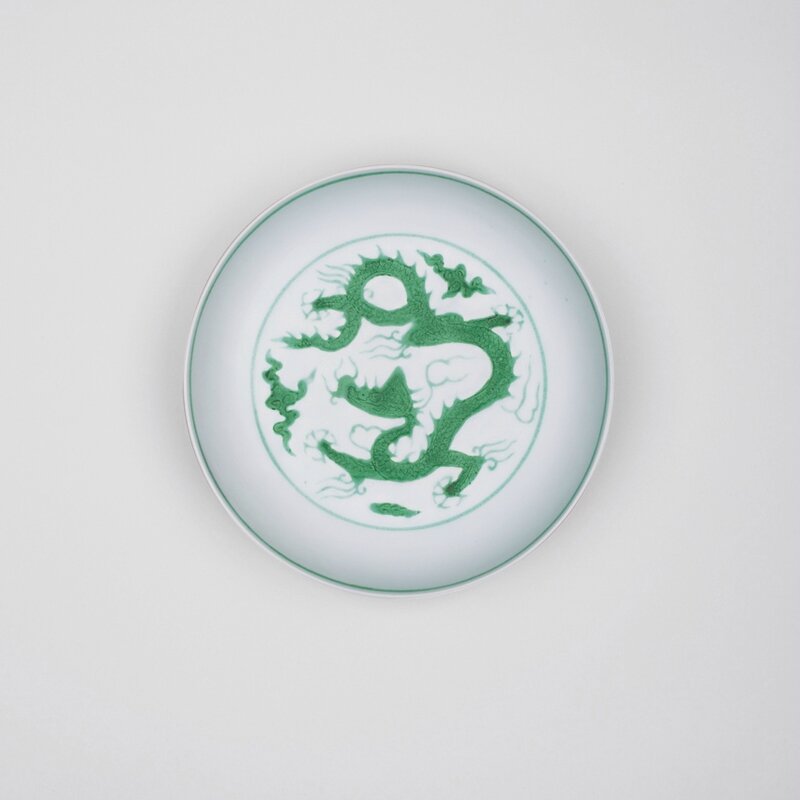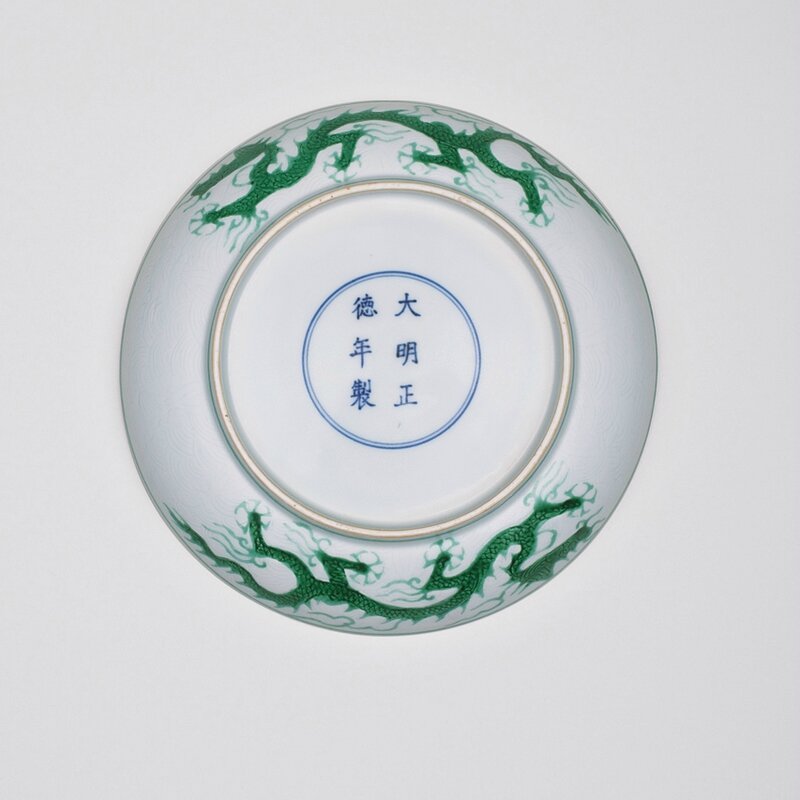 Imperial dish, pan. The base with six-character mark of Zhengde within a double ring in underglaze blue and of the period, 1506-1521. Photo courtesy Marchant
with upright rim carved in the centre with a green five-clawed dragon amongst ruyi-head clouds and flames within a single ring, with a further ring beneath the rim, the underside with two similar dragons on an anhua wave and mountain peak ground. 22.5cm diameter. Price on request

• Formerly in an English private collection.
• Two similar dishes, in The British Museum, nos. 8:33 and 8:34, given by Sir A. W. Franks, collection no. OA F.389, and a third dish 8:35, bequeathed by Harry Oppenheim, OA 1947.7/12.243, are illustrated by Jessica Harrison-Hall in Ming Ceramics in the British Museum, pp. 208/9; two further dishes, in The Percival David Foundation of Chinese Art, now also at The British Museum, are described by Margaret Medley in Ming Polychrome Wares in the Percival David Foundation of Chinese Art, where the author illustrates the underside of one, no. A725, pl. XI. A further dish is illustrated by Regina Krahl in Chinese Ceramics from the Meiyintang Collection, Volume Two, no. 694, pp. 78/9.
• A smaller example is illustrated by Marchant in their catalogue of Important Chinese Porcelain from Private Collections, 2012, no. 4, pp. 16/7.
Marchant. 'Chinese Ceramics Tang to Qing' exhibiting tuesday 6th may - friday 30th may 2014 - http://www.marchantasianart.com/