LONDON - Thomas Del Mar Ltd in association with Sotheby's will present the John Woodman Higgins Armory Collection on 7th May 2014. My personal selection of these 16th century's cap-a-pie armours.
A composite European cap-a-pie field armour in the so-called 'Gothic' fashion, circa 1490-1510. Photo Thomas Del Mar Ltd
comprising modern sallet with rounded skull, short separate 'tail'-plate, pivoted visor with a pair of flanged vision-slits, secured to the skull at the right by a spring-catch, Spanish bevor formed of a main plate shaped to the chin and flanged outwards at its lower edge to receive a V-shaped gorget-plate (the latter associated and both elements showing patched repairs), the main plate fitted with a modern lining and mail-covered neck-strap, German breastplate formed of a rounded main plate with angular outward turns at it neck and arm-openings, and an associated plackart rising to a decoratively-shaped cusp at its centre, overlapping the lower edge of the main plate to which it is attached by a single screw and flanged outwards its lower edge to receive an associated fauld of four lames (the first and last restored), and supporting on a pair of straps and buckles at each side a medially-ridged Flemish or Spanish tasset of five lames (the lowest four of the right and the second to fourth of the left restored ), a Spanish or Flemish backplate formed of a main plate and a pair of side-plates (each with patched repairs) rigidly riveted to one another and fitted at their lower edge with an associated waist-lame flanged outwards at its lower edge to receive an associated and much restored culet of four lames, the lowest of which descends to a slight central cusp, pair of German spaudlers each of seven lames (the lowest two in each case associated), the top one of the right struck with the mark of the Innsbruck armourer Hans Maystetter, both struck with a pair of dots, and the lowest connected by a turner to a fully articulated Italian vambrace of tubular form with a couter of three lames, the central one formed with a medially-puckered oval side-wing, pair of modern radially fluted besagues, pair of German gauntlets (the right entirely restored except for the main plate of its thumb-defence, and the left patched at several points) each formed of a short straight-ended cuff open at the inside of the wrist, five metacarpal-plates, a shaped knuckle-plate, a finger-plate, modern finger-defences of mail and a hinged thumb-defence (the left restored), modern left cuisse formed of a gutter-shaped main plate fitted within its concave upper edge with two extension-lames, at its outer edge with a hinged side-plate and at its lower edge with a poleyn of five lames, the third of which is formed with a pronounced medial ridge and a medially-puckered oval side-wing (right cuisse and poleyn missing), pair of modern tubular greaves extending downwards over the ankles, and pair of modern sabatons, each formed of a front and rear section connected by a hinge at the outside and fastened by a swivel-hook and stud beneath the cut-outs for the ankles, and the front section of nine lames projecting forward to a long pointed toe-cap (the whole lightly pitted overall). Estimate: 12000-18000
Provenance: The Royal Armoury, Lisbon
Dr Bashford Dean, Riverdale, New York No. 46, 5 September 1929
Clarence H. Mackay, Long Island, New York
Jaques Seligmann & Co., New York, 9 November 1940

JWHA Inv. No. 2606

Literature: Stephen V. Grancsay, Catalogue of Armor: The John Woodman Higgins Armory, Worcester, Massachusetts, 1961, p. 35, illustrated

Exhibited: Monmouth Museum, New Jersey, 27 February - 6 May 1978
Worcester Art Museum, Massachusetts, April 1940 - February 1941.
Mrs. Mary Lou Wilding-White, 10 February 1966 - May 1972.
Witte Museum, San Antonio, Texas, 1982-3,

The mark on the right spaudler is that of the Innsbruck armourer Hans Maystetter, active 1510-33 (Thomas and Gamber 1954, pp. 72-3).

The bevor and backplate have a character typical of pieces deriving from the armoury of the Knights of St John at Rhodes which fell to the forces of Suleiman the Magnificent in 1522 (Karcheski & Richardson 2000, pp. 32, 37, 45, 48, 66-9).
A composite German cap-a-pie field armour in the so-called 'Maximilian' fashion, circa 1520-30. Photo Thomas Del Mar Ltd
comprising close helmet with rounded one-piece skull (repaired with brazing at the right of neck) rising to a low boldly roped medial comb, restored visor and bevor attached by common pivots fitted beneath their heads with rosette washers, the visor formed as a grotesque Turk's mask, and a single restored gorget-plate front and rear, collar of three lames front and rear (the top two in each case restored and the lowest modified from that of a later 'Almain' collar), breastplate formed of a rounded main plate fitted at each of its arm-openings with a moveable gusset, at the right of the chest with a detachable folding lance-rest (restored), and within its lower edge with a waist-lame (restored) flanged outwards to receive an associated and partly composite fauld of four lames fitted at the centre of its lower edge with a prominent one-piece codpiece, and to either side of it with an integral tasset of four lames (the lowest three in each case restored), backplate formed of a central main plate and a pair of side-plates rigidly riveted to one another (the main and left plates each with a small patched repair), and a restored waist-lame and culet of three lames, pair of pauldrons (largely restored but incorporating genuine plates), each formed of seven lames of which the lowest three extend inwards only to the armpit and of which the front of the third is fitted in the case of the right with an upstanding modern haute-piece mounted on a stud and turning-pins, and in the case of the left with a modern reinforcing-plate extending upwards as an integral haute-piece and attached by a screw, pair of three-piece tubular vambraces, each fitted at its upper end with a turner of one lame, at its elbow with a large one-piece bracelet couter (replacing an articulated one) and a series of lames at the inside of the bend, pair of modern gauntlets each formed of a short, flaring, straight-ended tubular cuff, five metacarpal-lames, a knuckle-plate decorated with a boldly roped transverse rib, five finger-lames and the main plate of a laterally hinged finger-defence, pair of cuisses each formed of a long gutter-shaped main plate fitted at its lower end with a winged poleyn of four lames, and a pair of greaves each of full-length tubular form and terminating in a broad-toed sabaton of nine lames, the main edges of the armour formed for the most part with inward turns, mostly roped and accompanied by recessed borders, and its surfaces, except on the greaves, decorated with bands and panels of flutes emphasised by pairs of incised lines (the flutes of some elements later added). Estimate: 20000-30000 €
Provenance: Dr Bashford Dean, Riverdale, New York, sold Parke-Bernet Galleries Inc., New York, 26 October 1950, lot 97

JWHA Inv. No. 2877 (main armour), JWHA Inv. No 404. (backplate and gauntlets) and JWHA Inv. No. 3018 (greaves and sabatons)

Literature: Stephen V. Grancsay, Catalogue of Armor: The John Woodman Higgins Armory, Worcester 1961, p. 39 (the backplate pp. 50-1)

Exhibited: Clark Art Institute, Williamstown, Massachusetts, 17 October - 30 November 1980
'Medieval and Renaissance Splendor', Ringling Museum, Sarasota, Florida, 9 February - 1 May 1984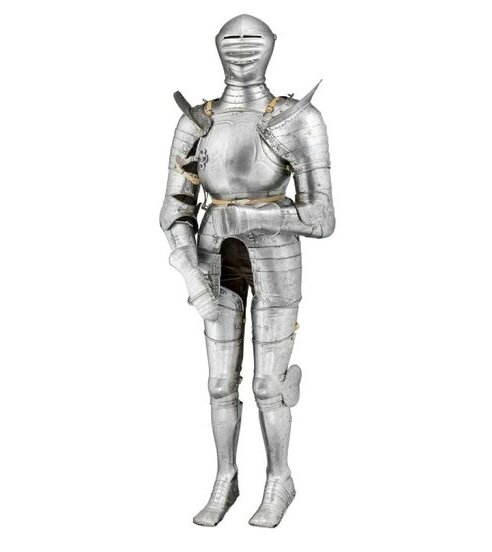 A composite South German cap-a-pie field armour, partly Nuremberg, circa 1540. Photo Thomas Del Mar Ltd
omprising modern close helmet with rounded one piece skull rising to a low medial ridge, and bellows visor and bevor attached to it by common pivots with radially incised heads, the visor stepped beneath its centrally-divided vision-slit and pierced with twelve horizontal ventilation-slots arranged in three rows, both the visor and the bevor secured at the right by spring-catches, and the lower edge of the helmet formed with an internally-hollowed rim to lock over the upper edge of the collar, the latter formed of four lames front and rear (composite and reworked at it upper edge and elsewhere), heavy breastptate of rounded form, boxed medially and at each side, fitted at each armpit with moveable gussets, at the right of the chest with a detachable folding lance-rest (restored) and within its lower edge with a waist-lame flanged outwards to receive a fauld of three lames and pendent tassets each of four lames (associated and slightly reworked), square-topped backplate fitted at its lower edge with a waist-lame flanged outwards to receive a culet of two lames (composite and reworked), pair of slightly asymmetrical pauldrons, the front of the right cut away more markedly at the armpit than the left, each formed of seven lames of which the third bears on its front an upstanding haute-piece, that of the left taller than the right (both restored), modern right besague of circular form rising at its centre to a conical boss, pair of fully articulated tubular vambraces each fitted at its upper end with a turner of three lames, articulated on sliding-rivets, and at its elbow with a winged bracelet couter of three lames, pair of gauntlets each formed of a short, flared and straight-ended cuff with a separate hinged inner plate, five metacarpal-plates, a knuckle-plate decorated with a roped transverse rib, five finger-lames (those of the left restored) and a hinged thumb-defence (the right lacking its distal three scales), the cuffs of the left and right gauntlets respectively marked with two and three dots and both bearing the quality-control mark of the city of Nuremberg (that of the right spurious and etched), pair of cuisses (partly restored using old plates), each formed of a short gutter-shaped main plate fitted at its upper end with two tall detachable extension-plates, and at its lower end with a winged poleyn of four lames, and a pair of modern full-length tubular greaves each cut with a slit to accommodate a spur at the heel, and fitted at the front with a square-toed sabaton of eight lames, the main edges of the armour formed with boldly-roped inward turns, for the most part accompanied by recessed borders, some of which are divided into two by a raised rib (the surface of the armour artificially pitted overall to better match the disparate elements and their restorations). Estimate: 15000-20000 €

Provenance: Dr Wilhelm Treubner, Karlsruhe
Duveen Borthers, New York, 18 January 1928, no.IV

JWHA Inv. No. 426

Exhibited: Worcester Art Museum, Worcester, Massachusetts, 1928 - 1930
WGHB TV, Boston, Massachusetts, 10 - 12 January 1968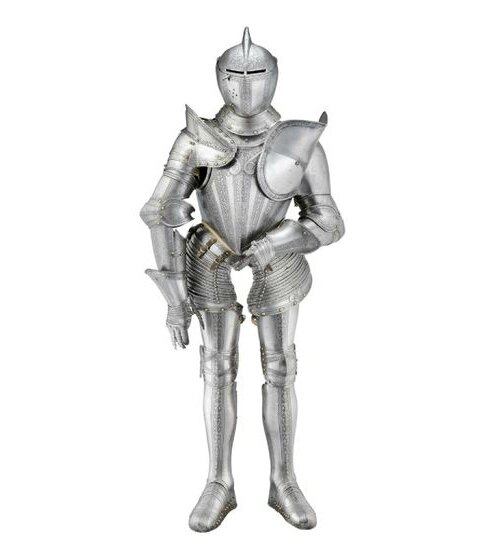 A composite North Italian cap-a-pie field armour with etched decoration, probably Milanese, circa 1570-80. Photo Thomas Del Mar Ltd
comprising composite close helmet with one-piece skull rising to a high roped medial comb and fitted at the nape with a later plume-holder of brass, upper bevor and lower bevor attached to the skull at each side by common pivots (replaced), the visor with a stepped, centrally divided vision-slit fitted at its right with a lifting-peg (replaced), the upper bevor with a near-vertical profile, pierced at its right side with five ventilation-holes in dice-formation, the lower bevor secured to it at the right by a swivel-hook and pierced stud (restored), and two gorget-plates front and rear, collar of two lames front and rear (the lowest in each case originally decorated with recessed bands), breastplate formed of a main plate of deep 'peascod' fashion, fitted at its arm-openings with moveable gussets (the right patched) and flanged outwards at its lower edge to receive a restored fauld of one lame and a pair of pendent tassets of trapezoidal form, each of thirteen lames (extensively patched at their articulating points), one-piece backplate flanged outwards at its lower edge, large asymmetrical pauldrons each of six lames of which the lowest three extend inwards only to the armpit, and of which the third is fitted at its the front in the case of the right with an upstanding modern haute-piece mounted on a mushroom-headed studs and turning-pins, and in the case of the left with a large modern reinforcing-plate extending upwards as an integral haute-piece and attached by a screw, pair of fully articulated tubular vambraces, each fitted at its upper end with a turner of one lame (the left associated) and at its elbow with a bracelet couter of three lames, pair of modern gauntlets, each formed of a flared and obtusely pointed tubular cuff, five metacarpal-plates, a shaped knuckle-plate decorated with a roped transverse rib, scaled finger and thumb-defences (those of the left incomplete), pair of modern cuisses each formed of a short gutter-shaped main plate rising to a convex upper edge and fitted at its lower edge with a poleyn of five lames formed at the outside of the third with a small medially-puckered oval side-wing, and a pair of modern greaves each of full-length tubular form fitted at its lower end with a round-toed sabaton of eight lames, the main edges of the armour formed with roped inward turns and its surface etched in bands and borders on a stippled and blackened ground with trophies, winged cherub's heads, masks and fabulous beasts, enclosed by narrower band of cabling or, in the case of the pauldrons and vambraces, by engrailing repeated at their subsidiary edges, except on the gauntlets which are etched in their main bands with strapwork interlace (the etching modern throughout except on the breastplate and pauldrons). Estimate: 15000-20000 €
Provenance: Duke of Osuna, Beauraing, Belgium
Victor Bachereau, Paris
Edmund C. Converse, sold American Art Association, New York, 26th November 1927, lot 291, $2,100

JWHA Inv. No. 403

Literature: Stephen V. Grancsay, Catalogue of Armor: The John Woodman Higgins Armory, Worcester 1961, p. 88, illustrated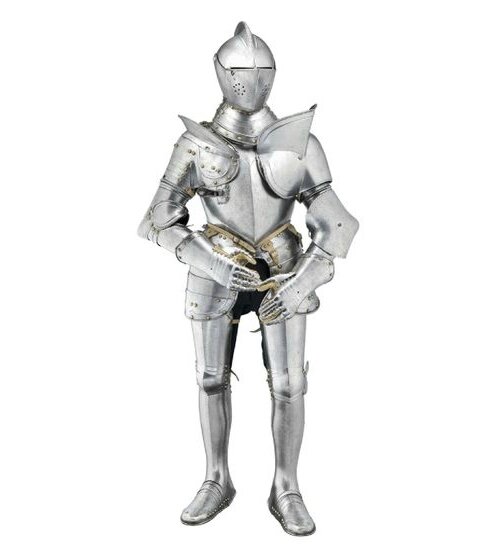 A composite North Italian cap-a-pie field armour with etched decoration, circa 1570-80. Photo Thomas Del Mar Ltd
comprising close helmet with one-piece skull rising to a high boldly-roped medial comb pierced towards its rear with three later transverse holes, associated and reworked visor, upper bevor and lower bevor attached by common pivots (replaced), the visor with a stepped, centrally divided vision-slit fitted at its right with a lifting-loop (replaced), the prow-shaped upper bevor pierced at its left and right sides respectively with seven and nine circular ventilation holes in rosette formation, the lower bevor secured to the skull at the right of the neck by a swivel-hook and projecting ring (restored; a similar fastening for the upper bevor missing), and three associated gorget-plates front and rear, collar of three lames front and rear, the lowest deeper than the rest, breastplate formed of a main plate of deep 'peascod' fashion, fitted at its arm-openings with moveable gussets, at the right of the chest with an associated lance-rest having incised decoration and an elaborately shaped base-plate, and flanged outwards at its lower edge to receive an associated fauld of one lame bearing a pair of pendent tassets each of four lames (restored using old plates), one-piece backplate boxed over the shoulder-blades and flanged outwards at its lower edge, large, slightly asymmetrical pauldrons (not a pair and slightly composite), each of seven lames of which the lowest four extend inwards only to the armpit, and of which the third is fitted at its front, in the case of the right, with an upstanding modern haute-piece mounted on mushroom-headed studs, and in the case of the left with a large modern reinforcing-plate extending upwards as an integral haute-piece and attached by a screw, pair of fully articulated tubular vambraces each fitted at its upper end with a turner of three lames (the top two of the left restored), and at its elbow with a bracelet couter of five lames, the left having screwed to its front a large modern reinforce, pair of modern gauntlets, each formed of a flared and obtusely pointed cuff with a separate inner plate, five metacarpal-plates (the first in each case pierced with a later hole for mounting purposes), a shaped knuckle-plate, scaled finger and thumb-defences, and leather lining-glove, pair of cuisses (the right restored) each formed of a long gutter-shaped main plate rising to a convex upper edge and fitted at its lower edge with a poleyn of five lames formed at the outside of the third with a small medially-puckered oval side-wing, and a pair of greaves each of full-length tubular form fitted at its lower end with a round-toed sabaton of nine lames, the main edges of the armour formed for the most part with roped inward turns, generally accompanied by roped ribs or recessed borders, and its subsidiary edges decorated at many points with pairs of incised lines. Estimate: 14000-18000 €
Provenance: Duke of Osuna
Purchased by Mrs John W, Higgins as a present for her husband from Liberty & Co, London, on 1 March 1929

JWHA Inv. No. 207

Exhibited: Worcester Art Museum, Worcester, Massachusetts, 1928-30
Filene's, Worcester, Massachusetts, as part of Worcester Polytechnic School exhibit March 1938
Lee W. Court Associate, Boston, Massachusetts, September 1956
'The Pen and the Sword: Martial Arts Manuals in Medieval and Renaissance Europe', John W. Higgins Museum, Worcester, Massachusetts, 26 October 2006 - 27 May 2007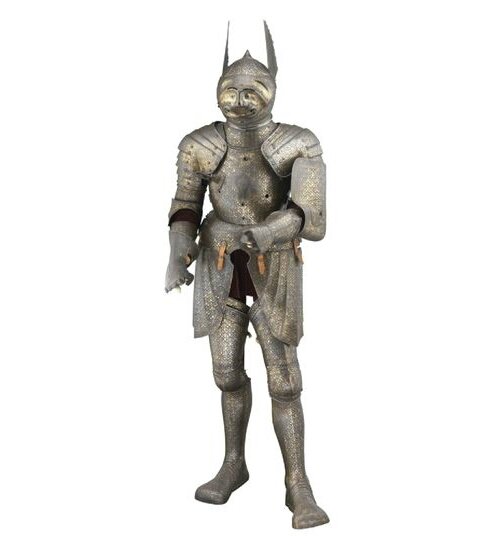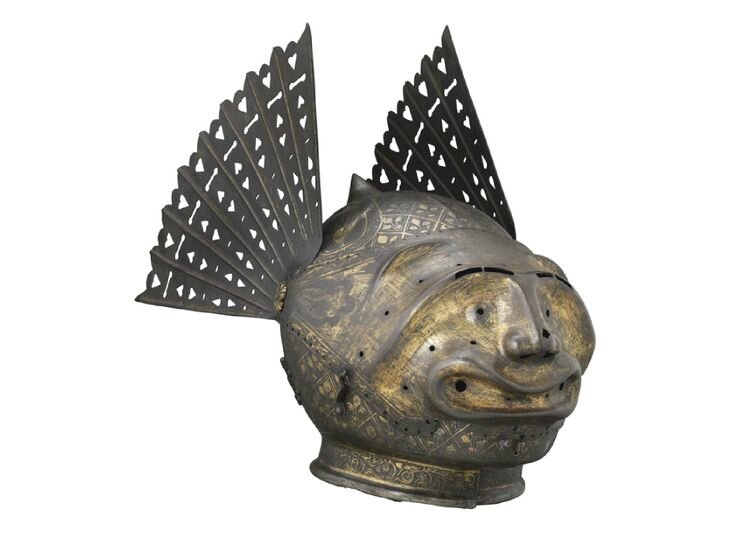 A composite cap-a-pie tournament armour with later etched and gilt decoration, Italian and German, early to late 16th century with 19th century additions. Photo Thomas Del Mar Ltd

comprising close helmet with rounded one-piece skull rising at its apex to a prominent point from which radiate, alternately, four panels of scales and four ridges, visor and decorative 'wings' attached to the skull at each side by common pivots with pierced and chased brass washers, the visor embossed in high relief as a grotesque mask, its eyebrows pierced with vision-slits, and the wings embossed in each case with radiating ribs separating pierced decoration, and a pair of cheek-pieces hinged to the skull at each side and fastened to one another at the chin by a turning-pin and keyhole-slot, the right cheek-piece fitted with a swivel-hook to secure the visor, and the skull and cheek-pieces each formed with internally hollowed rims designed to lock over and rotate on the turned upper edge of the collar, the latter formed of three lames front and rear, breastplate formed of a heavy rounded main plate with a shallow neck-opening, fixed gussets at the arm-openings, sturdy hasps at the shoulders and sides for the attachment of a backplate, a folding-lance-rest , several large holes, some with threaded inserts, for the attachment of an earlier lance-rest and tournament reinforces, its lower edge fitted with a shallow waist-lame to receive a fauld of three lames with applied turns at their outer edges, the centre of the lower edge of the third cut with a shallow arch separating a pair of long, tapering, pendent one-piece tassets decorated with slightly diverging flutes, backplate formed of a main plate with nearly straight upper edge, a pair of fixed side-plates (each patched), and a deep waist-lame flanged outwards at it lower edge to receive a culet of one lame, two large near-symmetrical pauldrons each formed of seven lames of which the lowest four extend inwards only to the armpit, two fully articulated tubular vambraces each surmounted by a turner and furnished with a winged bracelet couter of three lames, the central one in each case of bracelet construction and originally forming part of a three-piece vambrace, the front of the left one fitted with a turning-pin to attach a pasguard shaped to the elbow and the underlying wing of the couter, two gauntlets (the right holed and repaired at several points) each formed of a long flared and pointed cuff with a short hinged inner plate, six metacarpal-plates, a shaped knuckle-plate and the main plate of a laterally-hinged thumb-defence, pair of cuisses each formed of a long gutter-shaped main plate fitted at its convex upper end with a short extension lame and at its lower end with a winged poleyn of four lames (the main plate in each case patched at the point of the knee), and a pair of greaves each of full-length tubular form cut at the rear with a slit to receive a spur and fitted at the front with an integral broad-toed sabaton of nine lames, each decorated on its upper surface with a spray of flutes of shallow V-shaped section, the main edges of the armour decorated with roped inward turns except at the neck-opening and gussets of the breastplate which have plain angular outward turns, the borders of the armour etched and gilt on a stippled and blackened ground with running foliage, and the remainder of the surface etched and gilt overall on a similar ground with a diaper pattern of lozenges enclosing fleurs-de-lis, except on the mask of the visor which is gilt but devoid of etching (the helmet, waist-lame of the breastplate, tassets, culet, lower cannons of the vambraces and legharness restored). Estimate: 15000-20000 €
Provenance: The Prussian Royal Collections (probably those formed by Prince Carl of Prussia)
Duque del Infantado, Vineulas Castle, Madrid, Spain, 1924 - May 1931

JWHA Inv. No. 1646

Literature: Hans Schedelmann, 'Der Waffensammler', Waffen- und Kostümkunde, 3rd series, vol. 6, 1964, p. 55, fig. 15.

The breastplate represents a rare early 16th century Italian form for use in the jousts.

The helmet is closely comparable with examples in the Royal Armouries Museum, Leeds, Inv. No. IV. 33, (Dufty & Reid 1968, pl. XCII), and the Musée de l'Armée, Paris, inv. no. H.123 (Reverseau 1982, pp. 14 & 77, fig. 1 & 20)