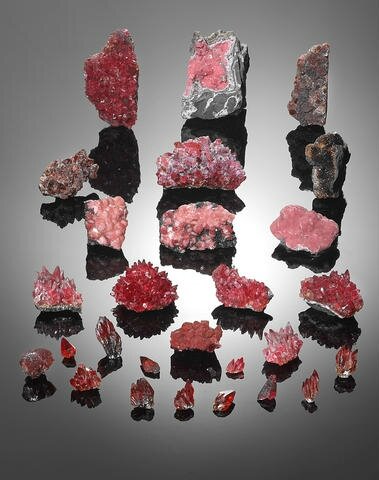 Collection of 27 Rhodochrosites--"Red Gold" from the Kalahari. N'Chwaning 1 Mine, N'Chwaning 2 Mine, Hotzatel Mine, Wessels Mine, Black Rock Mine, Kalahari Manganese Field, Northern Cape Province, South Africa. Estimate US$ 200,000 - 250,000 (€140,000 - 180,000). Photo Bonhams
LOS ANGELES, CA.- This spring Bonhams, the third largest international fine art auction house, highlights an exceptional selection of fine mineral specimens from estate sources in its upcoming Gems, Minerals, Lapidary Works of Art and Natural History auction on May 20th. Once regarded as a relatively unknown and hidden collector's hobby, the steady rise in demand for mineral specimens has elevated the status of this collecting category to an emerging worldwide asset class, with serious collectors growing internationally. Minerals are valued mainly for their aesthetic qualities and are prime examples of naturally-occurring art. For some rare specimens, miners have delved into the most dangerous or remote places to extract these hidden treasures.
The top highlight of the sale is a collection of 27 Rhodochrosites, also known as "Red Gold," which were mined from the Kalahari Manganese Field in South Africa. Estimated to fetch between $200,000-250,000, this offering represents an unprecedented opportunity to acquire a collection of specimens formed over many years from a locality that is no longer producing. Considered the prettiest of minerals, this group contains crystals that range in a light rosy color all the way to the very rare and highly-desirable cherry-red hue. Originating from the now closed manganese mine this is a notable and visually arresting collection of 27 rhodochosite specimens which was painstakingly formed by its owner over several years in order to create a comprehensive representation exemplifying various crystal habits of this sought-after mineral. The north-western region, where mining began, was particularly noted for the presence of exceptional rhodochrosite specimens associated with mainly manganite and drusy secondary quartz. The primary years of specimen production were in the late 1970s to the early 80s and older specimens are now impossible to obtain unless they reach the market from private collections.
Also on offer is a large group of varied mineral specimens from the Estate of Carey A. Parshall, Stamford, CT. Obtained predominantly on buying trips from the 1950s through the 1980s to Morocco, Mexico, Japan, Brazil and India, the collection features desirable Vanadinites, Smithsonites, Azurites, Stibnites and Zeolites from these diverse localities. A massive Ruby crystal in Zoisite, the largest Ruby crystal to be offered at public auction and is seven times larger than any other ruby found in the famous Longido, Tanzania deposit, weighs 100 pounds (228,000 carats) and is expected to fetch between $100,000-150,000.
Massive Ruby Crystal in Zoisite -The Largest Ruby Crystal to be Offered at Public Auction. Longido Mine, Arusha, Tanzania. Weight 100.53 lbs (228,000 carats)(112.44 lbs with base) Single Crystal 16 x 12 x 11in, height with base 33 1/2in. Estimate US$ 100,000 - 150,000 (€72,000 - 110,000). Photo Bonhams
In 1949, Tom Belvins and another English prospector, both residents of Kenya, made a discovery of a ruby deposit not far from Mount Kilimanjaro. In a shallow basin they found a breathtaking display of flat, sharp-faced, hexagonal, deep red ruby crystals in a green zoisite outcrop, the matrix in which the ruby crystals were formed. The crystals rarely exceeded two inches in diameter by a quarter of an inch in thickness. Another 150 feet along the strike of the outcrop, a noticeable change occurred to the rubies, still immersed in the green matrix. They became much larger but coarser in outline, changing from the thin, flat crystals with transparent areas into huge hexagonal columns of a lighter red opaque material. The most distant outcrop from the original discovery was approximately four hundred feet, at which point the exposed rubies were sparsely scattered, poorly formed and opaque, but extremely large.
From the standpoint of sheer quantity, this locality is the largest producer of ruby ever known. In later years, when the claim was in the hands of new owners, shafts were driven down into the green zoisite and for many years rubies were mined, totaling hundreds of thousands of carats, much of this production being sent to India to be cut into small faceted gems. The largest crystal found at this time was in a class by itself, weighing slightly more than 30,000 carats. The noted prospector and gem dealer, Ed Swoboda, traveled to Nairobi and purchased the stockpile of ruby that Tom Belvins had squirreled away in his garage, including the large crystal. Back home in Beverly Hills, he quickly sold the collection to the Kazanjian Brothers gem and jewelry company. They had recently completed a fabulous Lincoln head carving of black star sapphire and were presently searching the world market for some big chunks of ruby, suitable for sculpting another bust in their Presidential Series of gem carvings.
The present specimen, at over 100 lbs, to our knowledge was the largest found in this historic deposit (seven times larger than the one found by Belvins in the early 1950s). It is an enormous, well-formed hexagonal crystal of very fine quality "select" ruby material, with a deep red hue, and a high polish to its face and a rind of green zoisite visible to the sides. Elevated simply on an elegant metal stand, it forms an impressive sculpture.....a testament to this most famous ruby deposit which men and expeditions had been searching for over a very long period of history, very possibly the famous long lost ruby mines of King Solomon!
Provenance: Luis Alberto Quispe Aparicio Ruby Collection
In addition to offering fine minerals, the 431-lot auction includes mammal, dinosaur and plant fossils; un-mounted and rare faceted gemstones; lapidary carvings by German masters; jewelry, amber, petrified wood, meteorites, gold nuggets and rare, natural pearls.
A unique feature in the Natural History section is a giant Pacific Walrus skull and set of tusks found on Saint Lawrence Island in Alaska and ranked in the Boone and Crockett Club's "Records of North American Big Game" as the fourth largest in the world and will be on Bonhams auction block with an estimate of $85,000-100,000. The enormous size, pristine condition and completeness of the present specimen make it a significant discovery.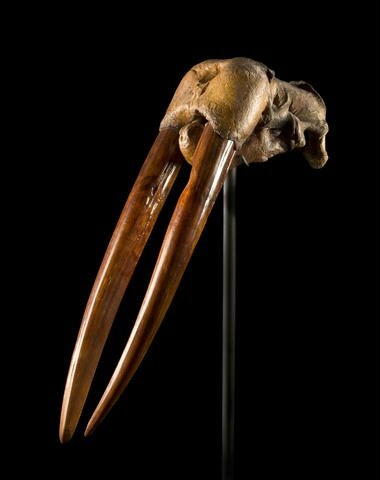 Massive Fossil Walrus Skull and Tusks, Odobenus rosmarus divergens.2,000-10,000 years. Saint Lawrence Island, Alaska. Estimate US$ 85,000 - 100,000 (€61,000 - 72,000). Photo Bonhams
Recently recorded in the Boone and Crockett Club'sRecords of North American Big Game, this giant Pacific Walrus skull ranks as fourth largest in the world. Of the top four, only this specimen claims the distinction of being fossilized, giving weight to the claim that this massive set of walrus tusks is the largest fossilized set ever to be recorded. Measuring an impressive 140 total points, with tusks weighing over 13 pounds each, the enormous specimen was discovered buried on the remote shores of St. Lawrence Island, Alaska over forty years ago. When alive this giant among giants would have lived out its life hunting in the Bering Sea. Today, the Pacific Walrus can weigh up to 4,400 pounds and display elongated canines of up to 3 feet. The huge size and pristine condition and completeness of the present specimen make it a significant discovery.
Other highlights include an exceptionally rare and large Demantoid Garnet ($130,000-180,000); a life-size Obsidian carving of a bald eagle ($80,000-100,000) and a multi-gemstone Gold and Drusy Onyx Necklace known as "The American Ingenuity Necklace," designed and fabricated by Jeffrey E. Appling ($60,000-80,000).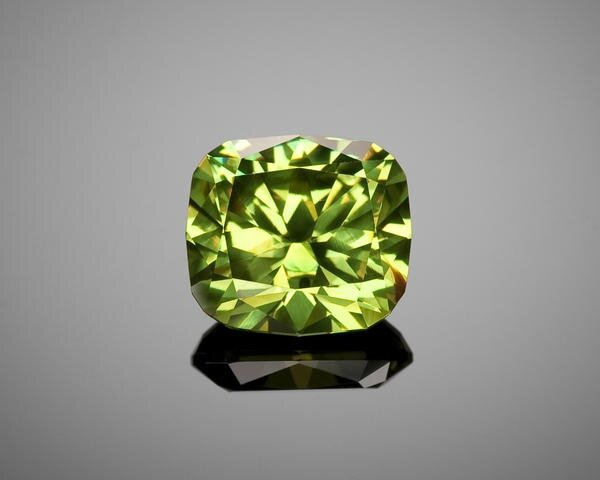 Exceptionally Rare and Large Demantoid Garnet, Ural Mountains, Russia. Weighing approximately 6.83 carats and measuring 11.4 x 10.3 x 6.9mm. Estimate US$ 130,000 - 180,000 (€94,000 - 130,000). Photo Bonhams
Vivid green color and an exceptionally large carats size propel this gemstone beyond any other demantoid seen in the marketplace today. Rarely seen in sizes of greater than 2 carats, the present stone fashioned as a brilliant cushion-cut has exceptional vibrancy and luster making it a fine and desirable acquisition for the serious collector.
Accompanied by an American Gemological Laboratories report number CS 82454 dated February 13, 2013 stating that the 6.83 carats natural andradite garnet, var. demantoid is from the Ural Mountain of Russia and that it has no clarity enhancements.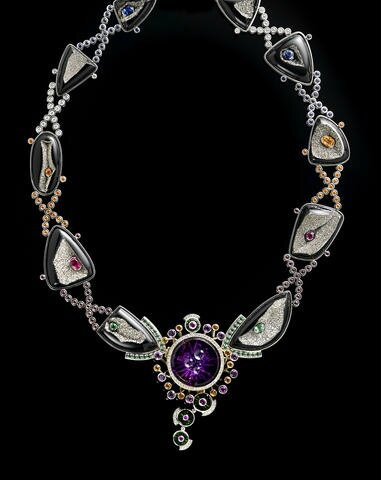 Multi-gemstone, Gold and Drusy Onyx Necklace--"The American Ingenuity Necklace". Designed and fabricated by Jeffrey E. Appling, 2003. Estimate US$

US$ 60,000 - 80,000 (

€43,000 - 58,000

). Photo Bonhams
The title "American Ingenuity" captures the spirit of motion conveyed by this unique necklace. Centering on a circular-cut, Bolivian ametrine,
weighing approximately 47.01 carats
, cut by award winning gem carver, Michael Dyber, featuring concave circles which are reverse intaglio carved. The pendant is surrounded by bezel-set amethysts and citrines, and bordered by sixty small diamonds. Three circles of "Torus-cut" chrome tourmalines (disc form with incised lines), a signature cut by noted gem-cutter Glenn Lehrer, appear as spinning wheels setting the piece "in motion" with their diamonds accents. The x-form necklace links are bezel-set with spessartite garnets,
weighing approximately 2.52 carats
, rubellite tourmalines,
weighing 3.26 carats
, and tsavorite garnets,
weighing approximately 3.25 carats
, and blue sapphires,
weighing approximately 2.86 carats
, they connect rhodium-plated drusy onyx gems--providing a uniquely scintillating effect when the wearer moves. The entire necklace is cast and hand-fabricated in 14K white gold. Completed by a lobster claw clasp.
Length 18 1/2in.
According to Claudia Florian, Co-consulting Director of Bonhams Natural History Department, "Over the last ten years, Bonhams has established itself as market leader in selling Lapidary Works of Art and Exotic Gemstone Jewelry to a discerning international clientele. Additionally when it comes to handling estates which contain minerals, our level of service in presenting them is unparalleled in the business."