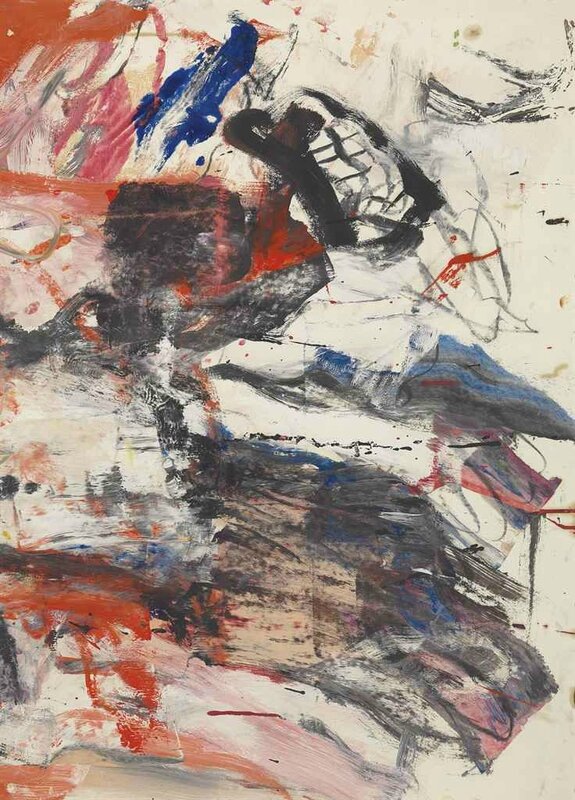 Willem de Kooning (1904-1997), Untitled. Photo Christie's Image Ltd 2014
oil and charcoal on paper, 41¼ x 29½ in. (104.7 x 74.9 cm.). Executed in 1975-1979. Estimate $350,000 – $450,000
Provenance: Estate of the artist
Private collection, New York
Acquired from the above by the present owner
Exhibited: New York, Matthew Marks Gallery and Mitchell-Innes & Nash, Willem de Kooning Drawings and Sculpture, October-December 1998, pl. 90 (illustrated in color).
Seoul, Gallery Seomi, Willem de Kooning: 1967-1997, August-September 2002, n.p. (illustrated in color in group photograph). Brussels, Xavier Hufkens, Willem de Kooning Works on Paper, September-November 2008.
Notes
"You know the real world, this so-called real world, is just something you put up with, like everybody else. I'm in my element when I am a little bit out of this world: then I'm in the real world--I'm on the beam. Because when I'm falling, I'm doing all right; when I'm slipping, I say, hey, this is interesting! It's when I'm standing upright that it bothers me; I'm not doing so good; I'm stiff. As a matter of fact, I'm really slipping most of the time, into that glimpse. I'm like a slipping glimpser." -Willem de Kooning.
These paintings of the mid-1970s form the culmination of much that de Kooning had attempted in the past but never resolved. When he had first moved to the Springs on Long Island de Kooning had enjoyed the unique landscape of the area, and this in many ways had entered and informed his work. Now in the mid-'70s he became increasingly preoccupied with his immediate environment, its light and topography as well as, in particular, the wateriness of the landscape around Louse Point. "When I moved into this house," de Kooning observed in 1976, "everything seemed self-evident. The space, the light, the trees--I just accepted it without thinking about it much. Now I look around with new eyes. I think it's all a kind of miracle" (De Kooning quoted in M. Prather, Willem de Kooning Paintings, exh. cat. Washington, D.C., 1994, p. 197). Like Monet at Giverny, de Kooning looked to his immediate world and his own art to create a series of monumental abstract landscapes that were among the most exuberant paintings of his career, achieving a grand synthesis of the motifs that had formed his art since he left New York: the figure and the East Hampton Landscape.
Christie's. POST-WAR AND CONTEMPORARY EVENING SALE. 13 May 2014. New York, Rockefeller Plaza. www.christies.com