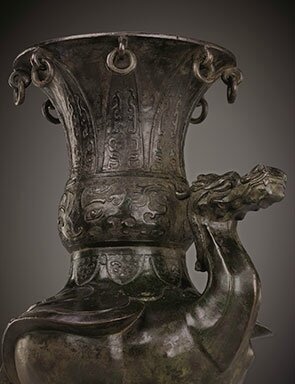 An Imperial Favourite – The Yongzheng Emperor's Dragon Zun. Photo: Christie's Images Ltd 2014.
Hong Kong – Christie's Hong Kong will hold its 2014 Hong Kong Spring Auctions from May 24 to 28 at the Hong Kong Convention and Exhibition Centre. From April, activities and events will take place throughout the season. Highlights from the auctions will tour six cities in Asia and five private sales exhibitions will also be organized. In addition, Christie's Art Forums will be held and two short courses will be available through Christie's Education Hong Kong.
SPRING AUCTION HIGHLIGHTS
Asian 20th Century & Contemporary Art
Christie's will present Asian 20th Century & Contemporary Art in three auctions featuring over 600 lots. This May, we extend further the core values of last season's theme "The Era of Asia, The Art of Asia". By combining exceptional works of art from different periods and regions, the world will see the true beauty and versatility of Asian art. In the evening sale, Potted Chrysanthemums from an important private collection, painted by Sanyu 70 years ago, will be offered for the very first time at auction. Another highlight is Eagles by Xu Beihong, which belongs to Li Shizeng's family collection. Li is one of the most influential figures in Chinese modern history, initiating the "Work-Study" movement. Eagles can be interpreted as adepiction of the revival of revolutionary China during the 20th century, and is also a work of art filled with the spirit of humanity. Further highlights include Chu Teh-chun's abstract ink painting No. 229,exemplifying the "East Meets West" concept, and a comprehensive collection of work by Zao Wou-ki.
For contemporary art, we will present works by Liu Wei, whose paintings describe the naked desire of human beings, as well as exceptional works by Zeng Fanzhi and Lee Ufan. Colorful masterpieces from Southeast Asian artists such as Le Mayer and Affandi will also be presented.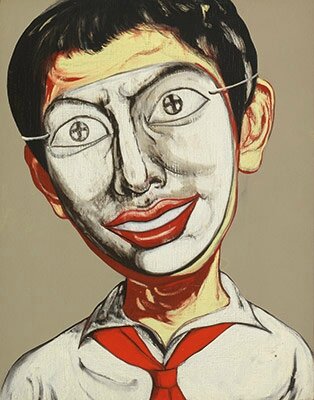 Zeng Fanzhi Chinese, b.1964), Class One Series No.31. Estimate: HK$2,000,000–3,000,000 (US$256,400–384,600). Photo: Christie's Images Ltd 2014
Chinese Classical & Modern Paintings
Christie's Fine Chinese Classical Paintings and Calligraphy sale and Fine Chinese Modern Paintings sale will feature more than 750 works from the classical and modern masters. One of the highlights of the season will be the continuing sale of more than 150 important Chinese paintings which were formerly in the collection of Dr. K. S. Lo, the founder of Vitasoy and a prominent Chinese antiques collector. Works from the collection include Pine and Rock by Shitao,Cows Grazing by Xu Beihong and Fish by Huang Yongyu. For Classical paintings, we are proud to offer a rare work from the Qing master, Bada Shanren, Landscape, as well as an exquisite hanging scroll, Two Ladies, by the renowned figure painter Chen Hongshou. With regard to Modern paintings, we have been entrusted with important works by the modern master, Wu Guanzhong, including Bamboos (illustrated left), Banyan and the Sea, Weeds in a Pond and A Village of Bridges. In addition, Lady by Zhang Daqian stands out for its incomparable beauty and elegance, and Lake of Five Pavilions by the same master exemplifies the grandeur and re-interpretation of Chinese landscape painting, testifying to the genius and evolution of the artist's career. Other highlights of both Classical and Modern Paintings sales include Calligraphy by Jin Nong, Going to School by Qi Baishi and A Hundred Monkeys by Pu Ru.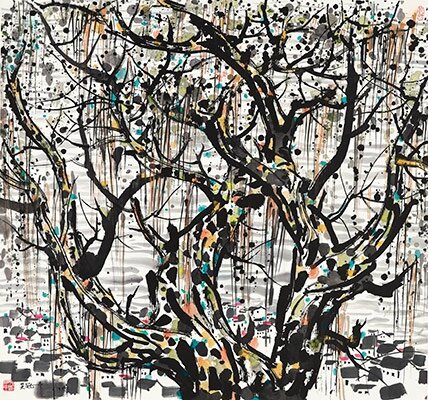 Wu Guanzhong (Chinese, 1919–2010), Banyan and the Sea. Estimate: HK$2,000,000–3,000,000 (US$260,000–390,000). Photo: Christie's Images Ltd 2014
Chinese Ceramics & Works of Art
An eclectic selection of Chinese ceramics and works of art of superb quality will be presented as well.Imperial Chinese Treasures from a Distinguished American Collection offers connoisseurs some of the finest and rarest Ming and Qing dynasty porcelain and glass pieces, including an exquisite Kangxi yellow-ground falangcai bowl. Through Connoisseurs' Eyes – Works of Art from the Imperial Palace brings together an exciting group of works of art sourced and curated in collaboration with two well-known connoisseurs in the field of Chinese art, including a dazzling Qianlong gilt-bronze vase inlaid with multi-coloured paste glass. An Imperial Favourite – The Yongzheng Emperor's Dragon Zun is a single-lot sale presenting an extremely important and rare archaistic bronze vessel, which was illustrated in scroll 6 of the Guwan Tu, 'Scroll of Ancient Playthings', a visual document of antiquities treasured by the Yongzheng Emperor. Christie's is also presenting a select group of rare art works of the Song dynasty, the epitome of refined aesthetics, in The Sound of Jade and the Shadow of a Chrysanthemum – Works of Art from the Song Dynasty. One of the impeccable pieces in the sale is a unique Southern Song chrysanthemum-shaped Guan dish, formerly in the Mrs. Alfred Clark Collection, and covered in a sublime bluish-grey glaze. A breathtaking piece from The Imperial Sale is a magnificent and rare pair of Imperial painted enamel gu-shaped vases, Yongzheng mark and period, exquisitely painted in delicate pastel colours, representing a true feat of 18th century ingenuity. Another highlight is a group of nine Imperial Textiles from the Collection of an American Gentleman, which includes some of the most magnificent examples to come to the market, such as an extremely rare longgua (surcoat) adorned with five-clawed dragon roundels, a remarkable piece from the Qianlong period.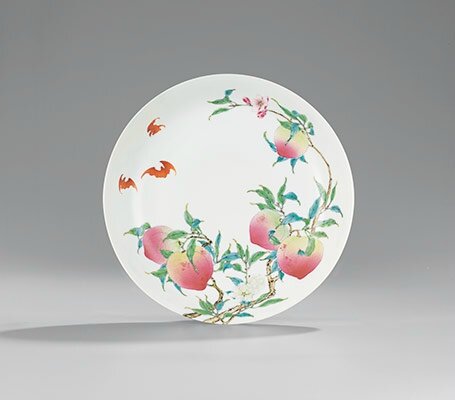 An exceptional Imperial Famille rose 'Peach' dish, Yongzheng six-character mark within double squares and of the period (1723–1735). Estimate: HK$5,000,000–7,000,000 (US$625,000–875,000). Photo: Christie's Images Ltd 2014.
Jewellery
The Jewellery auction will feature a colourful spectrum of gemstones and will consist of over 300 lots totaling HK$800 million. Leading the sale is an array of rare coloured diamonds, such as a fancy orangy pink, fancy deep pink, fancy intense blue, fancy green-blue, fancy intense green, fancy deep yellow-green, fancy violet grey and a fancy vivid yellow diamond among other dazzling stones. With a history of record breaking pink diamonds (The Vivid Pink, The Perfect Pink and The Martian Pink), Christie's Hong Kong Magnificent Jewels this May will feature an important 9.38 carats pear-shaped fancy intense pink diamond (illustrated left), once again affirming its title 'Queen of Pink Diamonds'. Additional exceptional pieces include a rare Golconda diamond pendent necklace named "The Eye of Golconda." With the centerpiece weighing a stunning 40.05 carats, this will be the largest Golconda diamond ever to be auctioned in Asia. A number of D colour Flawless clarity Type IIa diamonds as well as two highly-esteemed jadeite jewels by Chow Tai Fook will capture the hearts of jewellery connoisseurs this season. Completing the sale is a range of vividly saturated Burmese rubies and sapphires, Colombian emeralds and exclusive vintage pieces from Bulgari, Harry Winston and Van Cleef & Arpels.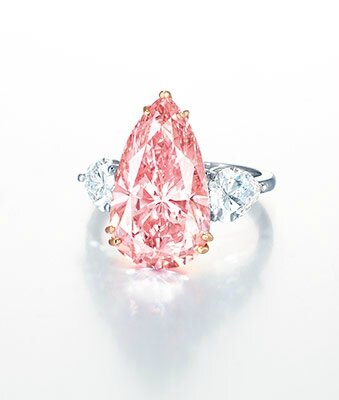 A 9.38ct fancy intense pink pear-shaped diamond ring. Estimate: HK$45,000,000–65,000,000 (US$5,800,000–8,300,000). Photo: Christie's Images Ltd 2014.
Watches
The Watch auction this season will feature a superb array of watches of the finest caliber. Christie's will curate an auction that presents the finest minute repeating, perpetual calendar, tourbillon and split seconds wristwatches from the world's leading blue chip brands to the cutting edge creations of the globe's foremost independent makers. A number of notable pocket watches featuring tourbillon and automata mechanisms highlight the auction together with some of the most lavishly jeweled watches ever manufactured. Highlights include an extremely rare pistol.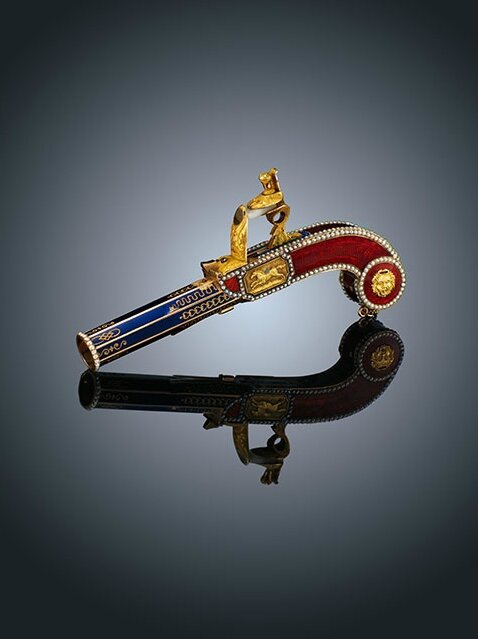 An extremely rare pistol. Photo: Christie's Images Ltd 2014.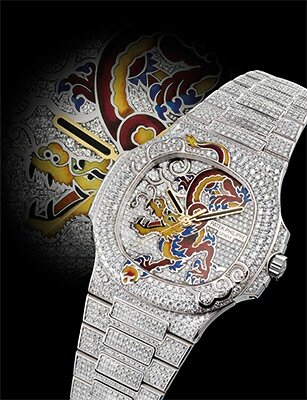 Patek Philippe. A very rare and impressive 18k white gold,enamel and diamond-set bracelet watch, Nautilus Dragon model, ref. 5720, circa 2012. Estimate: HK$2,400,000–4,000,000 (US$300,000–500,000). Photo: Christie's Images Ltd 2014.
Wines
Christie's is proud to have been entrusted with selling part of the impressive wine collection of Sir Alex Ferguson CBE, the most successful manager in British football history. The collection includes a remarkable range of fine and rare wines featuring Domaine de la Romanée-Conti Burgundies and many Finest First Growth Bordeaux ranging from the 1986 to 2011 vintages.
In the various-owner sale, an exceptional collection of wines from Jean-Claude Biver, famous from his successful career with Blancpain and Hublot in the luxury watch industry, will be featured. We will present another collection featuring exceptional Burgundy from Nicolas Potel and Maison Roche de Bellene. We are also delighted to be offering a selection of Spain's legendary Vega Sicilia Unico including very rare 1921 and 1922 vintages (illustrated above) that were reconditioned at Bodegas Vega Sicilia in February 2013. The collection will be divided between New York and Hong Kong as we will also be offering other wines from the same collection on 16 May in New York, including a rare vertical.
CHRISTIE'S PRIVATE SALES
As a response to market demands, Christie's Private Sales have been providing buyers and sellers with a confidential and flexible approach to their sales and purchases. This season, five categories will be presented in Asia through this channel, featuring Chinese Contemporary Ink paintings, Impressionist & Modern Art, Jewellery, Old Masters paintings and Post-War & Contemporary Art.
CHRISTIE'S ART FORUM
Christie's Art Forum was launched with the goal of stimulating industry discussion and of promoting art appreciation in an interactive setting. This spring, the initiative will be taken further with panel discussions on various art categories, featuring views from artists and experts in the relevant fields.
CHRISTIE'S EDUCATION
Christie's Education Hong Kong will present two short courses in May, during the week of Christie's Hong Kong Spring Auctions 2014. Titled Fine Jewels and Post-War Art: An Essential Guiderespectively, these hands-on learning courses, will be given by Christie's specialists and guest speakers in both English and Putonghua. These education programmes are part of Christie's continuing effort to promote art appreciation and provide the general public with access to art education.