Tombstone of 'Abbas, Son of 'Abdallah, Son of Muhammad, Son of Nasih, al-Ma'la Cemetery, Mecca, Saudi Arabia, 9th century C.E. Basalt, H x W x D: 24 x 13 ¾ x 4 ¼ inches. National Museum, Riyadh, 451.
KANSAS CITY - Recent excavations in Saudi Arabia have uncovered amazing artworks and sites that have redefined our knowledge and understanding of the pre-modern world. Vast networks of trade routes allowed for the exchange of precious commodities such as frankincense and myrrh to the Mesopotamian and Greco-Roman world, and facilitated the interlacing of ideas and cultures that has shaped the region today. Roads of Arabia: Archaeology and History of the Kingdom of Saudi Arabia provides an in-depth look at Saudi Arabia's rich and complex history before and after the rise of Islam and opens at The Nelson-Atkins Museum of Art in Kansas City April 25.

"Visitors to Roads of Arabia will see things they never dreamed existed," said Julián Zugazagoitia, Menefee D. and Mary Louise Blackwell Director & CEO of the Nelson-Atkins. "Even archaeologists and specialists in ancient and Middle-Eastern art have been surprised by the discoveries that have been made in Arabia in recent decades. These objects, and this exhibition, have changed the way we think about ancient and world history. It is clear that Arabia was an important crossroads of various civilizations and played an important role in these histories. This exhibition is a revelation and we are lucky to have secured it for Kansas City."
In collaboration with the Musée du Louvre, the Saudi Commission for Tourism and Antiquities (SCTA) organized the first European exhibition of more than 200 recently excavated objects, not seen outside Saudi Arabia until 2010. The Smithsonian's Freer Gallery of Art and Arthur M. Sackler

Gallery organized and began the North American tour. The Nelson-Atkins is one of five venues to host this unique exhibition in the United States.

"We are working to create an experience that is beautiful, dramatic and memorable," said Kimberly Masteller, Jeanne McCray Beals Curator of South and Southeast Asian Art and co-curator of Roads. "Lovers of art and history will marvel at the prehistoric stelae, colossal sculptures of Lihyanite kings, gold jewelry and luxurious objects, and elegant calligraphic works. Young adults, families and children will enjoy our interactive stations which will focus on archaeology, language and trade. We don't want people to walk away and say they have 'seen' Roads of Arabia, we want them to leave saying they have experienced, enjoyed and 'understand' Roads of Arabia."

"This is a remarkably daring show since for the first time in America, large-scale sculptures from the Neolithic Age, really the beginnings of civilization, are presented," said Robert Cohon, Curator, Art of the Ancient World and co-curator for this exhibition. "Now at last we can experience firsthand the remarkable, sacral power of very early images of the human figure. Mysterious, since their functions are unknown, controversial, and most of all, memorable."

Discovering amazing works of art for the first time, visitors will interact with stations that piece together a ceramic puzzle as though assembling ancient pieces of pottery and will experience the aromas of the trade routes through a scent station containing myrrh and frankincense. An interactive touchscreen will translate English names to Arabic, and a listening station will allow visitors to hear different languages that correspond to nearby artifacts.

The exhibition, divided into four subcategories, unveils the progression of the ancient timeline of the region. In the first section of the exhibition, visitors will encounter pre-historic tools and figures sculpted by some of Arabia's earliest inhabitants. The second section of the exhibition focuses upon the ancient civilizations of Arabia, which flourished due to trade. With the domestication of the camel as early as 1200 B.C.E., the navigation of the harsh Arabian desert was realized. The incense routes were established, allowing for the commerce from the Horn of Africa and the southern shores of the Arabian Peninsula to the temples of the royal courts of the Mediterranean and the Near East. As these routes developed, oases primarily used for rest and recuperation in harsh conditions eventually grew into large commercial hubs where civilization flourished. Objects found in these areas indicate vital and complex relationships between the Arabs and their neighbors, including the Egyptians, Syrians, Babylonians and the Greco-Romans.

The third section of the exhibition sees the established routes that led from Arabia begin to evolve into trails that led from cities such as Damascus, Cairo, and Baghdad to Mecca, the heart of the Islamic religion. This section includes historical tombstones with inscriptions, from the now-destroyed al-Ma'lat cemetery. These evocative stones are personified with the stories of the Muslims who either lived in Mecca or whose unwavering faith led them to the holy city. Another spectacular representation of Mecca are the original gilded silver doors that once graced the entrance to the Ka'ba, Islam's holy sanctuary.

Finally, the creation of the Kingdom of Saudi Arabia in 1932 is explored. The rich history of this kingdom and their emerging society are revealed through the display of royal possessions, historical photographs, travel books, and luxurious objects.
'Incense Burner Commissioned by the Mother of Sultan Murad IV', Hujra, (A.H. 1059 / 1649 C.E.), Sanctuary of Medina, Saudi Arabia, National Museum, Riyadh.
Door of the Ka'ba, Probably Turkey, A.H. 1045 / 1635 – 36 C.E. Hammered, engraved and gilded silver leaf on a wooden core, 11 ¼ feet x 6 feet. National Museum, Riyadh, 1355.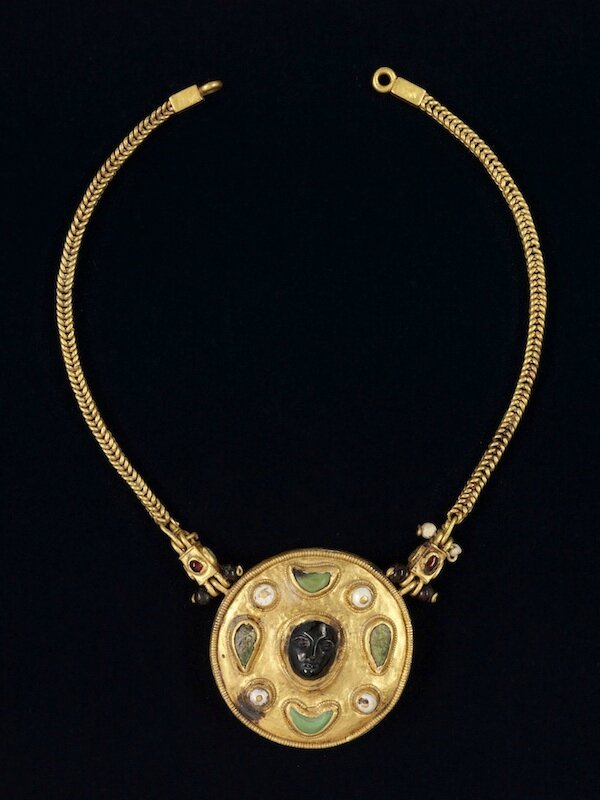 'Necklace with a Cameo Face Pendant', (1st century C.E.), Thaj, Tell al-Zayer, Saudi Arabia, National Museum, Riyadh.
'Ladle (simpulum)', (1st – 2nd century C.E.), Qaryat al-Faw, Saudi Arabia, Department of Archaeology Museum, King Saud University, Riyadh.
'Anthropomorphic Stele', (4-th millennium B.C.E.), El-Maakir-Qaryat al-Kaafa, near Ha'il, Saudi Arabia, National Museum, Riyadh.
'Anthropomorphic Stele', (4th millennium B.C.E.) El-Maakir-Qaryat al-Kaafa, near Ha'il, Saudi Arabia, National Museum, Riyadh.
Funerary Mask, Thaj, Tell al-Zayer, Saudi Arabia, 1st century C.E. Gold, H x W: 6 11/12 x 5 1/12 inches. National Museum, Riyadh, 2061.