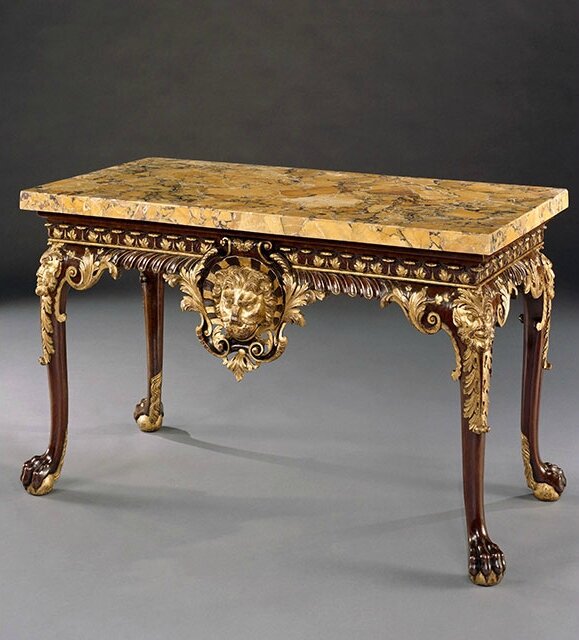 A George II parcel gilt mahogany side table. English, circa 1730.
LONDON.- Ronald Phillips Ltd , one of the world's leading antique galleries handling some of the most important pieces of English antique furniture, has provided a sneak preview of some of the stunning statement pieces that are destined for the company's booth at this year's Spring Masters New York.
The exhibition contains some of the most exquisite pieces from the period and prices range between £68,500-£650,000. One of the most expensive items on display will be a George II parcel gilt mahogany side table marked £585,000, retaining most of the original gilding and its provenance is equally enthralling once belonging in the iconic collection of Patricia Kluge. Another stunning example of the exhibition are a highly important pair of Chippendale period giltwood mirrors, of which a similar pair are hung in Clarence House, once belonging to the Queen Mother. Ronald Phillips has long championed mirrors, including a George II giltwood mirror in the manner of Matthias Lock. This amazing mirror survives in an unbelievable state of preservation, retaining the original oil gilding and wonderful original plate, having been in the same family since around 1750 including Prime Minister Sir William Gladstone's home at Hawarden Castle. Also on display will be a rare 19th century chandelier attributed to William Parker of which very few similar examples of such size and exemplary condition are known to exist, and a Victorian Ashford inlaid marble table that was originally housed in Chatsworth all; will set the standard for what Simon Phillips, Chairman of Ronald Phillips has described as, "potential showstoppers amongst a collection of hugely desirable and wonderful pieces." The exhibition in New York is a testament to Simon Phillips' exceptional eye and expertise. Simon's interest in and knowledge of English decorative arts is wide ranging enabling him to successfully source the very finest furniture and works of art, which are invariably united by his unerring and intuitive sense of what makes them special. Simon Phillips states: "I have invested in each of these items because they had the attributes I look for in fine Antique English Furniture, but the time has now come for them to find new homes and enjoy the next chapter in their histories."
The inaugural Spring Masters, New York, promises a radically new and different fair. From May 1 through May 4, 2014, with a VIP Preview Opening Night Party on April 30, it will present a range of leading international dealers and galleries at the Park Avenue, Armory. Spring Masters features a bold and distinctive hexagonal booth design created by architect Rafael Viñoly that reimagines the visual impact, layout and fair experience. Spring Masters will showcase selected works of traditional art along with 20th century art and design in a contemporary context. Each will be vetted by a panel of experts to ensure authenticity. The fair coincides with major evening auctions of 20th century art, contributing to the range of the spring arts calendar in New York.
Simon Phillips is looking forward to an exceptional fair:"The new setting is a perfect backdrop to exhibit outstanding furniture and works of art, and appreciative visitors will enjoy the antiques displayed in the confidence that all are beautiful, vetted and of the finest quality."
The fair will also coincide with the launch of Ronald Phillips' annual catalogue. The eponymous coffee-table style book contains 130 lots of some of some of the most exquisite pieces produced between 1680 and 1850; destined to Museums, Royalty and private collectors around the world.
A large pair of George II giltwood mirrors. English, circa 1765.