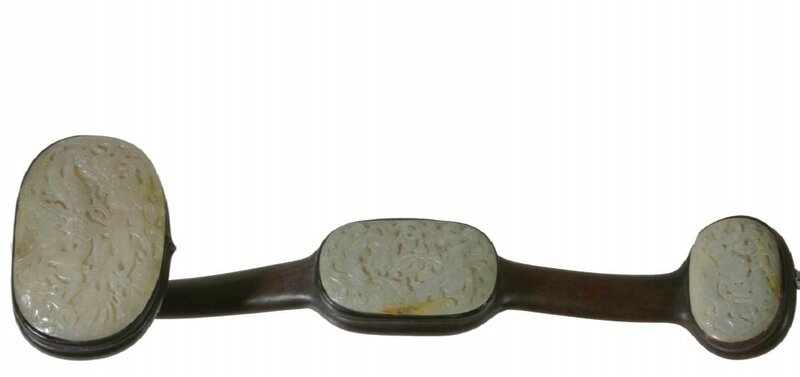 A pale celadon jade-inlaid wood ruyi sceptre, 19th century. Photo Dreweatts & Bloomsbury Auctions
inset with three jade oval plaques fitted to the head, centre and terminal of the sceptre, carved, respectively, with a carved with a four-clawed writhing dragon and two sinuous chilong amid leafy foliage, pierced and strung with a silk tassel, 41.5cm long, with wood stand, glass case, 53cm long. Estimate £2,000-3,000

清十九世纪 硬木嵌玉牌如意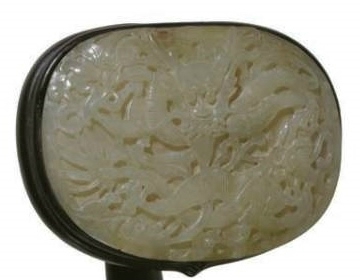 Ruyi sceptres were among the most prized gifts by the Qing emperors, especially, the emperor Qianlong (r.1735-1796). Translating as 'as you wish' or 'may all your wishes come true', ruyi sceptres were made in every material; they denoted rank and accomplishment and were usually presented to emperors and empresses to commemorate auspicious occasions such as birthdays, reign anniversaries, and weddings. The Forbidden city Museum holds an impressive collection of sceptres made in a variety of materials ranging from jade, ivory, agate, lapis lazuli, coral, turquoise, rubies, gold, pearls and rubies. Literary records dating from the 5th century AD relate to the ownership of ruyi sceptres as emblematic of political power and tool of discourse and their overall long-handled shape underscored wishes for wisdom and longevity. The lingzhi fungus, whose curling form the sceptre was thought to imitate, was in fact greatly praised in Daoist beliefs as the 'lifeelixir' growing in the mythical island of Penglai, and often occurred as attribute of famous immortal figures such as
the Divine Farmer, Shennong, originator of Chinese herbal medicine, the Queen Mother of the West, dispenser of longevity and eternal bliss, and Shoulao, god of longevity.
For reference on the ruyi sceptres in the Forbidden city collection see Rawson, Jessica (2006), 'The Auspicious Universe', in China: The Three Emperors, p. 358-381. For literary records relating to the early use of ruyi sceptres, see Kieschnick, John (2003), The Impact of Buddhism on Chinese Material Culture.
Dreweatts & Bloomsbury Auctions. Chinese Ceramics and Asian Works of Art. 17th May 2014. http://www.dreweatts.com/