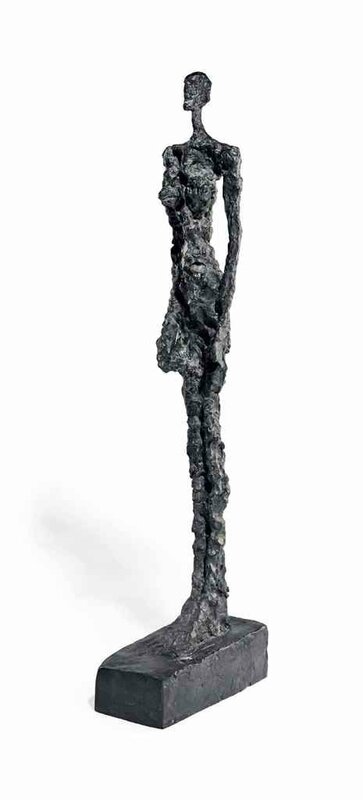 Alberto Giacometti (1901-1966), Femme de Venise IV. Photo Christie's Image Ltd 2014.
signed and numbered 'Alberto Giacometti 2/6' (on the left side of the base); inscribed with foundry mark 'Susse Fond. Paris' (on the back of the base), bronze with dark brown and green patina and hand-painted by the artist. Height: 45½ in. (115.5 cm.). Conceived in 1956 and cast in 1957. Estimate $10,000,000 – $18,000,000
Provenance: Heinz Berggruen, Paris.
Max Rayne, London (acquired from the above, 1962); sale, Sotheby's, London, 27 June 2000, lot 29.
Acquired at the above sale by the present owner.
THE QUEST FOR EXCELLENCE: ONE PRIVATE COLLECTOR'S PASSIONS
"Passionate people elevate the world"*
Miró, Giacometti, Klein and Kiefer--four commanding masterpieces created by four great masters, that all reflect in their own way the passions of a man dedicated to his love for art whether it be the theatre, acting or collecting. Four artworks with an incredibly strong presence the sale of which will help him bring life to his own theatre.
Few art-lovers are willing to sacrifice it all for art which has made this adventure all the more thrilling and fascinating. And it is so rare to see someone giving everything for art that Christie's is exceptionally honored to participate in this unique project.
Acting is all about combining words and gestures. How could one not draw the parallel between these artworks and the language of theatre: an expressive association of body movement and the spoken word?
Firstly, the body and gestures.
In Yves Klein's Anthropométrie series, the human body is reduced to its imprint. Anthropométrie (ANT 49) is nonetheless charged with carnal and generous sensuality and the thickly pigmented female forms overwhelm the paper with their sensorial presence.
Next is gesture.
An "ascending vitality" flows from Alberto Giacometti's fingers to create Femme de Venise IV from a single mass of clay that was assiduously worked and reworked. The gesture of the painter, such as Anselm Kiefer's, as he wields his brush saturated with paint, creates the more than five-meter long panoramic landscape, Beschwert sind die östlichen Himmel mit Seidengewebe, whose intensity and power are haunting.
Words bring us to the drama that is man faced with History.
The title-poem of Joan Miró's Le serpent à coquelicots traînant sur un champ de violettes peuplé par des lézards en deuil echos the artist's pictorial language. It is a fitting hymn to the United States and Americans as the artist intended in 1947 to celebrate the aid given to war-torn Europe, a "field of violets populated by mourning lizards."
Like in the wake of a tragedy, one finds all the horror of the 20th century wars in Anselm Kiefer's raw panoramic of a scorched landscape. But in distance glimmers the hope of a returning light where the horizon meets the sky and are written Paul Celan's words: "the pictorial silence which illustrates the unmemorable nature of human consciousness."
Such a rebirth, Femme de Venise IV, is a goddess, a tutelary figure created by Alberto Giacometti--like a demiurge--that offers a promise of new life to the world.
Four masterpieces each play a role in this Shakespearean collection.
--Florence de Botton
* Albert Guinon, French playwright (1863-1923)
THE QUEST FOR EXCELLENCE: ONE PRIVATE COLLECTOR'S PASSIONS
Literature: R. Hohl, Alberto Giacometti, Lausanne, 1971, p. 119 (another cast illustrated).
B. Lamarche-Vadel, Alberto Giacometti, Paris, 1984, p. 144 (Femmes de Venise series discussed).
J. Lord, Giacometti: A Biography, New York, 1985, pp. 355-358, 382 and 485 (another cast illustrated).
H. and M. Matter, Alberto Giacometti, New York, 1987, pp. 118 and 120 (another cast illustrated).
Y. Bonnefoy, Alberto Giacometti: A Biography of His Work, Paris, 1991, p. 402, no. 380 (another cast illustrated in color, p. 403).
A. Schneider, ed., Alberto Giacometti: Sculpture, Paintings, Drawings, New York, 1994, pp. 32-33 (another cast illustrated, pls. 108-114).
The Alberto Giacometti Database, no. 1400.
The Alberto and Annette Giacometti Association Database, no. S-2000-4.
Exhibited: Basel, Fondation Beyeler, Giacometti, May-October 2009, p. 150, no. 116 (illustrated in color, pp. 148 and 151).
Notes: The sculptures known as the Femmes de Venise, a series comprising nine individual but closely related figures executed in plaster during 1956 and subsequently cast in bronze, are probably Giacometti's best-known works, and are widely regarded as having significantly contributed to his reputation and fame as the most important sculptor of the postwar era. "The Women of Venice mark the halfway point in Giacometti's mature work," Christian Klemm has stated, "they bring together the different characteristics of his figures. The evocative name, which binds the individual figures into one group despite their differences, had an enhancing effect: as the figures became legendary, they came to be regarded as the epitome of his art. The extremely small, distant heads and the innovatively sloping pedestals, from which the over-size feet grow, still make them seem like revelatory, illusionistic visions... The tension in the mingling of goddess and concubine, of Egyptian cult image and decomposing corpse, is seen nowhere as vividly as in this group" (Alberto Giacometti, exh. cat., The Museum of Modern Art, New York, 2001, p. 218).
The Femmes de Venise thus constitute a central peak in Giacometti's career as a sculptor. They stem from the unprecedented attenuated and visionary works of 1947-1948, on the basis of which Giacometti initially achieved international renown in his first post-war solo exhibition at the Pierre Matisse Gallery, New York, in 1948, including Grande figure (fig. 1) and the first version of L'homme qui marche. At the same time, the Venetian women anticipate the monumental final project of Giacometti's lifetime, the figures he conceived for Chase Manhattan Plaza in New York during 1959-1960, including L'homme qui marche I and II and Grandes femmes debout I-IV (fig. 2). These were the largest figures he would ever model, which he intended to cast in an even more greatly enlarged scale for the Plaza site, at huge heights of around 25 feet or more. The Chase Manhattan project remained sadly unrealized at Giacometti's death; it is impossible to walk through this downtown space today, tall modern buildings on every side, without imagining the impact such awesomely towering giants, maintaining their silent vigil, might have had on passersby.
As the Comité Giacometti has attested, the sculptor applied to the present cast of Femme de Venise IV, the second in an edition of six, "traces de peinture," most noticeably in the central core section of the figure, in the very cradle of her feminine generative powers. The patination is especially rich, here and there revealing warmly earthen and flesh-like tones that effectively contrast with the overall green-gray tonality of the finished bronze.
The Femmes de Venise were in their essential achievement an entire lifetime in the making. It was not until the mid-1950s that the French government finally acknowledged the already well-publicized achievement of the great sculptor born in southeastern Switzerland near the Italian frontier who had spent most of his career working in Paris. The arts ministry invited Giacometti to exhibit selections from his oeuvre in the main gallery of the state pavilion at the 1956 Venice Biennale, which was scheduled to open in June. Giacometti had already agreed to a major retrospective at the Kunsthalle Bern, which would run concurrently with the Biennale.
The prestigious occasion of the Biennale, together with the even larger Bern event, clearly called for a maximum effort. As Giacometti was deciding which pieces to include in the Biennale, he was hesitant to rely too heavily on his older sculptures, which seemed more appropriate for the Bern overview of his career. Giacometti welcomed the prospect of the Biennale for the incentive it gave him to produce a freshly conceived and newly created group of sculptures not yet seen anywhere in public, which would serve as a most up-to-date and definitive statement of his work at this stage in his career. He experienced, at the same time, a sense of anxiety at such a daunting prospect, for as his brother Diego explained, the sculptor typically responded to an imminent opening with the feeling that "he was never satisfied with anything, and wanted to reject everything, make something better, and only did the work the day before" (quoted in R. Hohl, ed., Giacometti: A Biography in Pictures, Ostfildern-Ruit, 1998, p. 154).
Giacometti decided that as the latest, state-of-his-art sculptures he would model a series of standing nude women. He set to work on them in early 1956, initiating a rush of sustained and feverish activity that lasted through May. Both time-wise and in the method he chose to create these sculptures, Giacometti indeed worked "down to the wire": he employed for each and every femme in the series a single armature which his brother Diego prepared for him, upon which he modeled and reworked his new figures. "In the course of a single day," James Lord observed, "a figure could undergo ten, twenty, forty metamorphoses as the sculptor's fingers coursed compulsively over the clay" (op. cit., p. 355). A driving sense of doubt and self-criticism had become an essential component in Giacometti's creative method, even more so in his mature work, which compelled him to relentlessly build up, break down, and often even destroy the clay figures-in-progress, after which he would begin anew on the same wire axis.
The twists and turns in the very process of creation itself had become as important to Giacometti as the sculpture that resulted from it, a phenomenon which is manifest in Picasso's late work as well. The Femmes de Venise are in effect signposts that mark the sculptor's journey through his theme, pointing to the difficulties and indeed the very struggle into which he had thrust himself to create these figures. Whenever Giacometti achieved a result in clay that interested him, in and of itself, and as importantly for the next development in this process that it might suggest, that figure was granted a reprieve for as long as it took Diego to make a plaster cast of it, which required only a few hours pause in the sculptor's efforts. "Not one of these states was definitive, because he was not working toward a preconceived idea of form," Lord explained. "Alberto's purpose was not to preserve one state of his sculpture from amid so many. It was to see more clearly what he had seen. In plaster, the revelation was more luminous than in clay. Once a figure existed in plaster, however, it stood apart from the flux in which it had developed. It had achieved an ambiguous permanence and made an apparent claim for survival. If the artist allowed it to survive, to be cast in bronze, this was by reason of curiosity and comparison, not as potential evidence of achievement" (op. cit., pp. 355-356).
"The last of the states was no more definitive than its predecessors," David Sylvester also noted. "All were provisional. And from his point of view, every head and standing figure was a state, hardly more than a means towards doing the next" (Looking at Giacometti, New York, 1994, p. 85). Giacometti eventually put aside a sufficient number of such worthy candidates, preserved in plaster, by which he felt he could make the strong impression he intended at both the Venice and Bern exhibitions.
Giacometti, from first to last in the Femmes de Venise, adhered consistently to a fundamental configuration of head, upper body, abdomen, pelvis and limbs, hands, and especially those magnificent outsize feet, albeit with distinctive variations, as he pressed forward in each version from one existential make-over to the next. "When a spectator's attention is fixed upon the head," Lord observed, "the lower part of her body would lack verisimilitude were it not planted firmly upon those enormous feet... The eye is obliged to move up and down, while one's perception of the sculpture as a whole image becomes an instinctual act, spontaneously responding to the force that drove the sculptor's fingers. Comparable to the force of gravity, it kept those massive feet so solidly set on the pedestal that they affirmed the physicality of the figure as the one aspect of his creativity which the artist could absolutely count on, all the rest being subject to the unreliability of the mind's eye" (op. cit., pp. 356-357).
During the early 1950s Giacometti's wife Annette usually served as his studio model whenever the artist drew, painted and sculpted the female figure from life. He diverged from this practice while modeling the Femmes de Venise, returning instead to the "visionary" approach that he had pursued in creating the astonishing figure sculptures of the late 1940s that had first brought him fame. He again worked from a subjective visualization of the female form that was more myth than natural representation, more churning earth and ashes than the textures of sensual flesh, the corporeal embodiment of a living woman transfigured into a haunting apparition. The women nevertheless retain, due to the insistent matière of plaster or bronze, a profoundly physical presence. These sculptures possess an intensely expressive tactile aspect; each figure is an irreducible topography of peaks, pits, crags and recesses, formed as if from the volcanic magma of sculptor's innermost consciousness.
We know the Femmes de Venise from the nine states, preserved in plaster, that Giacometti allowed to survive and subsequently had cast in bronze, numbered from I to IX. Giacometti modeled in clay, and had Diego cast in plaster, a total of fifteen femmes that are known to have existed at one time or other, perhaps not concurrently. We know from photographs that the sculptor elected to show ten plasters that summer: he dispatched six to the Biennale, while four went to Bern. Giacometti's unrelenting process of self-critical selectivity remained in force even after the exhibitions had run their course. One of the six plasters shown in Venice, and two of the four Bern figures, three in all, were not cast in bronze and were presumably destroyed. Other plasters that had remained behind in Paris were later cast in their place to constitute the now extant series of nine women. From this accounting we may reckon that only five of the figures we now call Femmes de Venise actually made their debut in Venice. The present Femme de Venise IV does in fact live up to its namesake venue. The plaster from which Giacometti later cast the present bronze is visible, as the second Femme from the left side, in an installation photograph taken at the 1956 Biennale (fig. 3).
The numbering of the nine bronze Femmes de Venise does not necessarily reflect the specific order in which Giacometti created his clay models from which the surviving plasters were made. One may draw up a provisional sequence of the figures, or at least relate one to another, by noting those specific characteristics that certain femmes appear to share, while observing the alterations Giacometti introduced as he reworked the figure, realizing new and different effects along other sections of the single master armature, some of which he thereafter carried forward in some variant manner to the next femme.
Citing its robust and earthy aspect, its exaggeratedly feminine figure--and in these respects, its similarity to the Nu debout series of smaller standing women, 1953--some commentators have proposed that Femme de Venise I (fig. 4) was likely modeled early, if not first of all, in the series. Both the present Femme de Venise IV and the figure numbered V (fig. 5) maintain the broad shoulders and naturalistic anatomy of Femme de Venise I, and the three together may be considered to be close relations, even sisters of a kind, stemming from a particular root conception the sculptor initially had in mind, which characterizes each of these women. Femme de Venise IV, slightly taller and more shapely than the other two, is surely the most impressive of this group, and moreover stands out among the entire group of nine Femmes de Venise--there is no other femme among them who attains this singular balance between the characterization of fleshly femininity and the Giacomettian imperative toward attenuated form, and consequently possesses this most satisfyingly attractive silhouette.
Thusly exaggerated in their busty, wasp-waisted, and broad-hipped features, especially in contrast to the typically super-attenuated women of the late 1940s, Femmes de Venise I, IV and V are 20th century incarnations of a prehistoric fertility fetish, bronze totems of female generative power. Indeed, as if to emphasize this role, Giacometti applied thin washes of white and warmly tinted paint to the present cast, especially noticeable in the cradle-like zone of the figure formed by her lower belly and pelvic region, further rounded and contained on both sides by the cupping gesture of her powerful hands. According to the Fondation Alberto et Annette Giacometti, this cast 2/6 is the only one of the Femme de Venise IV bronze edition to have been finished in this manner. Giacometti had long appreciated the fact, largely lost to view today, that the sculpture of antiquity and in Europe during the medieval period was painted to project a startling, lifelike effect. David Sylvester has noted that "Giacometti first colored some of his pieces while in Bourdelle's class, where he became impatient with monochrome sculpture... From the mid-1940s on, the plasters in the studio were often decorated with free linear drawing in black and rust, some of it indicating features, especially eyes, most of it freewheeling...presumably to break up the whiteness of the plaster. But about 1950 he began to paint some of the bronze casts completely... He certainly believed that in principle his sculpture ought to be coloured" (op. cit., p. 102).
The heads of all the Femmes de Venise are small in relation to their elongated bodies, but without the distraction of variously coiffed hair-dos seen in the other six figures, the heads held high in nos. I, IV and V project an especially noble character, worthy of the idolic goddesses into whom Giacometti has transformed them. They appear to gaze imperiously past and beyond us as we stand before them. The position of the Femmes de Venise in Giacometti's oeuvre is Janus-like; looking back, they are a summation of all that had gone before, and forward, they herald the monumental Grande femme debout group of 1959-1960 (fig. 6), Giacometti's largest sculptures, to come. "I have certainly been painting and sculpting to get a better grip on reality," he wrote in 1957, "...to see better, to understand things around me better, to understand better as to be free and as big as possible, to spend myself as much as possible in what I do, to discover new worlds, to wage my war... for the pleasure of winning and losing" ("My Reality," trans. in M. Peppiatt, Alberto Giacometti in Postwar Paris, exh. cat., Sainsbury Centre for Visual Arts, 2001, p. 37). James Lord has observed that "With the entire accumulation of this stylistic skill--wrought by a sheer disbelief in its efficacy--Giacometti was moving towards a greater and greater simplicity of means, which showed that he was going, as he had always meant to go, toward a confrontation with what was most difficult" (op. cit., p. 357).
The novelist and playwright Jean Genet, whom Giacometti regarded as his favorite living author, is widely considered to have written the most illuminating "insider's" study of the sculptor's everyday life and work in his essay "The Studio of Alberto Giacometti," which Galerie Maeght published in its magazine Derrière le miroir in 1957. Genet recounted how he was repeatedly drawn to the Femmes de Venise (fig. 7) during the numerous visits he made to the sculptor's studio:
"They give me this odd feeling: they are familiar, they walk in the street, yet they are in the depths of time, at the source of all being; they keep approaching and retreating in a sovereign immobility. If my gaze attempts to tame them, to approach them, then--but not furiously, not ranting or raging, simply by means of a distance between them and myself that I had not noticed, a distance so compressed and reduced it made them seem quite close--they take their distance and keep it: it is because this distance between them and myself has suddenly unfolded. Where are they going? Although their image remains visible, where are they?
"I keep coming back to these women, cast in bronze now... Around them space vibrates. Nothing is any longer at rest. Perhaps because each angle (made with Giacometti's thumb when he was modeling the clay) or curve, or lump, or crest, or torn tip of metal are themselves not at rest. Each of them still emits the sensibility that created them. No point, no ridge that outlines or lacerates space is dead. I can't stop touching the statues: I look away and my hand continues its discoveries of its own accord: neck, head, nape of the neck, shoulders... The sensations flow to my fingertips. Each one is different, so that my hand traverses an extremely varied and vivid landscape...
"The backs of these women may be more human than their fronts. The nape of the neck, the shoulders, the small of the back, the buttocks seem to have been modeled more lovingly than any of the fronts. Seen from three-quarters, this oscillation from woman to goddess may be what is most disturbing: sometimes the emotion is unbearable... I cannot help returning to this race of gilded--and sometimes painted--sentries who, standing erect, motionless, keep watch" (trans. Richard Howard in E. White, ed., The Selected Writings of Jean Genet, Hopewell, New Jersey, 1993, pp. 317, 323, and 324).
Alberto Giacometti modeling the plaster version of Femme de Venise V in his Paris studio, 1956. Photograph by Isaku Yanaihara. Fondation Alberto et Annette Giacometti, Paris. BARCODE: 28861287
(fig. 1) Alberto Giacometti, Grande figure, 1947. Metropolitan Museum of Art, New York. BARCODE: 28863335_fig
(fig. 2) Installation photograph of the Giacometti Room at the 1962 Venice Biennale, showing Homme qui marche I and II, Grande femme debout II, and Grande Tête, sculptures executed in 1960 as models for the Chase Manhattan Plaza project. Cameraphoto, Venice. BARCODE: 2523855FIG
(fig. 3) Installation photograph of six plasters in the series Femmes de Venise at the French Pavilion of the 1956 Venice Biennale. Femme de Venise IV is visible as the second plaster from the left side. Fondation Alberto et Annette Giacometti, Paris. BARCODE: 20625139FIG
(fig. 4) Alberto Giacometti, Femme de Venise I, 1956. Sold, Christie's, New York, 9 May 2007, lot 6. BARCODE: 25494105_A
(fig. 5) Alberto Giacometti, Femme de Venise V, 1956. Sold, Christie's, New York, 3 November 2010, lot 64. BARCODE: 25017755A
(fig. 6) Alberto Giacometti, Grande femme debout II, 1959-1960. Sold, Christie's, New York, 6 May 2008, lot 36. BARCODE: 18105506F
(fig. 7) Giacometti with the nine Femmes de Venise in the courtyard of the Maeght Foundation, Saint-Paul-de-Vence, 1963 or 1964. Femme de Venise IV is the second bronze from the right side. Fondation Alberto et Annette Giacometti, Paris. BARCODE: 28861270_fig
Christie's. IMPRESSIONIST AND MODERN ART EVENING SALE INCLUDING PROPERTY FROM THE ESTATE OF EDGAR M. BRONFMAN. 6 May 2014. New York, Rockefeller Plaza - http://www.christies.com/