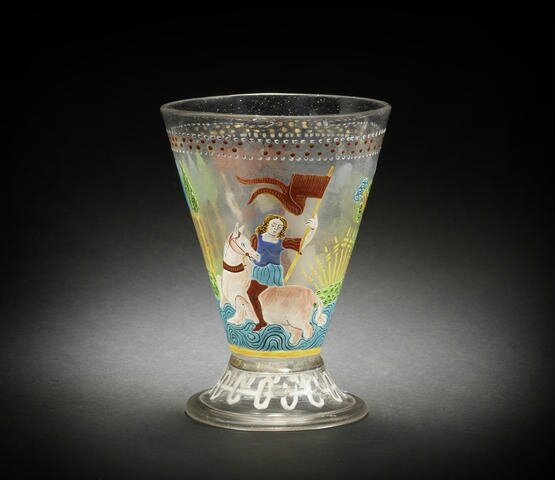 An important and unrecorded Venetian enamelled goblet, circa 1500-1520. Estimate £30,000-40,000. Photo: Bonhams.
LONDON.- A newly discovered enamelled goblet from the Golden Age of Venetian glass-making is to be sold at Bonhams Fine Glass sale in London on 21 May. It is estimated at £30,000-40,000. Bonhams, the third largest international fine art auction house, holds sales of Fine Glass in London, Oxford, Edinburgh, and New York.
The goblet dates from 1500-1520. There is no record of its existence and, until recently, it has been in a private house where its significance was unrecognized. The shape of the goblet immediately reminded Bonhams specialists of an example that had been found beneath the campanile de San Marco in St Mark's Square in Venice after it collapsed in 1902. Further research established strong stylistic and decorative links with similar Venetian goblets of the early 1500s in collections in Prague, Florence, Berlin, Frankfurt, the Victoria and Albert Museum in London and at Waddesdon Manor in Buckinghamshire, the home of Lord Rothschild.
Extensive scientific analysis by the Centre for Archeological and Forensic Analysis at Cranford University confirmed that the chemical composition of the enamels was consistent with other early Venetian glass and, crucially, that the recipes of ingredients used to produce different colours were identical to those in use in Venice at that period.
Bonhams Managing Director of Europe and noted glass specialist, Simon Cottle, said: "This is an immensely exciting discovery from the Golden Age of Venetian glass. Very few enamelled goblets of this quality have survived and they are almost all in distinguished public collections."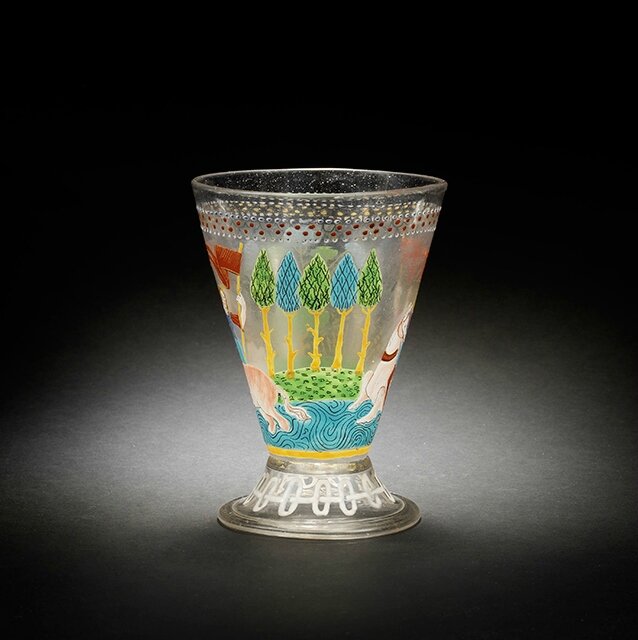 An important and unrecorded Venetian enamelled goblet, circa 1500-1520. Estimate £30,000-40,000. Photo: Bonhams.
The flared conical bowl decorated on both sides with a figure holding a red standard, riding a horse through water, flanked on one side by a row of alternate green and light-blue trees and on the other side by a single tree, the rim decorated with a band of gilded scale pattern embellished with red and white-and-blue dots, the base of the bowl with a gilt band above a high conical spreading foot with folded rim, painted in opaque white with a formal chain border, 13.6cm high (gilding typically rubbed, some very minor enamel loss)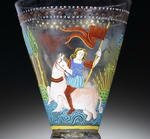 This shape in Venetian enamelled glass is forever associated with the example found beneath the campanile de San Marco when it collapsed in 1902. This partly reconstructed fragment features a similar jewelled border to the present lot and also relates to a goblet enamelled with a crab and putti in the Museum of Decorative Arts in Prague (Catalogue of Venetian Glass, no. 6, fig. 4). In his book 5000 Years of Glass (1991), Hugh Tait suggested the goblet in Prague was from the same workshop and possibly by the same hand as another given to the British Museum by Felix Slade in 1868 (MLA S.391, 82.4). This shows a figure riding on a horse and holding a banner and this is clearly related to the present lot. Tait suggested also that the same workshop created the Centaur Goblet in the Rothschild Collection at Waddesdon. It is worth noting that this Centaur Goblet has a similar border around the foot as the present lot, a distinctive chain motif seen on other pieces of Venetian glass dating from around 1500.
The figures seen on both sides of this newly-discovered goblet are painted with similar facial features, shading and hair to the 'Triumph of Justice' goblet in the National Museum in Florence, illustrated by Mariacher (1960), pl. 24. Both are possibly by the same hand as the goblet with crabs and putti in Prague, where the faces on the putti are again very similar to the present lot.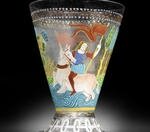 Other features within the painting link this goblet to other well-known pieces of early Venetian enamelled glass. The 'Triumph of Venus' bowl or standing cup in the British Museum (Hugh Tait, The Golden Age of Venetian Glass (1979), cat. 17) includes a row of trees painted alternately in light blue and bright green with black enamel patterns on top. The treatment of the grass, painted in bright green with tiny lines or shapes painted in black, relates to a jug in the Victoria and Albert Museum illustrated by Mariacher (1960), pl. 36. The trees on the present lot have yellow enamel stems that can be compared with the Behaim-Wappen Family beaker now in the Corning Museum of Glass which can be dated to c. 1495. Further pointed trees in a similar palate occur on a flask formerly in Lord Astor's collection, shown in the 1000 Years of Venetian Glass exhibition catalogue in 1982, p. 93, fig. 91.
The distinctive treatment of the water painted in the foreground on the present lot uses a light blue enamel on which waves have been neatly delineated in black. This technique is seen on a cobalt blue glass goblet in the Kunstgewerbemuseum in Berlin illustrated by Franz Dreier, Venezianische Glaser (1989), cat. 9. Similar water and textured grass appears in the centre of a bowl with a swan in Prague, illustrated by Karel Hettes, Venezianisches Glas (1960), cat. 7. Other related tazzas with the same depiction of water are known with central panels of a doe (in the British Museum illustrated by Hugh Tait, The Golden Age (1979), cat. 5) and with a stork (in the Museum fur Kunsthandwerk, Frankfurt, Glass Catalogue (1980), fig. 120). Another with a lady riding on a sea monster was sold in these rooms 4 June 2008, lot 384. A further beaker in the Victoria and Albert Museum (accession no. 7539-1861) includes water in light blue delineated with a different pattern in black. This V and A goblet features the same linked chain border in white enamel around the foot.
The figures on the present goblet are riding on curiously-shaped horses which differ from the depictions of horses on the British Museum glass. It is possible the painter based his image on a series of prints published in Venice in 1499. A woodcut in Francesco Colonna'sHypnerotomach Poliphili illustrates the story of Europa and the Bull and this bears a striking similarity to the present lot. This theme was used on maiolica and was the subject of an exhibition at the Kunstgewerbe museum, Berlin in 1988, Die Verfuhrung der Europa. An Urbino maiolica dish in the Fitzwilliam Museum may possibly be based on the same woodblock, see Julia Poole, Italian Maiolica in the Fitzwilliam Museum (1995), pp. 309-311.
Bonhams has commissioned a scientific analysis of the enamels used on this goblet as well as the Venetian tazza, lot 3 in this sale. Tests were carried out by Kelly Domoney of the Centre for Archaeological and Forensic Analysis at Cranfield University, using XRF techniques (X-Ray Fluorescence). The results of the tests on the enamels on both objects are very consistent with published data for other early Venetian glass as well as with Venetian glass recipes of the period. The Cranfield University findings are summarised below.
'The chemical composition of the enamels decorated on the tazza and wine glass are consistent with published analytical data of enamelled Venetian glass objects in the Louvre and with Venetian recipes of the period. The light blue enamels are coloured with cobalt, copper, lead and tin. The yellows consist of antimony, zinc, tin and lead, indicating preparation from a yellow lead-stannate-antimonate pigment prepared with 'tuzia', a zinc containing compound. The green enamels have copper, lead and tin and are consistent with the raw materials used in Venetian recipes, i.e. copper oxide, mixed with a yellow pigment (usually lead-stannate) and a lead-tin calx. The red enamels are coloured with iron, lead and tin, and the white enamels are coloured with lead and tin.'