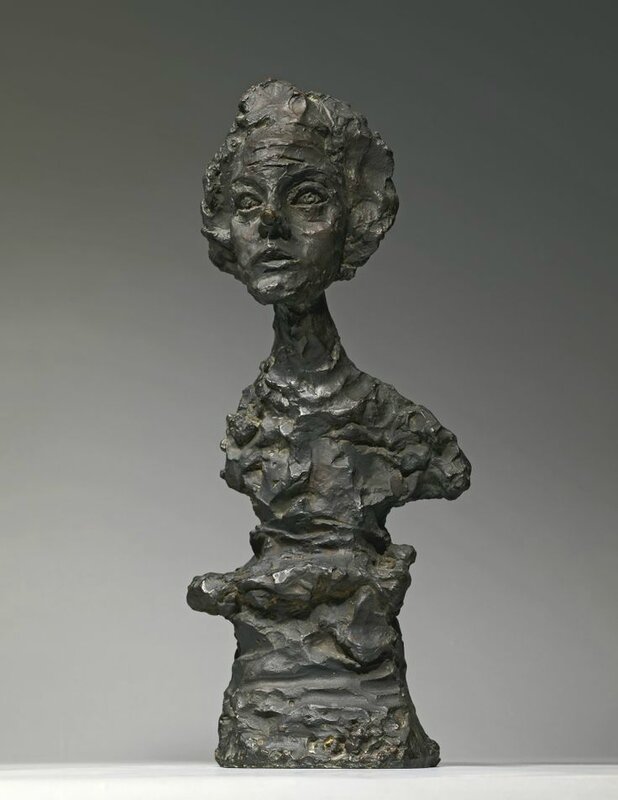 Alberto Giacometti (1901 – 1966), Buste d'Annette IV. Photo Sotheby's.
Inscribed with the signature Alberto Giacometti, numbered 5/6 and inscribed with the foundry mark Susse Fondeur, Paris. Bronze. Height: 23 inches, 58.5 cm. Conceived in 1962 and cast in 1963. Estimation 3,000,000 — 5,000,000 USD
Provenance: Théodore Fraenkel
Léna Lerclerq
Acquired in May 1965
Litterature: Jean-Raoul Moulin, Giacometti: Sculptures, Paris, 1964, illustration of another cast no. 24
Alberto Giacometti: Sculpture, Paintings and Drawings (exhibition catalogue), The Museum of Modern Art, New York, 1965, no. 71, illustration of another cast
Alberto Giacometti (exhibition catalogue), Musée de l'Orangerie des Tuileries, Paris, 1969, no. 110, illustration of another cast p. 82
Reinhold Hohl, Alberto Giacometti, New York, 1971, illustration of another cast p. 263
Giacometti, Sculptures, Paintings, Drawings (exhibition catalogue), Whitworth Art Gallery, Manchester; City of Bristol Museum and Art Gallery, Bristol & Serpentine Gallery, London, 1981, no. 33, illustration of another cast
Ronald Alley, ed., Collection of the Tate Gallery's Collection of Modern Art other than Works by British Artists (collection catalogue), London, 1981, illustration of another cast p. 283
Alberto Giacometti (exhibition catalogue), The Seibu Museum of Art, Japan, 1983, no. 193, illustration of another cast
James Lord, Giacometti: A Biography, New York, 1983, illustration of another cast n.p.
Bernard Lamarche-Vadel, Alberto Giacometti, Paris, 1984, illustration of another cast p. 154
Alberto Giacometti (exhibition catalogue), Nationalgalerie Berlin & Staatliche Museen Preussischer Kulturbesitz, Berlin, 1987, no. 235, illustration of another cast p. 539
Alberto Giacometti: 1901-1966 (exhibition catalogue), Hirshhorn Museum and Sculpture Garden, Smithsonian Institute, Washington D.C., 1988, no. 100, illustration of another cast
Alberto Giacometti (exhibition catalogue), Museo Nacional, Centro de Arte Reina Sofia, Madrid, 1990, no. 248, illustration of another cast
Yves Bonnefoy, Alberto Giacometti, A Biography of His Work, Paris, 1991, fig. 517, color illustration of another cast p. 512
Thierry Dufrêne, Alberto Giacometti: Les Dimensions de la réalité, Geneva, 1994, illustration of another cast p. 183
Alberto Giacometti: Sculpture, dipinti, disegni (exhibition catalogue), Palazzo Reale, Milan, 1995, no. 78
Jean Soldini, Alberto Giacometti: La Somiglianza introvabile, Milan, 1998, illustration of another cast p. 141
The Millenium Gift of Sara Lee Corporation (exhibition catalogue), Singapore Museum of Art, Singapore, 1999, illustration of another cast pp. 62ff
Alberto Giacometti: A Selection of Sculptures, Paintings, and Works on Paper, With an essay by Jean Genet (exhibition catalogue), Galerie Art Focus, Zurich, 1999, p. 84
Alberto Giacometti (exhibition catalogue), The Museum of Modern Art, New York & Kunsthaus Zurich, Zurich, 2001, no. 179, illustration of another cast p. 240
Toni Stooss 'Portraits in Space. An approach to Alberto Giacometti's Busts' in Markus Bruderlin & Tony Stooss, eds., Alberto Giacometti, The Origin of Space (exhibition catalogue), Kunstmuseum Wolfsburg, Wolfsburg, 2011, fig. 16, illustration of another cast p. 196
An arresting, near life-size portrait, Annette IV belongs to an important series of bronze busts that Giacometti made of his wife in the early 1960s. Working furiously and often from life, Giacometti created the first eight busts of the series – including the present work – in 1962, adding a ninth iteration in 1964 and culminating in the tenth,Annette X, in 1965. In his seminal monograph on the artist, Yves Bonnefoy suggests that it was with this series of works that Giacometti came closest to fulfilling his ambition to capture the physical and psychological presence of his model. The greatness of these sculptures, Bonnefoy wrote, lies in the "flame in the depth of the eyes, somehow captured in bronze, which testifies to the fact of life in those glances which are doomed to become decaying matter. It seems as though Giacometti's sole concern was to preserve that furtive presence from the flames of death" (Y. Bonnefoy, op. cit., p. 51). An extremely rare cast which has not appeared at auction since 1999, Annette IV is thus a spellbinding, final homage to the woman who had served as one of Giacometti's most important muses since the day they had met in Geneva in the fall of 1943, when she was just twenty years old.
Alberto and Annette were married in 1949 and by the time he first created the sculpture from which Annette IV was cast, Giacometti had been painting and drawing Annette for over a decade and a half; only his brother Diego could rival her in terms of prominence within his work. Giacometti was notoriously demanding of his sitters, expecting them to pose absolutely immobile for hours on end within the famously ramshackle surroundings of his studio on rue Hippolyte-Maindron, and he felt strongly that it was precisely his intimacy with his models that brought about a sense of unfamiliarity when he placed them under the intense scrutiny of these sessions. In the last decade of his life, Giacometti was increasingly drawn to working from life in sculpture too, having previously eschewed it, and it was to those closest to him, principally Annette and Diego, that he turned once again for models. The present work was executed at a time when the relationship between the artist and his wife was increasingly fraught, however, for it was only a year previously that Giacometti had met Caroline, a young woman who had quickly become his mistress and would remain an important part of his life and work until his death in 1966. While Annette remained a vital presence in Giacometti's life and continued to visit his studio daily, there appears to have been some strain between them and it was perhaps Giacometti's desire, or need, for a fresh appraisal of his wife's character under this upheaval in both his life and art that prompted his decision to turn to her features in his sculpture at this moment in time.
In the case of Annette IV, the relationship between the artist and subject is evident in the sense of scale that he embraces: the relatively large scale of the head compared to many of his other portraits brings about a sense of intimacy through its implied sense of proximity. Giacometti was tantalized by the presence of his subject in front of him and the seeming divide between the head that he saw and the one that he could model. This affected every aspect of his sculpture, and the reality of Annette's physical proximity here is evidenced by the incredible opulence of the surface of the present work; a legacy of the probing, darting movements of the artist's hands when he modeled her features. As he adds substance to the figure of Annette in this sculpture, he heightens her expressiveness by kneading into the recesses of her eyes, the furrows of her brow, and the curls of her hair. Indeed, the naturalism of the depiction in Annette IV lies in stark contrast to the busts that Giacometti had made of Diego in the 1950s in which he reduced the volume of his brother's head to a knife-edge. For all this, there is an undeniable, almost tangible, sense of solitude and psychological distance in the figure of Annette IV, accentuated by Giacometti's intense focus on his subject's eyes, which completely dominate the bust, fixing the viewer with the intensity of their wide, unblinking gaze.
For Giacometti, it was the head in particular that presented a problem in terms of depiction – it contained the brain, the character, the personality, the face – and, during an interview in 1966, he confirmed that it was a subject's eyes that fascinated him most of all. He explained, "When you look at a face you always look at the eyes.... Now the strange thing is, when you represent the eye precisely, you risk destroying exactly what you are after, namely the gaze.... In none of my sculptures since the war have I represented the eye precisely. I indicate the position of the eye. And I very often use a vertical line in place of the pupil. It's the curve of the eyeball one sees. And it gives the impression of the gaze.... When I get the curve of the eyeball right, then I've got the socket; when I get the socket, I've got the nostrils, the point of the nose, the mouth... and all of this together might just produce the gaze, without one's having to concentrate on the eye itself" (quoted in Kristine Stiles & Peter Selz, Theories and Documents of Contemporary Art: A Sourcebook of Artists' Writings, Los Angeles, 1995, p. 189).
In his biography of the artist, James Lord described how Giacometti's first, and lasting, impression of Annette had been of her deep brown eyes. He notes how "Alberto was struck at once by the quality of the gaze" (James Lord, Giacometti: A Biography, New York, 1985, p. 230). InAnnette IV, Giacometti undoubtedly succeeds in capturing the power of that ephemeral gaze, instilling the sculpture with a presence that captivates viewers in much the same way that Giacometti had been captivated by Annette two decades earlier. Every element of the sculpture works in harmony to animate the figure; even the crudely modeled shoulders contribute to the elegant lines leading up through the slender neck and slightly lifted chin, ultimately reaching the eyes. Simultaneously penetrating and impenetrable, Annette ultimately resists interpretation, and the present work wonderfully encapsulates Giacometti's belief that, with women, "the nearer one gets, the more distant they are" (Giacometti, quoted in David Sylvester,Looking at Giacometti, London, 1994, p. 30).
Sotheby's. Impressionist & Modern Art Evening Sale, New York | 07 mai 2014 - http://www.sothebys.com/