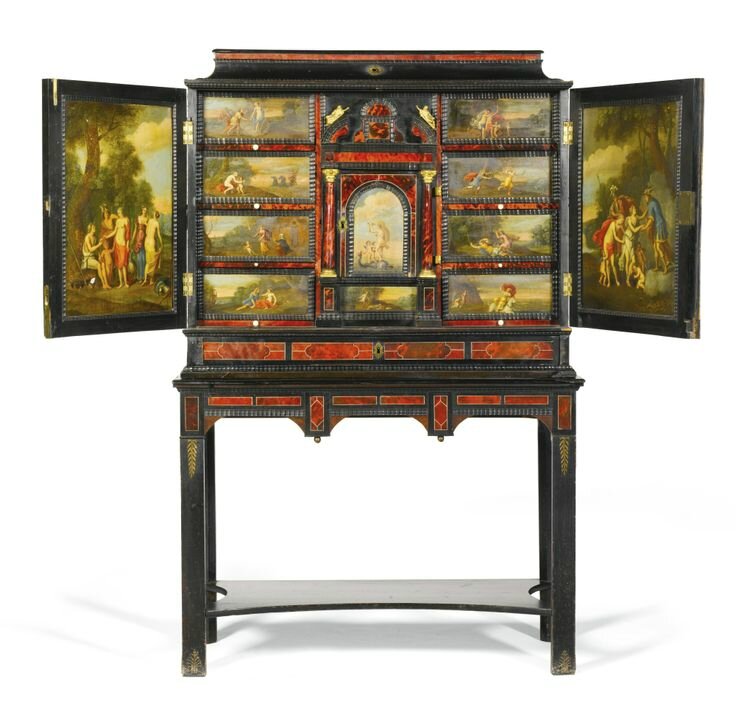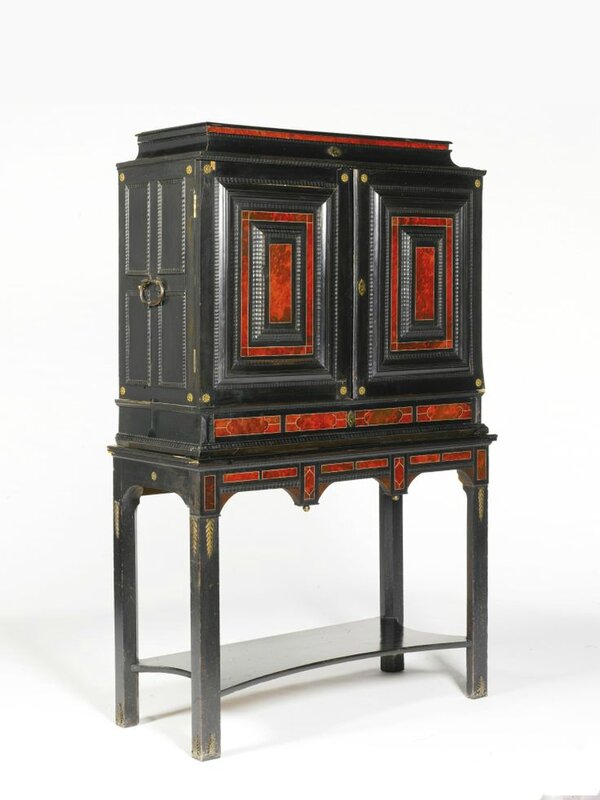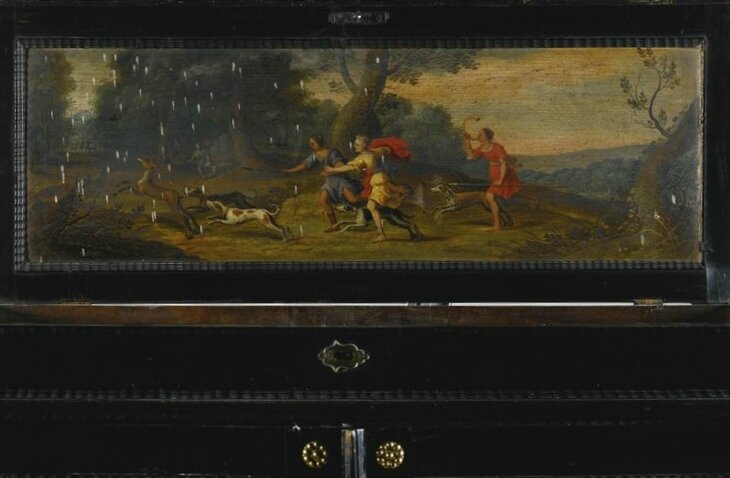 A Flemish ebony and tortoiseshell veneered cabinet on stand, Antwerp late 17th century, the stand 19th century. Photo Sotheby's
the cabinet with panels with raised mouldings, the hinged top with an inset painted panel to the interior, the pair of doors below enclosing an arrangement of eight drawers painted with mythological scenes, with a central architectural arched door below a broken pediment flanked by columns, the reverse of the cupboard doors similarly painted, on a later ebonised and tortoiseshell veneered stand; 164cm. high, 106cm. wide, 44cm. deep; 5ft. 4 ½in., 3ft. 6in., 1ft. 5in. Estimation 15,000 — 25,000 GBP

The interior is painted with scenes from Ovid's Metamorphoses: Diana and Actaeon (lid), Venus and Cupid going to Paphos (center door) Pyramus and Thisbe (center bottom), Venus and Adonis, Apollo and Daphne, Cephalus and Procris, the Rape of Europa (right drawers), Pluto carrying Proserpina, Venus and Neptune, Vertumnus and Pomona (left side drawers), Mercury and Graces, (right side door), Judgment of Paris (left side door).

Antwerp became the leading international centre for the manufacture of cabinets in the 17th century. One of its specialities was cabinets decorated with small oil paintings most of which were influenced in style by the celebrated Flemish artist Rubens who came from and flourished in this city.

In the late 16th century cabinets were already being made in Antwerp. It is however with a unique type of cabinet that Antwerp dominated the market, which was the ebony, and sometimes tortoiseshell, veneered cabinet decorated with oil paintings, which exploited the city's fame as the foremost centre for artists. As early as 1617, Jan Bruegel the Elder and Frans Francken depicted ebony cabinets mounted with painted panels in their paintings and Francken himself is known to have painted panels for cabinets.
Sotheby's. Arts of Europe, London | 15 mai 2014 - http://www.sothebys.com/