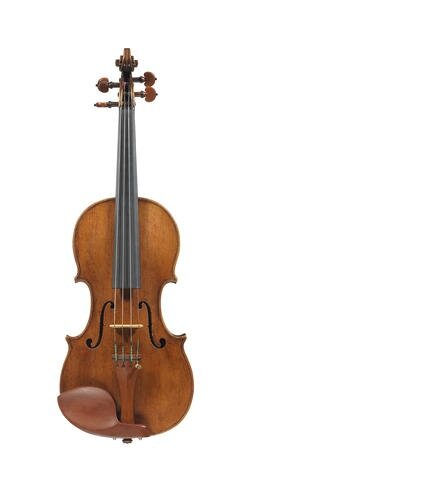 An Italian Violin probably by Hieronymus Amati, Cremona, circa 1700. Photo Bonhams.
Labelled Nicolaus Amatus cremonensis, Hyeronimi filii,ac Antonii Nepos, fecit anno 1646 Length of back 351mm (13 13/16in) of a golden amber brown colour, fine work after Nicolas Amati, in playing condition. (1). Estimate £100,000 - 150,000 (€120,000 - 180,000)
Offered with the illustrated Certificate of Emil Herrmann, signed and dated Easton, Conn., Jan 15 1955 no 1258 stating the above; "is a work of Hieronymo Amati figlio Nicolai of Cremona Period 1695....A characteristic example of Nicolo Amati's son and formerly in the possession of Benito Mussolini."
In addition to the illustrated complementary opinion of Kenneth Warren & Son, Chicago, signed and dated January 12 1979.
Bonhams. MUSICAL INSTRUMENTS. London, Knightsbridge. 12 May 2014 - http://www.bonhams.com/