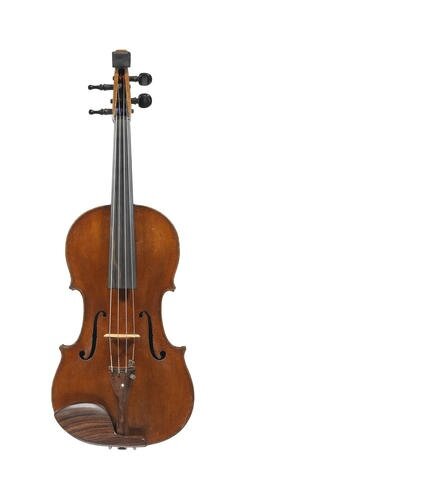 A fine and rare Viola by Tomaso Eberle, Naples circa 1770. Photo Bonhams.
Labelled Ferdinandus Gagliano Filius Nicolai fecit Neap 17-- Length of back 375mm (14 3/4in) plentiful varnish of warm orange brown colour, a well preserved example in mostly original condition, including the square section termination of the pegbox. (1). Estimate £80,000 - 120,000 (€98,000 - 150,000)
Offered with the illustrated Bicentario Stradivariano Certificato of October 1937 in Cremona to the above effect confirming it was exhibited there, the document stamped and signed by Il Presidente, S.F.Sacconi noting it was then the property of del Sig. Barone Giovanni Carbonelli di Letino di Roma...."autentica e bella"
In addition to the technical specification document of the Comitato Esecutivo of the 1937 Cremona Exhibition containing measurements and authentification signed by Fridolin Hamma, Leandro Bisiach, Simone F. Sacconi, P.Deschamps and other eminent experts of that era. "Viola piccola-di Tomaso Eberle di Napoli-autentica e bella."
Bonhams. MUSICAL INSTRUMENTS. London, Knightsbridge. 12 May 2014 - http://www.bonhams.com/