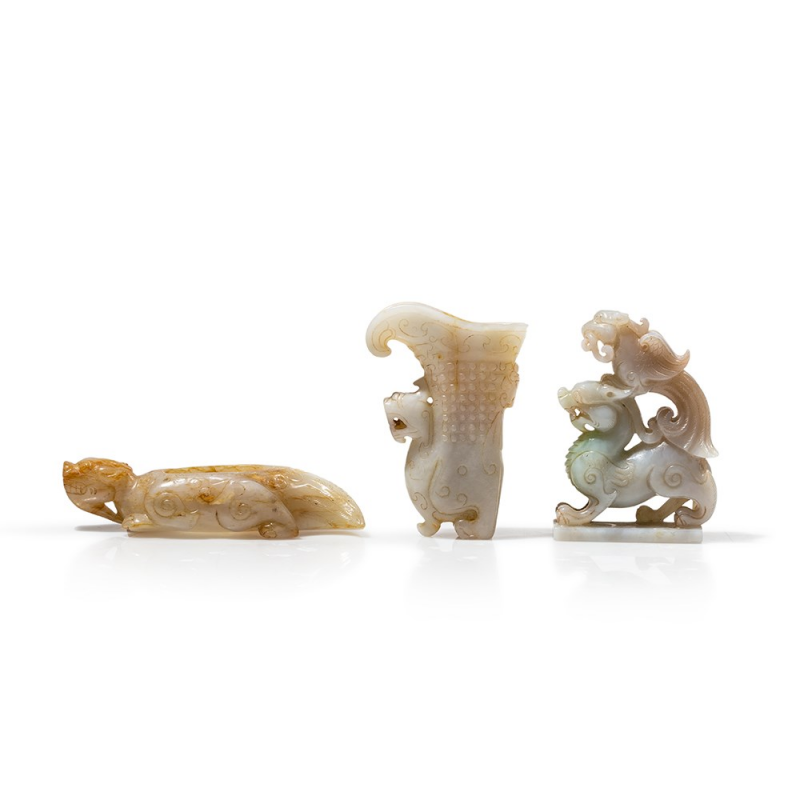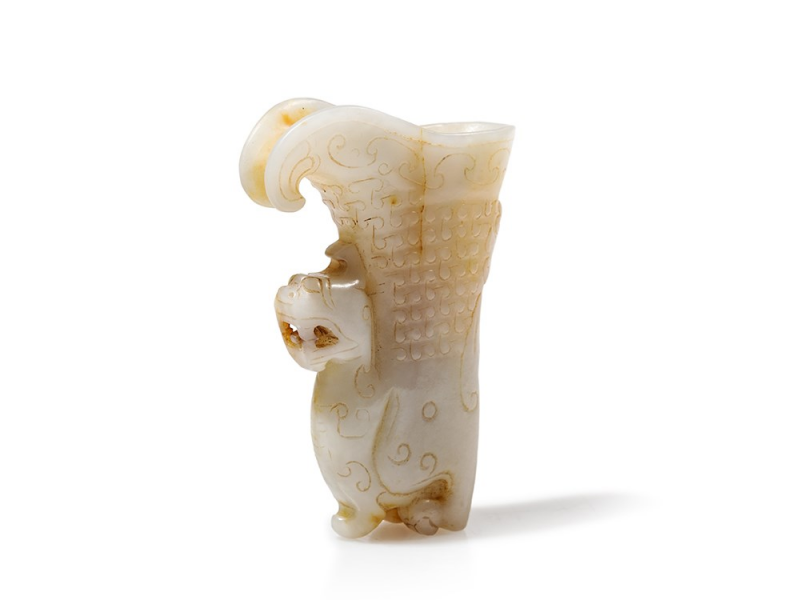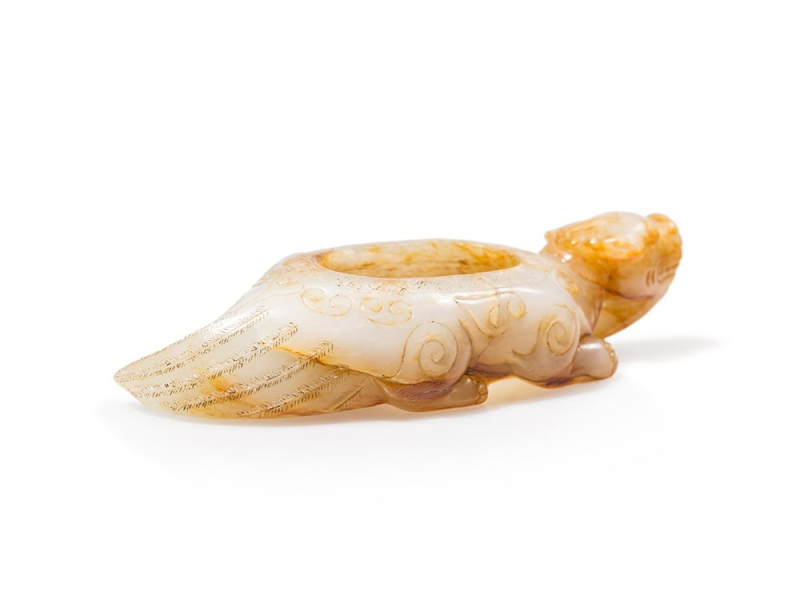 Three Archaistic Jade Carvings of Mystical Creatures, China, Qing dynasty (1644-1912) or slightly later. Photo courtesy Auctionata
Carved jade. Comprising: a rhyton, a chilong brush washer and a qilin surmounted by a phoenix. Traditional carvings following ancient prototypes from the Han and Ming dynasties. The stones varying in tone from pale celadon with russet inclusions to apple green jadeite. Dimensions: 9 to 12 cm. Good condition. Estimation : 800 € / 1 000 €

Provenance: Danish private collection

Finely elaborated jade stones of the mystical creatures in different nuances

These three jade carvings were made in China during the Qing Dynasty (1644-1912) or slightly later.
The set comprises a rhyton with a mystical creature, a chilong brush washer and a qilin figure surmounted by a phoenix.
The figures show open work and the color of the stones varying from pale celadon with russet inclusions to apple green.
These traditional carvings are following the ancient prototypes from the Han and Ming dynasties.
Qilin.
The Qilin is known as one of the four Chinese miracle creatures. It is a chimera animal – a sort of stag with a dragon's head and ox hooves combined with a lion's head and a carp's beard. Even though the beast is thought to be rather large, it is known to be able to walk on grass without breaking it or crushing bugs. Fitting this, the Qilin is also known to live off a strict vegetarian diet. Its name is a combination of the male Qi and the female Lin and thus incorporates the principle of Yin and Yang and the dualism of the sexes. According to Chinese mythology, Qilins can turn thousand years old.
The first Qilin was apparently caught back at Confuzius' time, but was immediately killed – much to the philosopher's disappointment. Lacking any comparable animals, the Chinese called the first giraffe they saw a Qilin – it was brought to China by the famous seafarer Zheng He (1371-1433/35) who brought the animal from one of his journeys to his emperor Yongle (1360-1424). Until today, giraffes are actually called kirin in Japanese and Korean.
AUCTIONATA, BERLIN. Art d'Asie et Art Tribal. 23 Mai 2014 à 6:00 pm. Tel: +49 30 9832 0221 - E-mail: vorgebot@auctionata.com