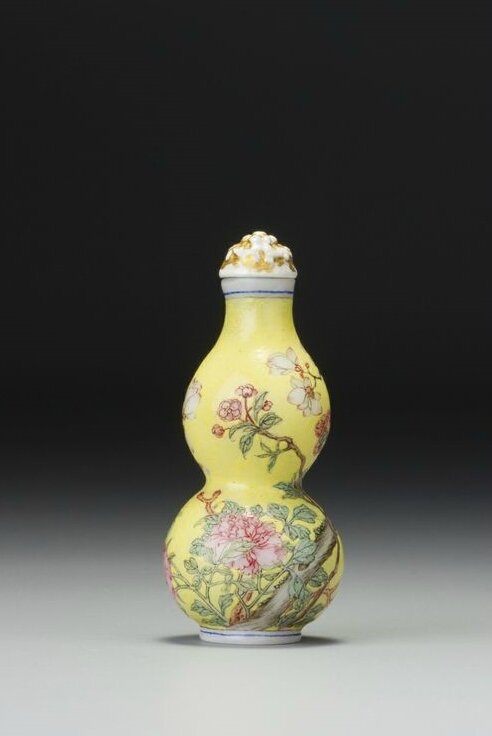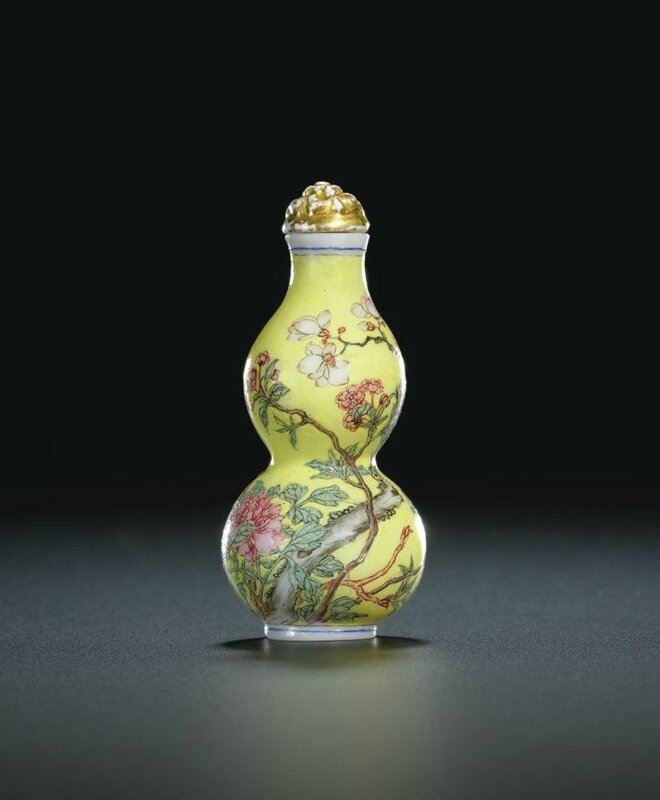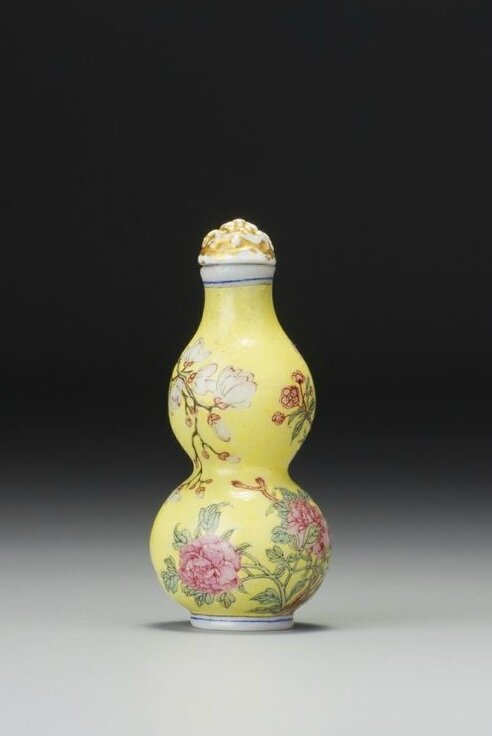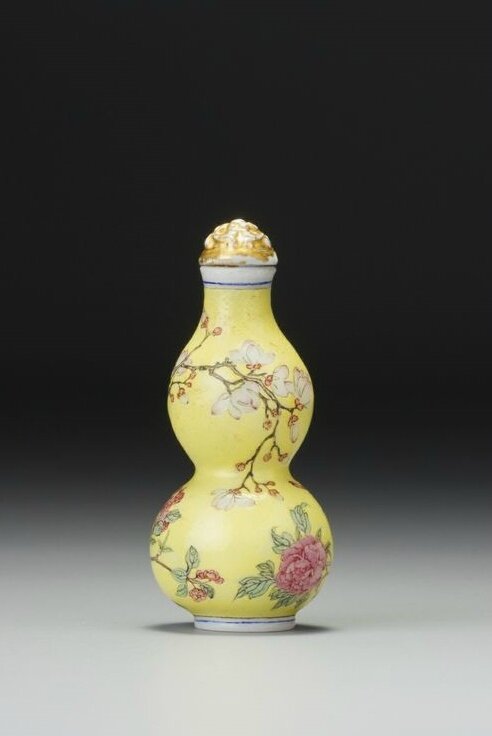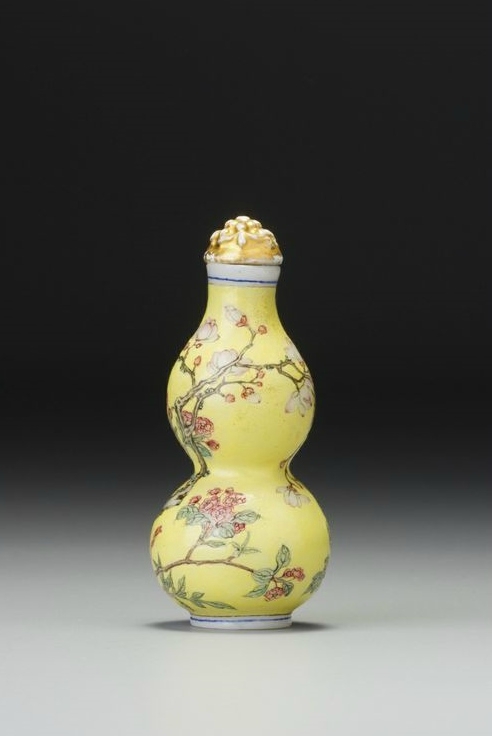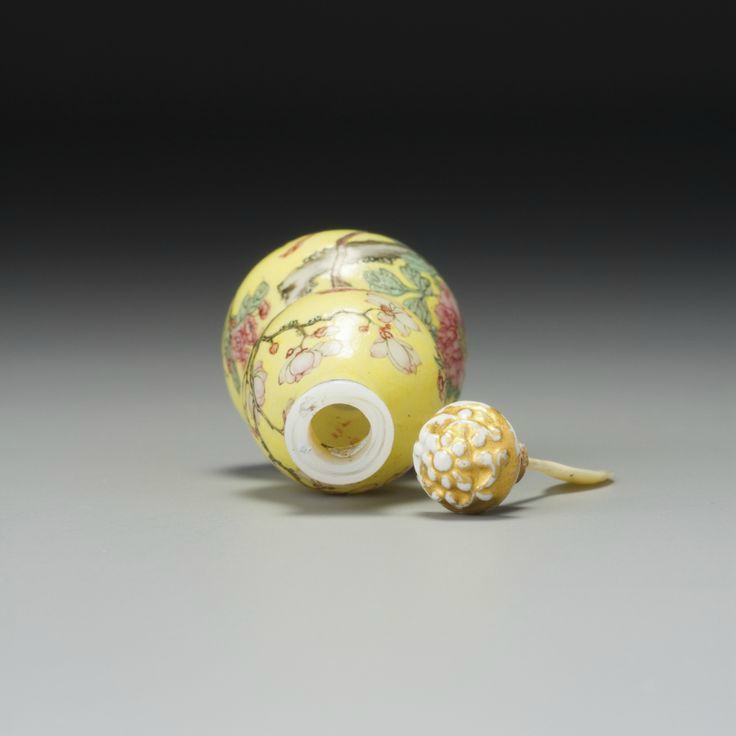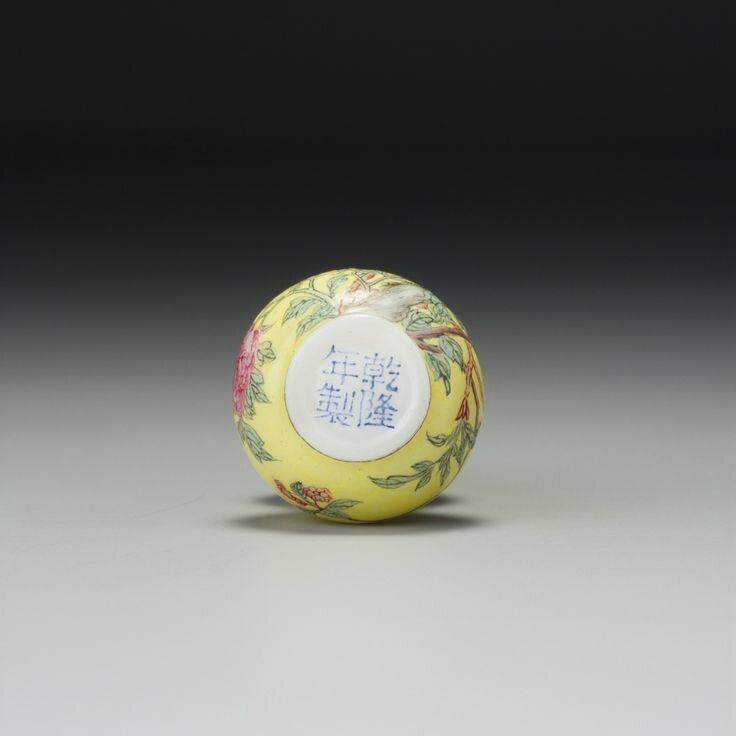 An Imperial enamelled glass double-gourd 'Peony and Magnolia' snuff bottle, Palace Workshops, Blue-Enamel Mark and Period of Qianlong. Photo Sotheby's
5.5 cm., 2 1/8 in. Estimation 4,000,000 — 5,000,000 HKD
Provenance: Barbara Hutton.
Sotheby's London, 6th July 1971, lot 163.
Hugh M. Moss Ltd, 1981.
Belfort Collection, 1986.
Litterature: he Barbara Hutton Collection of Chinese Porcelain, 1956, p. 9.
Snuff Bottles of the Ch'ing Dynasty, no. 26, pp. 55 and 133.
JICSBS, December 1978, p. 36.
Jutheau, 1980, p. 76, fig. 6.
Très Précieuses Tabatières Chinoises, p. 13, no. 147.
JICSBS, Winter 1986, ront cover.
JICSBS, Autumn 1988, p. 9, fig. 9.
Kleine Schätze aus China, p. 3 and front cover.
Moss et al., 1996-2009, vol. 6, no. 1069.
A series of these yellow-ground double gourds was produced at the enamel workshop during the early years of the Qianlong era. Their early date is confirmed by the thin enamels, highly artistic painting, low-relief reign marks, and pitting of some of the colours, particularly the green, which was one of the most troublesome colours. The mark is in higher relief than some of the earlier group but still eats into the glass below, giving the impression of an engraved mark that has been filled, although the impression is not as strong as on Sale 1, lot 132. For this reason, there is a possibility of a slightly later date of production than proposed for that snuff bottle.
There are seven recorded pieces from this series, which is decorated with various auspicious flowers. Two remain in the imperial collection in Beijing (Li Jiufang 2002 , no. 13, and Dai Zhongren 1998, p. 87, nos. A050 and A051); one is in the J & J Collection (Moss, Graham, and Tsang 1993, no. 190); one was sold at Parke Bernet Galleries, New York, 20 February 1970, lot 192; one is in the O'Dell Collection (Ford 1982, no. 100;Stevens 1976, no. 968, and Snuff Bottles of the Ch'ing Dynasty, no. 25 – where no. 26 is the present bottle), and another was acquired by Hugh M. Moss Ltd in the early 1970s (Hugh Moss Records).
The yellow ground, slightly pitted in the manner usual for early-Qianlong enamels, appears to be the result of layered applications. It is not known how the early-Qianlong enamellers worked, but Ye Bengqi 葉菶祺 (d. 1975) said that he would often add several layers of a single colour to build up the depth and brilliance, and that is probably how enamellers at the palace worked, allowing them by the mid-Qianlong reign to exploit the possibilities of the technique and achieve brighter, more prominent enamels. Ye said that with gold and yellow grounds, he would fire each layer separately, which also may have happened here.
A distinctive decorative feature of palace enamelling is observable on this early example in the unexpectedly effective combination of iron-red line and shaded, ruby-pink filling to depict flowers. On these early wares, it is so well integrated that it is barely noticeable, but it remained a standard throughout the Qianlong era and is particularly prominent on the very limited palette of enamels often used in the experimental group of enamels produced immediately after the construction of the Guyue xuan in 1767 (see under Sale 7, lot 145).
The yellow ground, of course, implies an imperial object; but we must note that there are many records of occasions on which the emperor presented yellow glassware, for instance, to visiting dignitaries, so while the production of yellow wares may have been an imperial prerogative, the subsequent ownership of yellow wares obviously was not.
Sotheby's. Snuff Bottles from the Mary & George Bloch Collection: Part VIII. Hong Kong | 26 mai 2014 - www.sothebys.com