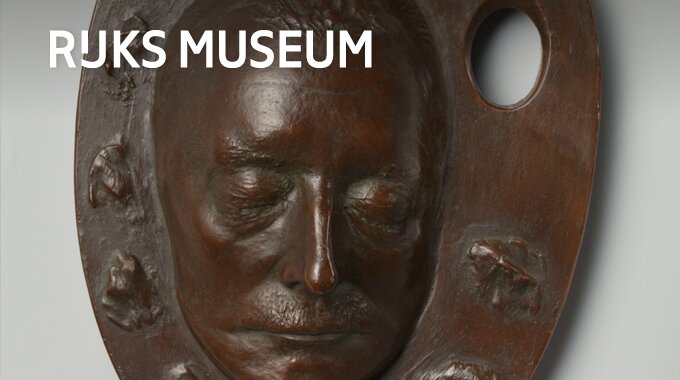 AMSTERDAM - The Rijksmuseum has acquired an unusual plaster death mask of Han van Meegeren. After World War II, Van Meegeren (1889-1947) became world famous as a master forger of the works of Johannes Vermeer (1632-1675). His greatest 'triumph' was the sale of the forged Emmaüsgangers (Supper at Emmaus) by 'Vermeer' to the Museum Boijmans van Beuningen in 1938 for the sum of Fl. 1,275,000. Van Meegeren also forged works by painters of the Golden Age, including Frans Hals, Gerard ter Borch and Pieter de Hooch. Shortly after his trial in 1947 (in which he was sentenced to a year in prison), Van Meegeren died of heart failure in the Valerius Clinic in Amsterdam. The death mask is made of plaster but is painted to look like bronze and is mounted in an artist's palette.

Although Van Meegeren was convicted of a crime, he was nonetheless acclaimed. A romanticised biography was published as early as 1946. He was suspected of being a collaborator during the war, but the fact that Nazi leader Hermann Goering had bought a forged Vermeer could also be regarded as a heroic deed. Some people considered Van Meegeren's forgeries as an act of rebellion against the art world establishment. The death mask, with its palette surround, is a perfect illustration of the hero worship bestowed on the 'misunderstood' Van Meegeren in the 1950s. Writer Godfried Bomans aptly described the phenomenon: We have lost a Vermeer, but gained a Van Meegeren.

In addition to several 'seventeenth-century' paintings by Van Meegeren, the Rijksmuseum also has in its collection the evidence that was used in Van Meegeren's criminal trial.