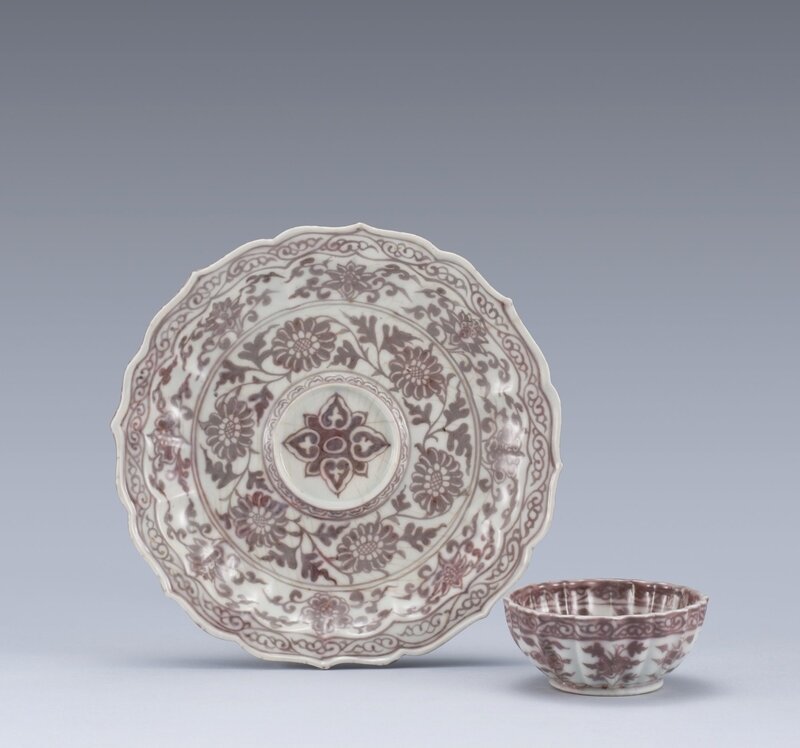 Lot 720. A rare underglaze-red 'Floral' cup and cupstand, Ming Dynasty, Hongwu Period. the plate: 19 cm., 7 1/2 in., the cup: 8.2 cm., 3 1/4 in. Estimate 600,000 — 800,000 HKD. Lot sold 2,080,000 HKD. Photo Sotheby's
the cup with flutted rounded sides rising from a recessed slighly domed base and short footring to a barbed rim divided into eight bracket foliations, brightly painted in rich tones of copper red, the interior with a spray of chrysanthemum within double circles and eight detached composite floral sprays around the cavetto repeated on the exterior, all below a border of 'classic' scrolls on the interior and exterior rim, the base left unglazed and burnt orange in the firing, the stand of conforming lobed octafoil form with shallow rounded sides rising to a barbed everted rim, moulded on the interior with a central cup-holder and around the exterior with crisp radiating ridges dividing the lobes, finely decorated overall in soft tones of copper-red, the slightly recessed centre with a radiating ruyi-head motif encircled by a raised bevelled border picked out with small lappets, surrounded by a band of chrysanthemum scroll within double lines and eight varieties of lotus sprigs around the cavetto, the rim detailed with a 'classic' scroll and key-fret on its outer edge, the exterior painted with petal lappets on each lobe, the recessed base and short footring left unglazed and burnt to pale orange.
It is extremely rare to find a Hongwu period copper-red cupstand preserved with a contemporary cup, and no other of such set appears ever to have been offered at auction. For other cupstands of this form and decoration preserved in museum and private collections worldwide, see one in the Shanghai Museum, illustrated in Wang Qingzheng, Underglaze Blue and Red, Hong Kong, 1993, pl. 41. Another sold in our Hong Kong rooms, 27th October 1992, lot 30; and an additional example from the collection of the Manno Art Museum, Osaka, was sold at Christie's Hong Kong, 28th October, 2002, lot 528. Compare also a cupstand of this form and similar chrysanthemum scroll motif, but with a flower spray at the centre from the Meiyintang collection, sold in our Hong Kong rooms, 7th April 2011, lot 44; and another, but decorated with blooming peony scroll surrounding a ruyi-head centre, in the British Museum, London, published in Jessica Harrison-Hall, Ming Ceramics in the British Museum, London, pl. 2:8, where it is noted that cupstands of this form were inspired by silver archetypes, p. 89. Compare also an underglaze-blue decorated fragmentary cup and its stand, included in the exhibition Jingdezhen chutu Ming chu guanyao ciqi [Imperial Hongwu and Yongle Porcelain Excavated at Jingdezhen], Chang Foundation, Taipei, 1996, cat. nos 17 and 18.
Copper-red pigment was used more extensively during the Hongwu reign than the Yuan period, possibly as a substitute for cobalt which was not as readily available due to changes in diplomatic relations and trade patterns. Although porcelain decorated in underglaze red was produced in large quantities, the temperamental nature of the medium resulted in very few successfully-fired wares
Sotheby's. Playthings From The Collection of Edward T. Chow Chinese Ceramics and Works of Art, Collections Chinese Art Through the Eye of Sakamoto Gor - Asian Lacquer. Hong Kong | 27 mai 2014