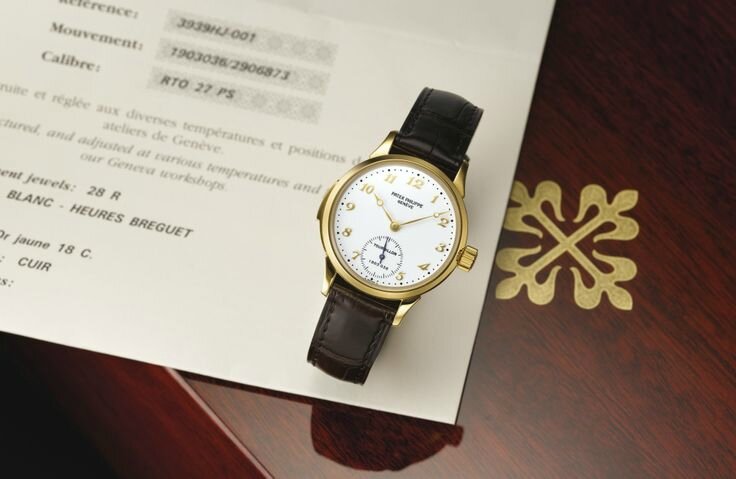 Patek Philippe A very rare and important yellow gold minute repeating tourbillon wristwatch with enamel dial and breguet numerals, Ref 3939HJ, Circa 2000 Estimate: HK$ 2,000,000 - 2,800,000 / US$ 256,000 – 359,000. Photo Sotheby's
HONG KONG.- Following the remarkable success of the two mid-season watches auction last year, Sotheby's Hong Kong will present the Fine Timepieces sale which will take place on 26 May at Sotheby's Hong Kong Gallery. Offering a wide array of attractively valued timepieces from various well-acclaimed watch brands catering to the broadening taste and demand of the market, the sale will offer more than 140 lots with a total estimate in excess of HK$11 million / US$1.4 million*.
Sharon Chan, Head of Watches, Sotheby's Asia, said, "The growing demand and broadening taste for watch and clock collecting in Asia and beyond have become apparent in our recent auctions – be it the consecutive record-setting Spring and Autumn sales or the equally well-received May and December sales at Sotheby's Hong Kong Gallery. This May we are delighted to present another sale of Fine Timepieces, which is meticulously curated with a wide variety of well sought-after and attractively estimated watches by renowned makers to cater to the diversifying needs of both amateur and experienced collectors around the world."
HIGHLIGHTS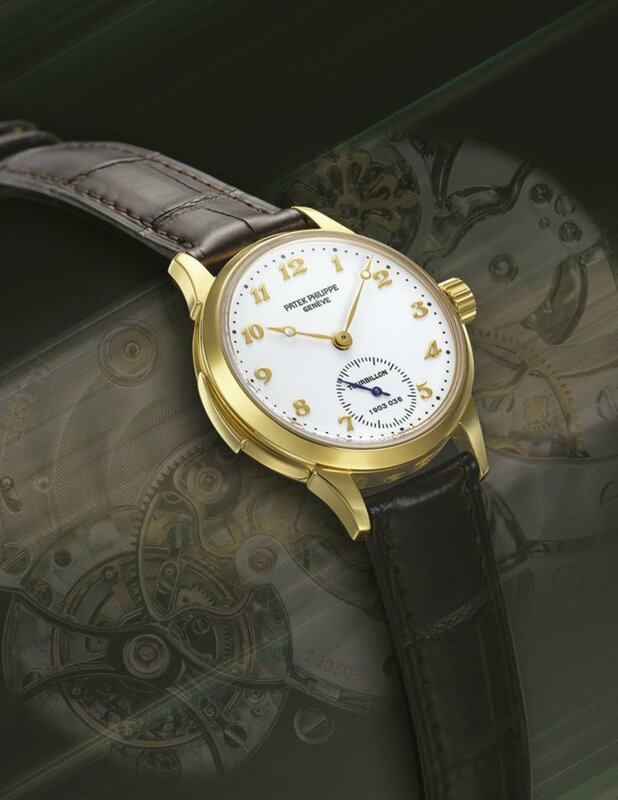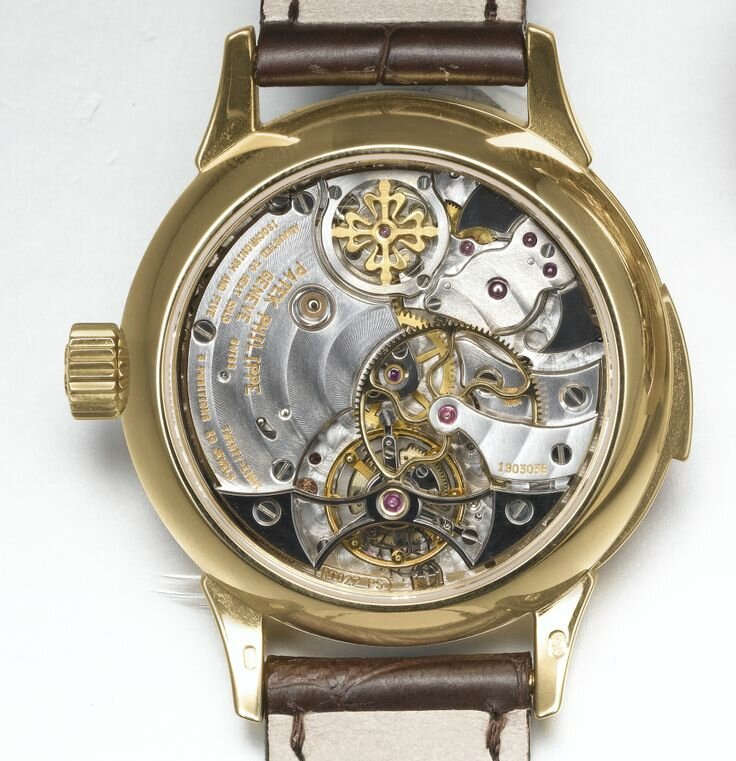 Patek Philippe A Very Rare And Important Yellow Gold Minute Repeating Tourbillon Wristwatch With Enamel Dial And Breguet Numerals Ref. 3939HJ Circa 2000 Est. HK$2 – 2.8 million / US$258,000 – 362,000. Photo Sotheby's
Considered to be one of the most elegant and subtle of the Patek Philippe grand complication timepieces, the Ref. 3939, launched in 1993 and discontinued in 2011, incorporates the minute repeater and the tourbillon, two of the most coveted complications. The minute repeater's unparalleled resonance and exquisite tone will impress even the most discerning collector. The delicately lubricated tourbillon, which is concealed at the back to minimise exposure to ultraviolet light and therefore improve its longevity and accuracy, can be admired through the sapphire crystal case back. Measuring 33 mm in diameter, the Ref. 3939 with an enamel dial and Breguet numerals defies the recent trend for larger dials and is a perfect modern example of Patek Philippe's technical excellence and timeless aesthetics. A yellow gold example of the Ref. 3939 sold for a world record price of HK$4.22 million at Sotheby's Hong Kong in October 2011, while a unique version with black dial fetched an astounding €1.4 million at the Only Watch charity auction in Monaco.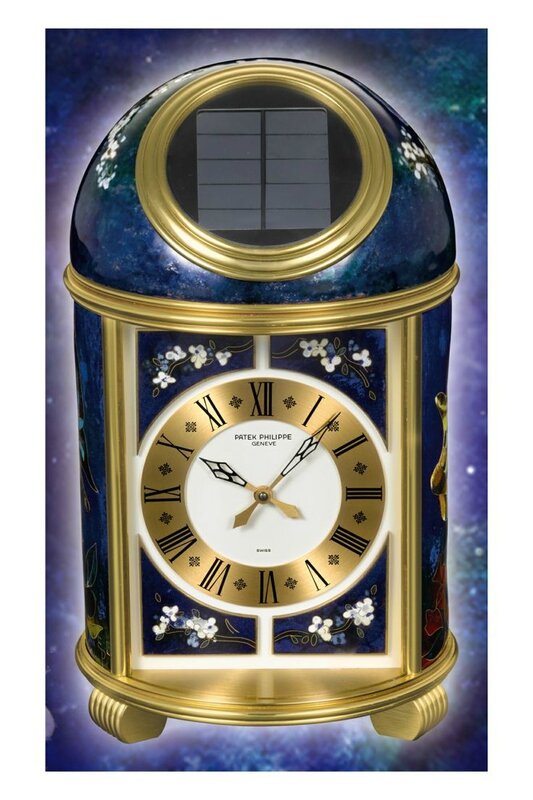 Patek Philippe A Fine And Unique Gilt-Brass Solar-Powered Desk Timepiece With Cloisonné Enamel By Elisabeth Perusset Lagger Ref. 1321 Papillons Butinants Made in 1987 Est. HK$600,000 – 900,000 / US$77,500 – 117,000. Photo Sotheby's
The present example exudes vibrancy and classical elegance, depicting scenes of different species of butterflies flitting from flower to flower. This work particularly shows the feminine touch of the artist: the butterflies and flowers of polychrome enamel dazzle in rich hues of yellow, red, green, sky blue and white, all vividly standing out from the blue background.
The cloisonné work was executed by the esteemed enameller, Elisabeth Perusset Lagger, whose work can be found on other Patek Philippe solar clocks such as the Ref. 1351 The Sea in the 19th Century sold in October 2013 for HK$1 million / US$128,000. The art of enamelling is reserved for only the most skilled and patient of artisans. The curved panels and dome of a Patek Philippe solar clock present an extraordinary challenge, such that one clock can take months to complete. Each piece is a unique work, created with the motif at the client's request.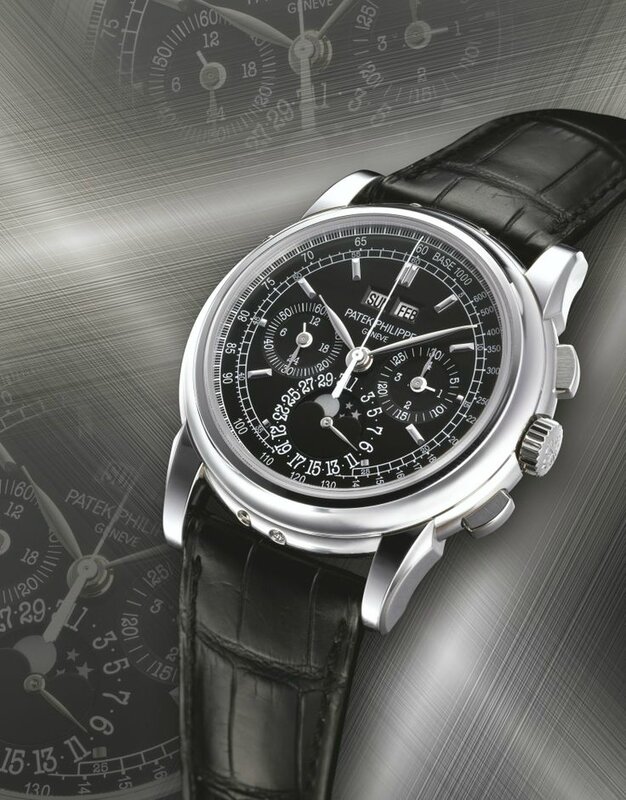 Patek Philippe A Fine And Rare Platinum Automatic Perpetual Calendar Chronograph Wristwatch With Registers, Moon-phases And Leap Year Indication, Ref. 5970P Circa 2010 Est: HK$ 900,000 - 1,400,000 / US$ 117,000 - 181,000. Photo Sotheby's
Available for approximately one year only between 2009 and 2010 as the final material to be released in the series, the platinum version of the Ref. 5970 reportedly has the lowest production among all versions of the reference. Replaced by the contemporary Ref. 5270, the Ref. 5970, particularly in the rarest and most precious of metals, platinum, is considered to be the one the most desirable and iconic Patek Philippe production models released in recent years.