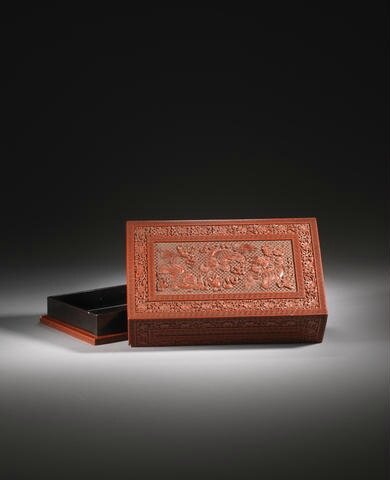 A large Imperial cinnabar lacquer 'Budhhist lion' rectangular box and cover, Qianlong six-character mark and of the period. Photo: Bonhams.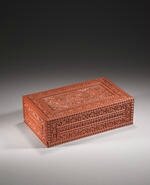 The cover finely carved on top in varying depths of relief, depicting three Buddhist lions playing with a ribboned ball amidst flames, each detailed with thick manes and bushy tails carefully incised with long curls, all enclosed within key-fret bands and a border of dense leafy lotus scrolls, the sides decorated with similar lotus and key-fret bands enclosing narrow horizontal panels of small floral medallions, the underside lacquered black and inscribed with four characters in gilt, reading Xun shi bao he (Treasured Box of Taming Lions) the interior and base of the shallow box also lacquered black, carved and gilt with an Imperial kaishu mark. 32.8cm wide. (2). Estimate HK$ 2.8 million - 3.2 million (€270,000 - 300,000)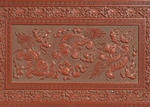 Notes: Suan Ni, is the legendary fifth son of the Dragon King, whom had a total of nine sons. Suan Ni is often said to resemble a lion and bears the title of 'Lion of the West'. It is said that Suan Ni has a playful and mischievous personality and particularly enjoys the fragrance of incense smoke.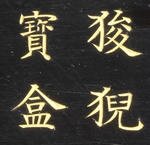 A great patron of the arts, the Qianlong Emperor also actively guided the production of certain works of art, including lacquerware. Archives of the Imperial Workshops state that from the years 1771 to 1775, Qianlong commissioned a large number of various carved lacquer boxes and had them named and engraved. During his reign, lacquerwares witnessed a greater variety of forms and were produced with higher levels of technical skill. The present lot, with the lively Buddhist lions rendered in relief against an intricate diaper ground, each with carefully incised details, is distinctive of the meticulous knife-work and carving from the period. The bands of dense lotus leaves featured on the current box and cover, including the double gilt-decorated Imperial seal marks further emphasize the meticulous style of opulence and precision of design that the Qianlong Emperor heavily favoured.
A related 'Buddhist lions' cinnabar lacquer box and cover, also inscribed Xun shi bao he (Treasured box of taming lions) and Qianlong mark and of the period, is in the National Palace Museum, Taipei, illustrated in Carving the Subtle Radiance of Colors, Treasured Lacquerware in the National Palace Museum, Taipei, 1997, p.132, no.130. (fig.1)
For another related but smaller sized box, compare with one in the Ronald Chao collection and illustrated in Many Splendors: Yuan, Ming and Qing Lacquerware from the Chao Collection, Beijing, 2012, p.192-193, pl.76. Compare also with a display case fitted with drawers from the same collection, detailed with very similarly rendered lions, illustrated in ibid, p.288, pl.122.
Bonhams. FINE CHINESE CERAMICS AND WORKS OF ART. Hong Kong, Admiralty, 26 May 2014 14:00 HKT - http://www.bonhams.com/