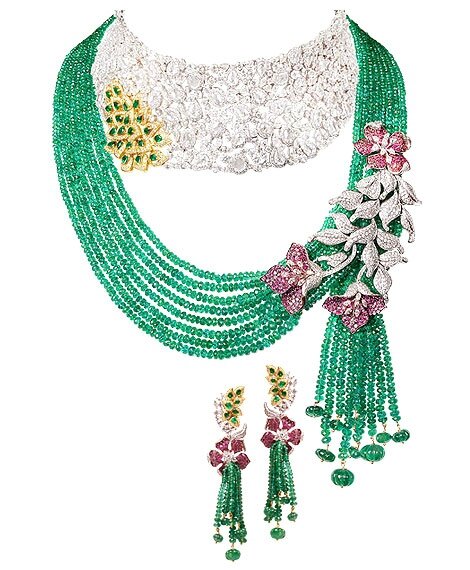 Anmol Jewellers, Mumbai. Zambian emerald, Mozambican ruby and diamond suite set in 18-karat yellow and white gold necklace.
Zambian emeralds 511.65 carats. Mozambican rubies 11.10 carats. Diamonds 91.95 carats. Estimate: UD$ : 122,500 – 150,000
"This necklace suite is a stunning visual depiction of a blossoming flower bud; suggesting the fresh delight brought on by new beginnings and a process within, which makes us stretch our perspectives and forge new paths, which often leads to unexpected joys. The design beautifully captures the essence of a young girl who laughs, weeps, dreams, learns, hopes, dances and loves with an abundance of innocence and simplicity."
This parure has been meticulously handcrafted in 18-karat gold, and consists of a choker, set with rose cut yellow diamonds, and an eight-stringed facet-beaded emerald necklace, which has been layered with a floral motif set with rubies and diamonds.
Anmol Jewellers' vision is to be the custodians of trust and creators of trends in jewellery. Ishu Datwani, the enterprising power behind Anmol, believes in fine jewellery, fine craftsmanship and the highest quality. Today, Anmol Jewellers leads the way when it comes to being the preferred jewellery brand for India's elite. The list of patrons is not only enviable but also truly exclusive; from precious daughters of the leading homes in India and overseas; to glamorous Bollywood actors; to haute couture designers; or indeed for the discerning client looking to treat themselves to extraordinary jewels.
Anmol Jewellers, Mumbai. Gemfields & Nanhi Kali For 'Project Blossoming'. Contact: Ishu Datwani, Kakad Palace, Turner Road, Bandra (West), Mumbai – 400050. Telephone +91 22 6133 3444 - www.anmoljewellers.in