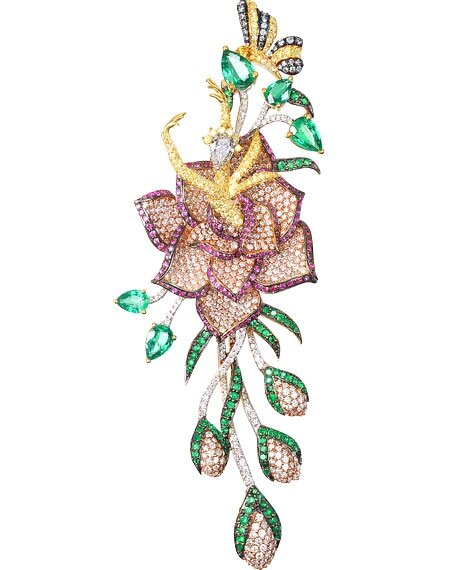 Hazoorilal, New Delhi. Zambian emerald, blue diamond, yellow diamond, white diamond and pink sapphire brooch, set in 18-karat white gold and silver.
Zambian emeralds 6.79 carats. Diamonds 8.30 carats. Blue diamonds 0.29 carats. Yellow diamonds 1.45 carats. Pear shaped diamond 0.87 carats. Pink sapphires 2.01 carats. Estimate: UD$ : 35,000 – 42,000
"Education is a basic need and a fundamental right for every human being — your gender should not determine whether you get an education."
This unique piece symbolizes the girl child in bloom. Yellow diamonds emerge freely from a magnificent flower of rubies and white diamonds, surrounded by delicate emerald and diamond leaves, giving the brooch its elegant shape. The lone butterfly nestles delicately and majestically amongst the leaves. This piece can be worn as either a brooch or hairpiece.
With a legacy of more than six decades, and now in its third generation, Hazoorilal has transformed from a traditional family-run business into a trusted luxury jewellery empire, known for artistry, quality and individuality alike. Hazoorilal was the vision of Mr. Hazoorilal Narang, who came to realise his dream with dedication, hard work and a pure passion for gems and jewellery. Consistently holding a position as one of India's leading jewellery houses, the Hazoorilal name is truly worth its weight in gold. The brand will continue to honour and represent the woman of today.
Hazoorilal, New Delhi. Gemfields & Nanhi Kali For 'Project Blossoming'. Ramesh Narang, D-6 South extension part 2; Ring Road, New Delhi - 110049 - +91 11 4873 3333 - www.hazoorilal.com