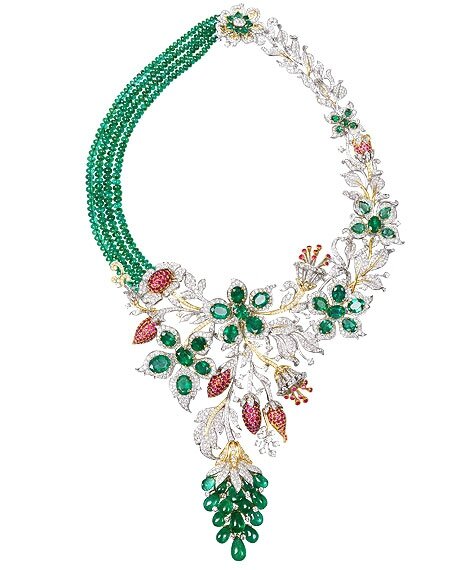 Tibarumals Jewellers, Hyderabad. Zambian emerald, Mozambican ruby and diamond necklace set in 18-karat white gold.
Zambian emerald 29.52 carats. Zambian emerald beads 72.51 carats. Zambian emerald briolette 21.33 carats. Mozambican rubies 11.50 carats. Diamonds 19.86 carats. Estimate: UD$ : 77,000 – 93,000
"The instinctive joy of a clear spring morning is captured in this timeless monument to beauty. Keeping the balance of elegance and exuberance intact, this necklace, studded with Zambian emeralds and Mozambican rubies, is a testament to the beauty of nature."
This is an important emerald, ruby and diamond parure of an ornate floral design. A rich assortment of four clustered rows of iridescent emeralds shines with a magnificent glow, while bringing to life the bed of sparkling diamonds they nestle in
Tibarumals is a name that has enchanted and enamoured jewellery connoisseurs from around the world for more than six decades. Earning fame and trust, it enjoys the privilege of serving the blue-blooded nobility of Hyderabad as well as various royal families across Southern India. Showcasing a glittering collection of hand crafted jewellery in various hues of gold, embellished with the finest precious stones, Tibarumals Jewellers at Basheerbagh offers an exquisite blend of traditional and contemporary designs. Sanjay Gupta at Tibarumals is synonymous with intricate creativity, marvellous workmanship and elegant style. Acclaim and reaffirmation of this mastery and skill has come with the distinction of winning various awards in the field of art and jewellery.
Tibarumals Jewellers, Hyderabad. Gemfields & Nanhi Kali For 'Project Blossoming'. Sanjay Gupta, 5-9-59/2, Deccan Towers, Basheerbagh, Hyderabad - +91 99 4902 7771, +91 40 2323 7034 - www.tibarumalsjewellers.com