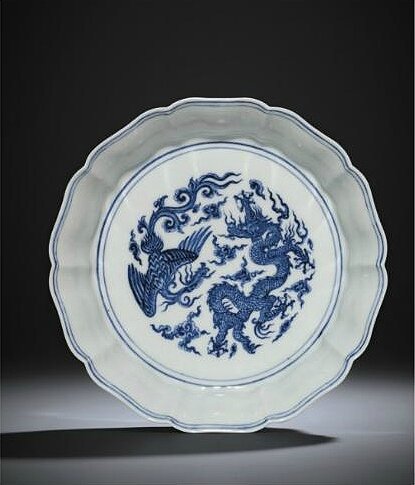 A superb and extremely rare early Ming blue and white 'Dragon and Phoenix' brushwasher, Yongle period (1403-1424). Photo Christie's Image Ltd 2014
The washer is delicately potted with a slightly concave interior base, expertly painted in vivid blue tones with an upright five-clawed dragon confronted by a downward swooping long-tailed phoenix amidst scattered ruyi clouds, all enclosed by double circles which are repeated on the everted mouthrims. The gently flared sides are divided into ten bracket-lobes, each painted with a 'dragon and phoenix' roundel between double-circle borders. 8 in. (20.5 cm.) across, Japanese wood box. Estimate HK$30,000,000 – HK$50,000,000 ($3,887,181 - $6,478,635). Unsold
THE PROPERTY OF A GENTLEMAN
Notes: This extraordinarily fine brushwasher belongs to an extremely limited number of similar bracket-lobed examples dating to the late Yongle period of the Ming dynasty and were collected by the subsequent Qing rulers. By the early Qing period brushwashers of this type were evidentally treasured as an art objects as a similar object is identified illustrated on a handscroll entitled Guwantu, 'Pictures of Ancient Playthings', dated to the 6th year of the Yongzheng reign (1728). It is interesting to note the brushwasher depicted also has dragon and phoenix roundels on the exterior and although portrayed at an angle it is possible to assume the interior was also of the same design as the present example (fig. 1). Brushwashers of this type were probably made in varied sizes as indicated by a slightly smaller washer of this same shape and pattern, measuring 18 cm. across, sold at Christie's Hong Kong, 1 November 2004, lot 860
Compare also with related examples of blue and white brushwashers, each decorated with a single descending dragons on the interior, such as the one in the collection of the Capital Museum, Beijing, see Shoudu bowuguan zang ci xuan, Wenwuchubanshe, Beijing, 1991, pp. 30 and 110, no. 90, fig. 3. Also there are two other examples decorated with an additional dragon on the underside base, the first in the the Millikin Collection at the Cleveland Museum of Art, illustrated in the Catalogue of the Severance and Greta Millikan Collection, Cleveland Museum of Art, 1990, no. 27, col. pl. 2; and the other was sold at Christie's Hong Kong, 26 April 2004, lot 960. As with the cited latter two examples which continue the dragon theme on the exterior with ascending and descending dragons, the present washer follows the same format with its 'dragon and phoenix' medallions.
The floral shape itself is known to have come to imperial prominence during the Yongle reign, as indicated by a washer of this form, undecorated and covered in the 'sweet white' or tianbai glaze, which was excavated from the Yongle stratum at the Imperial kilns at Zhushan in 1982; see Chang Foundation, Imperial Hongwu and Yongle Porcelain Excavated at Jingdezhen, Taipei, 1996, pp. 262-3, no. 100. Although the excavated shards from the Yongle period are primarily 'sweet white' monochrome wares, it has been mentioned that the motif of the five-clawed dragon only appeared in the late Yongle stratum, cf. Imperial Porcelain of the Yongle and Xuande Periods, Excavated from the Site of the Ming Imperial Factory at Jingdezhen, Hong Kong Museum of Art, 1989, p. 168.
An example of this lively, upright, dragon with both forelegs stretched out to each side of the body, in a very similar stance to that depicted on the interior of the present washer, is found painted on a bottle vase, illustrated, ibid., p. 169, no. 43. Furthermore, it is also interesting to note comparable characteristics of the phoenix with tasselled tails to those rendered on a stem cup from the late Yongle stratum, discovered in 1984, illustrated op. cit., Chang Foundation, Taipei, 1996, pp. 284-5, no. 111.
An identical washer of this pattern also without a mark, dated to the Xuande period, is illustrated in Blue and White Porcelain with Underglazed Red (I), The Complete Collection of Treasures of the Palace Museum, Commercial Press Hong Kong, 2000, p. 136, pl. 128. The Palace example is even smaller at 15.6 cm. across.
Christie's. THROUGH CONNOISSEURS' EYES - WORKS OF ART FOR THE EMPEROR, 28 May 2014, Hong Kong - http://www.christies.com/