Vincenzo Dandini, St. Mark the Evangelist, ca. 1640s. Oil on canvas; h. 47 5/8 in. (121 cm), w. 35 5/8 in. (90.5 cm). Collection of Sir Mark Haukohl, on loan in honor of Mark E. Watson III and Mark E. Watson IV, L.2014.3
SAN ANTONIO, TX.- The San Antonio Museum of Art features Glories of the Baroque, a focus exhibition on view through July 26, 2014. A dozen works, both on loan and from the Museum's seventeenth-century European collection, (including three etchings by Rembrandt) demonstrate the accomplishments of this great period in art history.
The Baroque style—developed in and often associated with Rome— spread to affect visual and decorative arts, architecture, and urban design across Europe. The word "baroque" was originally a term of derision. "Barocco" literally means "oddly shaped" like a malformed pearl. It was used by eighteenth century scholars to describe the art of the previous century, which they saw as bizarre and illogical. Today the term refers to the cultural and historic period that extends from around 1575 to 1725 in Europe. The style originated in Rome, and spread north through all of Europe, each country adapting its characteristics to its own culture.
The focal point of this small exhibition is St. Mark the Evangelist by Vincenzo Dandini (1607-1675). This work—on loan to the Museum by Sir Mark Haukohl in honor of Mark Watson III and Mark Watson IV— illustrates many of Baroque's important characteristics: intense realism, dramatic lighting, and portrayal of St. Mark as a recognizable character drawn from everyday life. "We are thrilled to bring St. Mark the Evangelist to San Antonio as it has never been seen outside of Italy," said Sir Mark Haukohl. "With our Florentine collection, which is currently at the Nevada Museum of Art, we have for well over a decade lent Italian old masters to communities interested in exploring European art." One of Haukohl's goals is to bring a greater awareness of Baroque art and European painting to San Antonio to attract new audiences to the Museum and to encourage educational programming in the field.
Two Philosophers, a chalk drawing by Simon Vouet and a recent gift to the Museum, is another highlight of the focus exhibition. Though French by birth, Vouet (1590-1649) studied painting in Rome and became one of the most important artists developing the new Baroque style. He is credited with bringing it to France.
Glories of the Baroque is curated by Merribell Parsons, the Museum's new curator of European Art.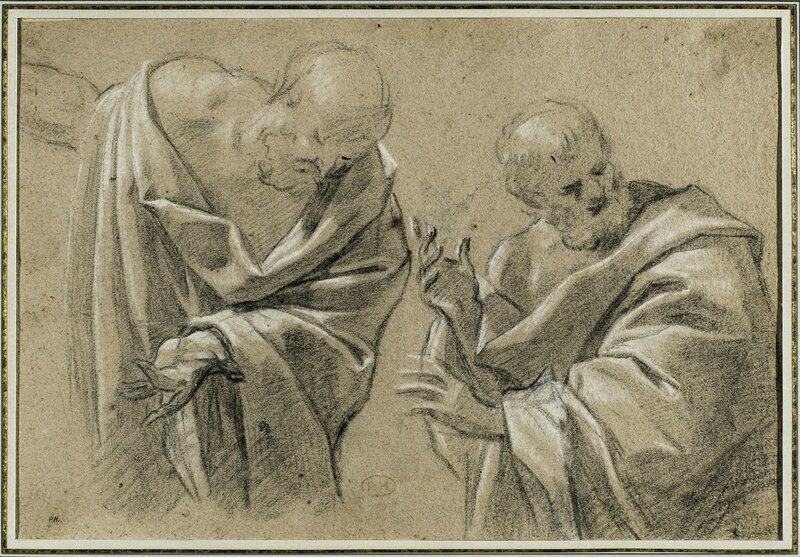 Simon Vouet (French, 1590–1649), Two Philosophers, early 17th century chalk on buff paper; h. 9 ½ in. (24.1 cm), w. 14 in. (35.6 cm) Gift of Karen Hixon, 2013.18. Photography by Peggy Tenison.