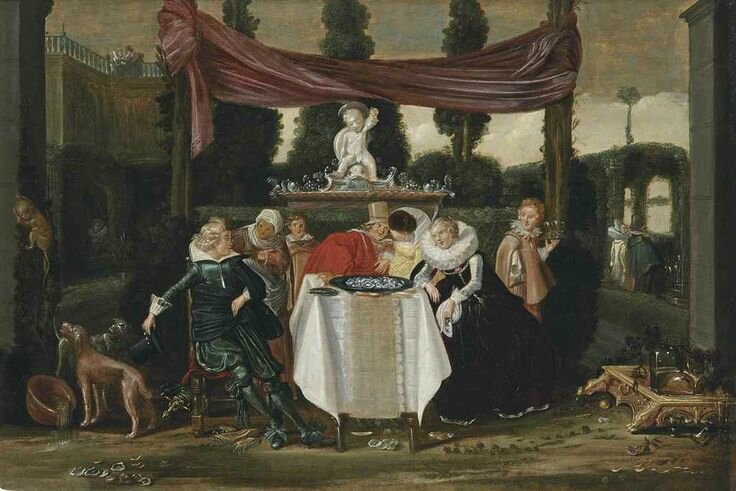 Dirck Hals (Haarlem 1591-1656) A merry company on a terrace. Photo Christie's Image Ltd 2014
oil on panel; 14 5/8 x 21 5/8 in. (37 x 55 cm.). Estimate $100,000 – $150,000
Provenance: Dr. O. Hirschman, 1935.
Hans Ludwig Larsen, Wassenaar (1892-1937), by 1936;
Loaned by Susanne Menzel Larsen (1911-2001) to the De Lakenhal Museum, Leiden, 6 July, 1943;
Confiscated by the German authorities following the occupation of The Netherlands, after May 1940;
Sale, Van Marle and Bignell, the Hague, 25 January, 1943, lot 32;
Acquired by Dr. Erhard Göpel for the Sonderauftrag Linz (Linz no. 2777);
Recovered by the Monuments Fine Arts and Archives Section from the Salt Mines at Alt Aussee (Alt Aussee no. 5079);
and transferred to the Central Collecting Point, Munich, 17 October, 1945 (MCCP no. 9863);
Transferred to the Stichting Nederlandsch Kunstbezit, The Netherlands, 15 February, 1946 (NK 1428);
Restituted to the heirs of Hans Ludwig Larsen, 2014.
Literature: H.P. Baard, Frans Halsmuseum, Haarlem, Haarlem, 1969, no. 473b, fig. 67.
Rijksdienst Beeldende Kunst/The Netherlandish Office for the Fine Arts. Old master paintings. An illustrated summary catalogue., Zwolle and The Hague, 1992, p. 128, no. 1033.
F. Lammertse, Dutch genre paintings of the 17th century: collection of the Museum Boijmans Van Beuningen, Rotterdam, 1998, p. 34, fig. 1. B. Nehlsen-Marten, Dirck Hals 1591-1656: oeuvre und Entwicklung eines Haarlemer Genremalers, Weimar, 2003, pp. 105-106, 264-265, no. 17, fig. 81.
Painting in Haarlem, 1500-1850, The collection of the Frans Hals Museum, Haarlem, 2006, p. 470, no. 169.
Exhibited: The Hague, Gemeentemuseum, Oude kunst uit Haagsch bezit, 12 December 1936-31 January 1937, no. 93.
Haarlem, Frans Halsmuseum, Haarlemsche meesters uit de eeuw van Frans Hals, 6 July-16 September 1946, no. 47.
Haarlem, Frans Hals Museum and Hamburg, Hamburger Kunsthalle, Satire en vermaak. Het genrestuk in de tijd van Frans Hals, 20 September 2003-6 January 2004 and 30 January-16 May 2004, no. 8.
Haarlem, Frans Halsmuseum.
Notes: Long on loan to the Frans Hals Museum, Haarlem, this convivial scene by Dirck Hals from around 1619-1620 depicts an outdoor garden party. A group of elegantly dressed young men and women are gathered around a table laden with a large platter of oysters. The atmosphere is one of lighthearted amusement - the panting dogs at left, who stare in fascination at the monkey who has climbed a nearby tree, add to the slightly chaotic atmosphere.

Hals is best known for his merry company scenes. While he was the brother of the renowned Haarlem master Frans Hals, Dirck appears to have been most influenced by the imagery of Willem Buytewech, an innovator in the subject of garden parties. Hals went so far as to quote him directly, for the man at left in the present work resembles a figure in a painting by Buytewech from around 1620 now in the Museum Boijmans, Rotterdam (inv. 1103). Hals was also a member of the chamber of rhetoricians in Haarlem, a group whose fascination with literature and theater may have inspired his use of iconography evocative of texts and emblems. The ape, for instance, had associations with lust and sin, and in this work its position cleverly mirrors the amorous couple sitting together on the far right of the panel. The inclusion of this motif, paired with the affectionate and carefree appearance of the young people, would have warned Hals' contemporaries against the dangers of wanton behavior. Hals revisited elements in this composition frequently and a comparable work is now in the Städel Museum, Frankfurt (inv. 1587).
Christie's. OLD MASTER PAINTINGS, 4 June 2014, New York, Rockefeller Plaza - http://www.christies.com/