An extremely rare Meissen circular dish, circa 1730. Photo: Bonhams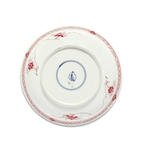 Painted in gilding and enamels with a willow tree and lotus flowers in the centre within a trellis border reserved with flower panels and chrysanthemums, the gilt-edged rim decorated with sprays of peonies below a similar trellis band, the reverse with iron-red flowering branches below a floral band, 23cm diam., Artemisia leaf within two concentric circles in underglaze-blue, incised Japanese Palace inventory number N=3-/ W together with a large Chinese dish, Kangxi (1662-1722), similarly decorated in enamels and gilding 34.1cm diam. (2). Estimate £20,000 - 30,000 (€25,000 - 37,000)
Provenance: The Royal collections of Saxony, Japanese Palace, Dresden;
Erich von Goldschmidt-Rothschild Collection, Berlin, sold by Ball & Graupe, Berlin, 23-25 March 1931, lot 462 (the Meissen dish);
Otto and Magdalena Blohm Collection, Hamburg, sold by Sotheby's London, 24-25 April 1961, lot 425 (the Meissen dish)
Literature: Robert Schmidt, Early European Porcelain as collected by Otto Blohm (1953), no.22 (the Meissen dish);
U. Pietsch, Frühes Meissener Porzellan aus einer Privatsammlung (1993), no. 75;
U. Pietsch, Meissener Porzellan und seine ostasiatischen Vorbilder (1996), no. 38 (the Chinese dish)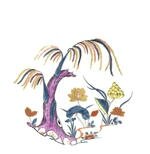 The 1770 inventory of the Japanese Palace records: 'Fünf roth und weiße Saladieren, mit etwas überschlagenen vergoldten Rand innwendig mit goldenen und bunten Blumen ingleichen ein Stamm, worauf bunt Korn gemahlt, 2 Zoll tief, 9 1/2 Zoll in Diam. Nr. 3' [five red and white salad bowls, with slightly flared gilt rim, the inside painted with gilt and coloured flowers and also a trunk on which coloured corn is painted, 2 zoll deep, 9 1/2 zoll in diam.] (published by Claus Boltz, Japanisches Palais-Inventar 1770 und Turmzimmer-Inventar 1769, in Keramos 153 (July 1996, p. 70).
A similar dish remains in the Porcelain Collection in Dresden (see Literature, Pietsch 1996, p. 97) and another, also formerly in the Erich von Goldschmidt-Rothschild Collection, was acquired in 1931 by Heinrich and Lisa Arnhold and remains in the family's collection (M. Cassidy-Geiger, The Arnhold Collection of Meissen Porcelain 1710-50 (2008), p. 761). Two dishes of this size were sold by Rudolph Lepke's Kunst-Auctions-Haus, Berlin, 7 October 1919, lots 150 and 151 (not illustrated in the catalogue, but without a Japanese Palace inventory number, according to the description).
In addition to the five 23cm dishes (see above), the 18th century inventories of the Japanese Palace list eight slightly smaller examples under no. 5 (two were sold by Rudolph Lepke's Kunst-Auctions-Haus, Berlin, 7 October 1919, lots 148-149, and another two on 12 October 1920, lots 143-144; two more were in the Gustav and Charlotte von Klemperer Collection (L. Schnorr von Carolsfeld, Sammlung Gustav von Klemperer (1928), nos. 116-117); another still in the Dresden Porcelain Collection is illustrated by R. Rückert/J. Willsberger, Meissen Porzellan des 18. Jahrhunderts (1977), pl. 45).