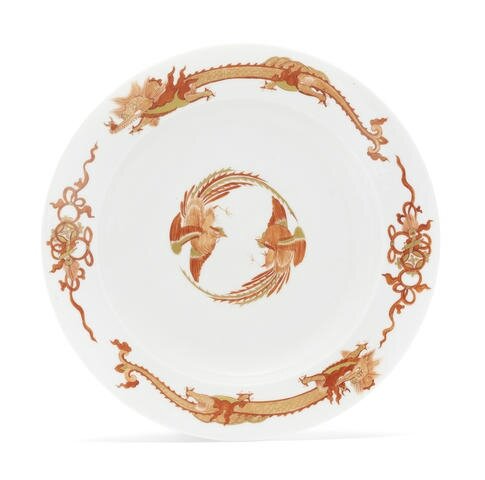 A rare Meissen deep plate from the "Red Dragon" service, circa 1730. Photo: Bonhams.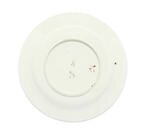 Painted in iron-red and gilding with dragons and auspicious symbols around the rim and two phoenixes in the centre, 23cm diam., crossed swords mark in blue enamel, incised Dreher's mark x for Johann Daniel Rehschuh, incised Japanese Palace inventory number N=74-/ W. Estimate £6,000 - 8,000 (€7,400 - 9,900)
Provenance: The Royal collections of Saxony, Japanese Palace, Dresden
For a detailed discussion of the origins and history of the 'Red Dragon' service, see Julia Weber, Meißener Porzellane mit Dekoren nach ostasiatischen Vorbildern, vol. 2 (2013), pp. 246-254. The decoration is based upon a Japanese original (Weber, op. cit., ill. 39; U. Pietsch/C. Banz, Triumph der blauen Schwerter (2010), no. 189) and was first produced, possibly as early as Summer 1729, for the Paris merchant, Rudolph Lemaire, who planned to pass off the copies of Asian porcelain that he ordered at Meissen in Paris as the more costly originals. After the Lemaire plot was uncovered and the porcelain that he ordered was confiscated to the Japanese Palace, it seems that porcelain with this decoration was initially allowed to be sold to the public (Weber, p. 248). It is probable that Augustus the Strong only reserved the pattern for the sole use of the Court shortly before his death on 1st February 1733. At the beginning of November 1734 his successor, Augustus III, chose the 'Red Dragon' pattern to decorate the first Dresden court service of Meissen porcelain (Weber, p. 249). The first delivery followed in 1735: the first of many throughout the 18th and 19th centuries.
The 1770 inventory of the Japanese Palace records: 'Vier Dutzend und. 5 Stück Teller, mit rothen und goldenen Drachen auch Vögeln gemahlt, 1½. Zoll tief, 9½. Zoll in Diam: No. 74' [four dozen and five plates, painted with red and gold dragons also birds...] (quoted by Claus Boltz, Japanisches Palais-Inventar 1770 und Turmzimmer-Inventar 1769, in Keramos 153 (July 1996), p. 74). Two such deep plates with incised Japanese Palace inventory number 74 - of which the present lot may be one - were sold from the Saxon Royal collection in the auction in Dresden of duplicates from the Johanneum, Rudolph Lepke's Kunst-Auctions-Haus, 12 October 1920, lots 150 and 151. Another example, with the same inventory number, is in the State Hermitage Museum, St. Petersburg (L. Liackohova, The Myth of the Orient: Eastern Subjects in Early Meissen Porcelain (2007), no. 75).
Bonhams. FINE EUROPEAN CERAMICS. London, New Bond Street, 18 Jun 2014 - http://www.bonhams.com/