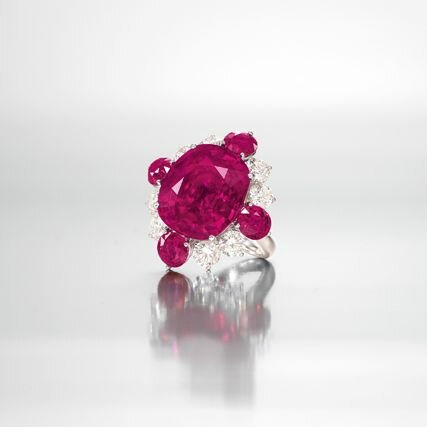 Magnificent Burma (Mogok) unheated ruby and diamond ring. Photo Tiancheng International
Centring on an oval ruby weighing 15.07 carats, surrounded by four ciruclar-cut rubies and eight brilliant-cut diamonds, the rubies and diamonds together weighing approximately 4.28 and 2.52 carats respectively, mounted in 18 karat white gold. Ring size: 5½. Estimate: HK$11,000,000 - 15,000,000 (US$1,400,000 - 1,900,000). Sold for HK$12,980,000
Accompanied by Gubélin report numbered 14037118, dated 5 March 2014, stating that the 15.07 carat ruby is natural, Purplish-Red colour, of Burmese origin, with no indication of heating. Along with an appendix stating that 'For more than a thousand years, the fabled mine of Mogok in upper Burma have been a primary source of these auspicious gems...The 15.07 carat natural ruby...displays a homogeneous and richly saturated colour, which typifies the finest of these gems. The depth of colour, combined with a high clarity and brilliance...The shape and finely proportioned cut provide vivid internal colour reflections...such a combination of characteristics is very rare in Burmese rubies of this size."

GRS report numbered GRS2014-038535, dated 10 March 2014, stating that 15.07 carat ruby is natural, Pinkish-Red colour, of Burmese origin, with no indication of thermal treatment. Along with a platinum award stating it is a "very rare combination of size over 15 cts, good brilliancy and transparency, well balanced proportions, spared from thermal enhancement, and originating from the classical mining area of Mogok (Myanmar)."

C. Dunaigre report numbered CDC1104008, dated 14 April 2011, stating that the 15.07 carat ruby is natural, Intense Pinkish-Red colour, of Burmese origin, with no indications of heating. Along with an appendix stating that "the ruby displays an intensity of colour which is today very rarely encountered in non-heated Burmese rubies of such large size...of such an excellent quality are indeed real treasures and true rarities."

Further accompanied by eight GIA reports stating that the diamonds ranging from 0.32 to 0.31 carats are H colour, Intern
THE PROMINENT RED
Rubies are a variety of corundum and their red colour comes from traces of chromium oxide. The higher the chromium content, the more intense the red hue will be. Most favoured by buyers, blood-red rubies are commonly known as "pigeon's blood."
The flaming red hue of rubies evokes association with passion, romance and integrity. According to legend, people who wear rubies are blessed with flourishing romance, family harmony and longevity. It was customary for the ancient warriors of Burma to pierce small openings in their bodies, in which a ruby was inserted. Invincibility in battle would then be guaranteed.
Red is an auspicious colour to the Orientals. Naturally, they view rubies in the same light. In Qing-dynasty of China, princes and the highest-ranking officials wore court headwear adorned with a ruby to indicate their distinguished positions. In 585 BC, the Shwedagon Pagoda in Burma was liberally crowned with rubies upon its restoration. Since antiquity, rubies have been an indispensable part of royal jewellery collections around the world. Natural rubies mostly originate in Asia, including Burma, Thailand and Sri Lanka. They are also mined in Africa and Australia. Among all, the valley of Mogok in Burma is the most highly acclaimed ruby mining area in the world. A characteristic of its rubies is the curvaceous, angular substances inside them, which enable the reflection of red ultraviolet rays on each facet to yield a vibrant red hue and brilliant glitter.
Rubies are formed over long periods of time, under severe pressure within the earth crust and exposure to heat from the sun. Only under these conditions would a pale, colourless raw stone be transformed into a fiery-red ruby. Continuous mining over the millennia has made natural, mature rubies weighing over five carats exceptionally rare. Most rubies unearthed these days are treated with heat for quality enhancement but cannot be compared to the natural ones in colour and luster. The price difference between them is also significant.
Tiancheng International. Jewelry and Jadeite.8 june 2014 - http://www.tianchengauction.com/