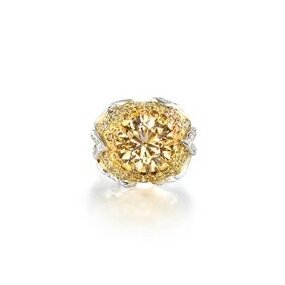 Fancy yellow-brown diamond, coloured diamond and diamond ring, Verdura. Photo Tiancheng International
Centring on a brilliant-cut Fancy Yellow-Brown diamond weighing 10.53 carats, amid a bombé form pavé-set with brilliant-cut diamonds of golden to brownish hues, to the shoulders with brilliant-cut diamond-set foliate motifs, mounted in 18 karat white and yellow gold,signed. Ring size: 5. Estimate: HK$1,200,000 - 2,000,000 (US$155,000 - 260,000). Sold for HK$1,416,000
Accompanied by GIA report numbered 2125860483, dated 2 December 2010, stating that the 10.53 carat diamond is natural, Fancy Yellow-Brown colour, VS1 clarity.
Verdura – An American's Crown Jeweller
Verdura, established in 1939, is an American fine jeweller and specialty retailer whose iconic collection is based primarily on the fabrication of jewellery from the archives of Fulco Di Verdura, a Sicilian duke who started his early career at Coco Chanel and later acted as their head jewellery designer. During his eight years with Chanel, Fulco Verdura designed the notable Maltese Cross brooches and cuffs, which signify the unique look for both Chanel and the house of Verdura. Having Hollywood ties, Verdura ventured in America and designed colourful jewels for Hollywood stars in that era, including Greta Garbo, Rita Hayworth, and Katharine Hepburn. In 1941, Fulco collaborated with Salvador Dalí on a collection of jewellery designs and in the same year, he designed the famous signature Verdura piece, the "Night and Day" cufflinks, for Cole Porter after being inspired by the lyrics of his sensational love song. In 1985, Ward Landrigan acquired Verdura and fostered the tradition of creating timeless designs, from nearly 10,000 sketches Fulco created during his lifetime. Verdura was appointed as the "America's Crown Jeweller," one of the premier jewellery designers of the 20th century by the New York Times. Today, many celebrities, including Sarah Jessica Parker, Brooke Shields, Anne Hathaway, and Cameron Diaz, all bejeweled on the red carpet with this leading internationally renowned fine jeweller. Verdura is celebrated for its innovative designs, expertise, craftsmanship, and quality gemstone pieces. It is also well known for using large gemstones, yellow gold, and natural objects such as seashells in its design pieces. In fact, Verdura was the pioneer to combine coloured stones with gold and the first to transform classical motifs like coins, ropes, and caning into popular jewellery. In reminiscent of its timeless designs, Verdura reinforces its reputation as an industry leader by launching new products from its archive annually and by servicing a large international clientele. To relish the remarkable design of this leading design house, Lot 65 has resembled the innovative use of classical motifs, which embrace elegance and at the same time entice prestige.
Tiancheng International. Jewelry and Jadeite.8 june 2014 -http://www.tianchengauction.com/