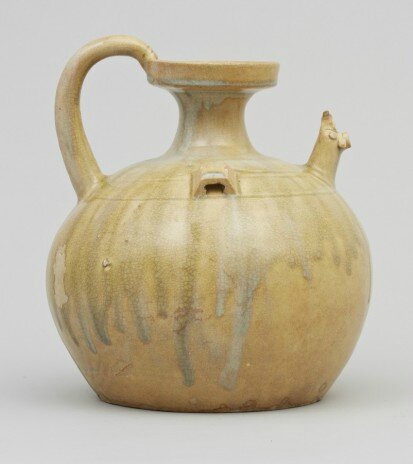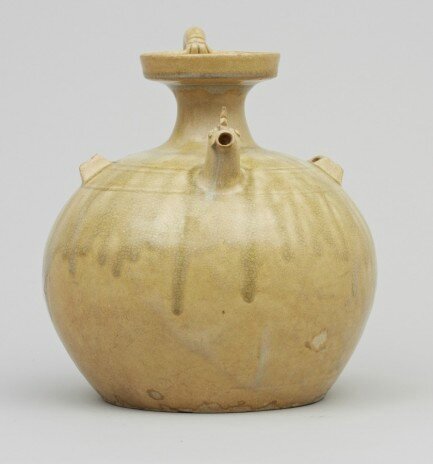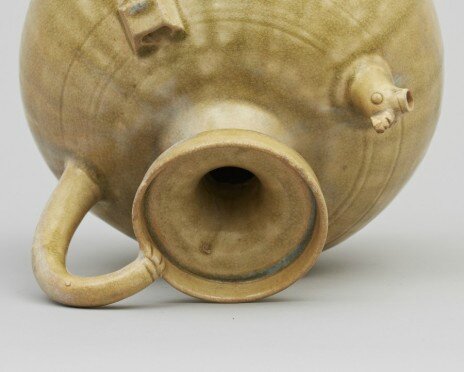 A Chinese glazed stoneware chicken-head ewer. China probably Zhejiang Province, Western Jin dynasty (265‑317). Photo courtesy Uppsala Auktion.
With a globular body with short cylindrical neck and cupped mouth, chicken-head spout and angular handles at the shoulders, covered in a celadon glaze. Height: 25.5 cm. Estimate: SEK 50.000 - 60.000 (EUR 5.500 - 6.600). Hammer price: SEK 50.000
Provenance: The collection of Karl E. and Tove Strömstad, Oslo.
Exhibited: The World in Monochromes, Oriental Ceramics Society, London, 16th April – 20th June 2009.
Illustrated on the cover and in the catalogue The World in Monochromes – The Oriental Ceramic Society, no 24, p. 19. Where it is catalogued as follows: 24 – EWER, stoneware with 'chicken head' spout, applied handles, and celadon glaze. CHINA, PROBABLY ZHEJIANG PROVINCE. Western Jin (265‑317). Height: 25 cm.
Compare with a similar example in the Metropolitan Museum of Art, New York dated to Easter Jin dynasty, Accession number 1979.353 and a greenware example in the Ashmolean Museum, Oxford, Accession number EA1956.211.
Uppsala Auktion, 13 june 2014. www.uppsalaauktion.se