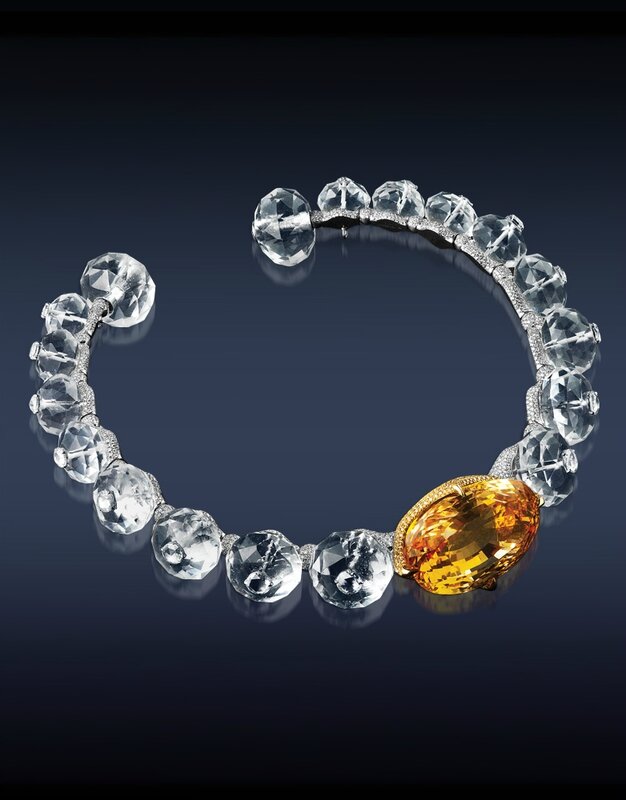 Jacob & Co. Yellow Sapphire Necklace.
An Exquisite One Of A Kind Yellow Sapphire Necklace, Featuring: GemTechLab 250.47 Ct. Natural Yellow Sapphire (1 Center Stone) Mounted in 18K Yellow Gold, Surrounded By Pave' Set 5.30 Ct. Yellow Round Cut Diamonds (750 Stones), 629.03 Ct. White Crystal Beads (18 Stones), 8.84 Ct. White Rose Cut Diamonds (18 Stones) On Center of Crystal Beads, Surrounded By Pave' Set 11.49 Ct White Round Cut Diamonds (2,088 Stones), Mounted in 18K White Gold.
Jacob & Co. Sapphire Diamond Ring.
Sapphire Diamond Ring with GRS Certified 10.03cts Oval Cut No Oil Sri Lanka Natural Padparadscha Sapphire Center to 3.60cts Round Cut Diamonds.
Jacob & Co. Ceylon Sapphire Cocktail Ring.
Ceylon Sapphire Cocktail Ring, Featuring: A Breathtaking AGL Certified 46.64 Ct Oval Cut Natural Orange Sapphire (Untreated) Highlighted With 2.17 Ct Natural Fancy Intense Pink Diamonds & 0.72 Ct White Diamonds Delicately Set in a Pave' Setting, Mounted in Platinum & 18K Rose Gold.
Photos and text by courtesy of Jacob & Co