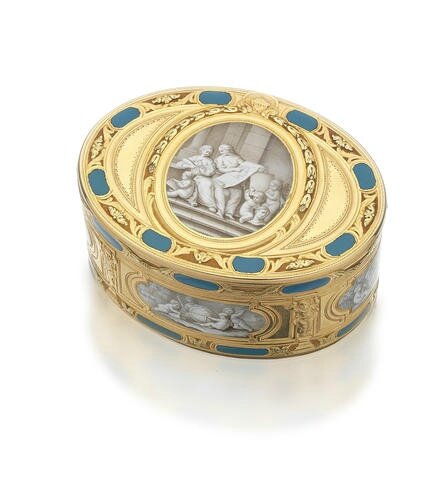 A Louis XV vari-coloured gold and enamelled snuff box by Jean-Joseph Barrière, Paris 1771, the rim stamped 724. Sold for £158,500 (€198,746). Photo Bonhams.
LONDON.- A rare Louis XV vari-coloured gold and enameled snuff box was sold for £158,500 at Bonhams Fine Silver and Gold Boxes sale in London yesterday (18 June). It had been estimated at £100,000-150,000.
The ovoid box, which was made in Paris in 1771 by Jean-Joseph Barrière, the cover with a central enamelled panel painted after Boucher with a grisaille camaïeu depiction of Art, with a young teacher instructing a pupil and three putti in painting, drawing and sculpting within an applied yellow gold bell husk frame surmounted by a mask head and flanked by two bright-cut panels within a border of alternating panels of applied yellow gold acanthus on foliate and matted engraved ground and turquoise enamel ovals, the sides with similar camaïeu panels depicting putti; to the front, Geography, to the left, Oenology, the back with Mining/Industry, the right with Perfumery, all within fluted frames and separated by putti caryatid pilasters below a band of festooned 'turquoise' ovals and above a thinner band of enamel panels and applied yellow gold acanthus leaves, the underside with a camaïeu panel of Music, with a tutor, a young girl and two putti with a lyre, violin and a horn, within a similar applied yellow gold bell husk frame, in later velvet case, length 8cm, weight 154.8gms.
Jean-Joseph Barrière was apprenticed to Charles-Nicolas-Loys Dumossay in 1750 and, in 1763, was made master sponsored by Henri Delobel. He had his workshop on the Pont Notre-Dame until the bridge was re-built in 1786, when he moved to rue du Coq-St. Honoré. Henry Nocq comments: "Il n'est pas de collection de tabatières où on ne trouve une ou plusiers boites à la marque JJB," Le Poinçon de Paris, (8th edition, Paris 1968), page 73.
A similar, but slightly smaller, box is in the Wallace collection (G49), it has a comparable series of enamel cameos and is further decorated with simulated malachite panels and the Victoria and Albert (Jones Bequest 913-1882) has a box, with simulated pink stone instead of the malachite and green dashes of enamel to the border. Barrière clearly repeated designs with small alterations. The Louvre holds a box from 3 years earlier that can be seen as a pre-cursor, (Baronne Salomon de Rothschild bequest, 1922, OA 7695), with similar flat enamel panels to the borders and putti within pilaster niches.
An even closer comparison is a box of the same year, formerly in the collection of Baron Henri James de Rothschild and sold, after several further owners, by Sotheby's Paris, 10 April 2008, that uses the same 'turquoise' panels and putto caryatid pilasters but is further enhanced with simulated agate panels rather than the polished bright-cut ones on the present lot.
For a comment on the numbering system used by Barrière, see Charles Truman, The Wallace Collection: Catalogue of Gold Boxes (London 2013) page 181.
It was formerly in the Jaime Ortiz-Patiño Collection and one of several lots from the collection of Barbara and Arnold Burton which together made over £450,000. Arnold Burton was the youngest son of Sir Montague Burton, the founder of the famous clothing empire.
The sale also included an important Louis XVI silver soup tureen made in 1779 by Robert-Joseph Auguste, the most highly regarded silversmith of his day. It sold for £128,500.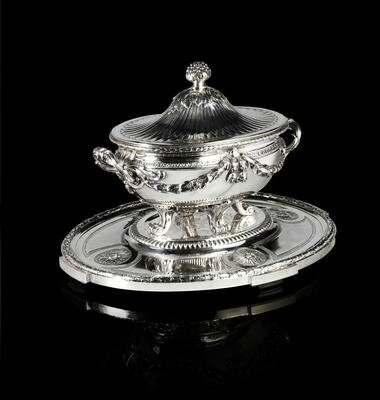 An important Louis XVI silver soup-tureen, cover and stand mark of Robert-Joseph Auguste, Paris, by Robert-Joseph Auguste, Paris, the stand and cover 1779, the base and liner 1780 all with the ewer discharge mark of Henri Clavel. Sold for £128,500 (€161,128). Photo Bonhams.
The oval cover with berry and acanthus finial on an acanthus calyx and spreading flutes separated by matting with plain band to the edge, the base with outswept ribbon-tied laurel rim and applied laurel festoons draped from the acanthus junctions of the scrolling acanthus and reeded handles, on four outswept acanthus feet, the underside engrave with an armorial shield, the oval stand with central raised platform engraved with a coat of arms within laurel wreath with gadrooned border, with removable fitted liner with scrolling stub handles, engraved with an armorial shield, the base with four polished panels within matted frame separated by relief sunflowers with a ribbon-tied laurel border, raised on four protruding fluted feet, height 34cm, length of stand 52cm, weight 274oz.
The arms those of the Dukes of Cadaval
Provenance: Count Brandolini, Christies, 5 July 1972, ex-lot 56.
Count Brandolino Brandolini (1918-2005), was the grandson of Dona Maria José Àlvares Pereira de Melo, 8th Duke of Cadaval (1844-1913) and son of Cristina Agnelli.
The Dukes of Cadaval have their origins in Dom Álvaro of Braganza, Lord of Tentúgal, Póvoa, Buarcos and Cadaval, 4th male son of Dom Ferdinand I, 2nd Duke of Braganza. Dom Álvaro married Dona Phillipa of Melo, the rich daughter and heir of Rodrigo Afonso de Melo, 1st. Count of Olivenza. The title was created on April 26, 1645, by King John IV of Portugal to his distant cousin, Dom Nuno Álvares Pereira de Melo (1638–1727), who was already 3rd Marquis of Ferreira and 5th Count of Tentúgal.
Nuno was a general in the Portuguese Restoration War, which earned him prestige and achieved himself the title of Duke of Cadaval. Following the end of the war, he was made Constable of Portugal in the Portuguese Cortes of 1668. In June 1670, Nuno became a member of the Ultramarine Council, an administrative organ of the Portuguese Empire. In 1707, the Duke was made chief of the Portuguese army. He married Marguerite of Lorraine (17 November 1662 – 16 December 1730), daughter of Louis, Count of Armagnac.
Robert-Joseph Auguste, (1723-ca.1805) was made master in 1757 but little is known of his indroduction to silversmithing: he was outside the usual apprentice sysem but worked for the King. Whilst little remains of his production from 1757 to 1770, after that we have evidence of a vast production for various foreign courts. The large size of his workshop could be compared to that of François-Thomas Germain: around 120 workmen in 1757, see Claire Corbellier, "Robert-Joseph Auguste, Silversmith-and Sculptor?" Metropolitan Museum Journal 31, p211ff.
It is clear that Auguste was able to produce such vast services for his various clients by re-using designs and castings, both forms and details. Compare the berry and leaf finials, acanthus calyx and fluted detail the cover of the present lot to those on the Ekaterinoslav Service. The stands for the tureens are the same oval form with chased panel separated by flowerheads and having slightly projecting feet formed as capitals. Furthermore, the wine coolers from the Ekaterinoslav service have the same decorative idiom as those made for the Dukes of Cadaval sold at Christie's Geneva, 8 November 1977. See table 35 (reproduced here) from Baron A von Foelkersam: Inventaire de l'argenterie conservée dans les garde-meubles des palais impériaux, (Saint Petersburg, 1907).
Interestingly, Jaques and Yvon Helft, the great French silver dealers, had for many years the Toilet Service of the 3rd Duchess of Cadaval, and often exhibited it at the same time as their pieces from the Russian Imperial Collections, Jacques Helft, Treasure Hunt: Memoirs of an Antique Dealer, (London 1957) plate 3.
A pair of silver vegetable dishes by the same maker and used by the Russian Empress, Catherine the Great made £37,500.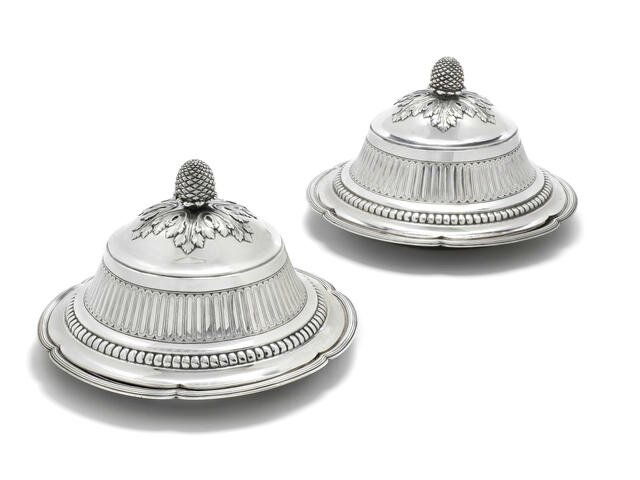 Catherine the Great: An important pair of Louis XVI silver circular dish covers (cloches) and dishes from the Ekaterinoslav and Moscow Services, covers by Robert-Joseph Auguste, Paris 1782-83, dishes by Louis-Joseph Lenhendrick, Paris 1777-78. Sold for £37,500 (€47,021). Photo Bonhams.
Covers finely chased with a continuous band of elongated oblongs within frosted surrounds above a band of small lobes, each applied with a large pine cone finial resting on frosted acanthus calyx, these are prick-dot engraved "No 2" to inside rim edge and stamped "2" to the rim, the presentories of shaped outline with reeded borders, prick-dot engraved on reverse "EKC :2" and stamped "2", height 17.5cm, diameter covers 28.5cm, the dishes 31.8cm, weight 143oz. (4).
Provenance: Ordered for Catherine the Great
Re-called to Winter Palace, St Petersburg, by Tsar Paul the First
Disposal by The Soviet Government
Probably with Jacques Helft, circa 1928.
A European Nobleman thence by descent.
Literature: Baron A de Foelkersam, Inventaire de l'argenterie conservée dans les garde-meubles des palais impériaux, (Saint Petersburg, 1907).
Jacques Helft, Treasure Hunt: Memoirs of an Antique Dealer (London 1957).
Gérard Mabille, Orfevrerie Française des XVI XVII XVIII Siècles, Catalogue raisonné des collections du Musée des Arts Décoratifs et du Musée Nissim de Camondo, (Paris 1984).
Claire le Corbellier, "Robert-Joseph Auguste, Silversmith – and Sculptor?," Metropolitan Museum Journal 31, p211ff
Yves Carlier, Chantal Bouchon, Sylvie Legrand-Rossi and Anne Foray Carlier, introductory essays to the exhibition: Dessins d'orfèvrerie de l'atelier de Robert-Joseph Auguste (1723-1805) November 2011 to April 2012
Catherine the Great's desire for monumental and extensive table services as an expression of her wealth and her appreciation of western taste is most spectacularly shown in the famous Orloff Service by Jacques-Nicolas Roettiers Various tureens and plates from this service were in the collection of Jaime Ortiz-Patiño and sold in 1992; for examples of gold boxes from this collection, see lots 1, 2 and 31. From 1776, Catherine's agents ordered twenty-two further services for the Gubernatorial capitals newly created in her reorganisation of the administration of the Russian Empire. Five were from Russian silversmiths and the rest from outside the empire: Paris, London and Augsburg. In Paris, they turned to Roettiers successor Robert-Joseph Auguste, for four; Ekaterinoslav (1776-1778), Kazan (1778), Nijni-Novgorod (1778-1779) and Moscow (1782-1783). For the former, Auguste had to enlist the aid of Louis-Joseph Lenhendrick, who had collaborated on the Orloff Service.
Robert-Joseph Auguste (1723–ca.1805) was a sculptor and royal goldsmith to Louis XV and Louis XVI of France, whose coronation crown he made. Unusually for the time, Auguste appears to have worked outside the normal guild system; he was made master in 1757 but very little of his production of the next ten years still exists, five gold boxes through the 1760's. The recall of plate during the reign of Louis XVI means that little of Auguste's work made for French patrons survives, however we are fortunate that he had magnificent orders from foreign courts including Count de Creutz, a Swedish Ambassador, King George III and Catherine the Great. Auguste was an excellent exponent of the new Neoclassical style, radically different to the flamboyant and naturalistic Rococo that had passed in the middle of the century and an evolution of the Classical style; with fewer references to architectural forms. The designs of the services show a little more restraint than that for the Sachsen-Teschen Tureen by Jacob Ignatz Wurth sold in these rooms on 13 June 2013, ex lot 151.
The services were re-called to St Petersburg on Catherine's death by her successor, Tsar Paul the First. The next full published assessment of the remnants is by Baron A de Foelkersam, in 1907. Sadly his detail for the present services is not as extensive as for the Orloff service, but he does include the bill for Moscow service: 232,200 livres (including commission) for 2351 marks (18,808oz) of silver. He also provides a tally of pieces that were melted for bullion through the 19th century.
In the aftermath of the Revolution, the new Soviet Government sold some of the remnants of the services along with other treasures from the Imperial collections. Jacques Helft recounts: "It was during this same year [1926] that I secured from the Trade Representatives of the USSR at Berlin, a large consignment of French Goldsmiths' work," which included the Orloff table service (Helft, p.29).
It is possible that the present lot came from this consignment, as is suggested by evidence from the ledgers in the archives of Helft's client, Count Moise Nissim Camondo, published by Sylvie Legrand-Rossi. In July 1929, Moïse de Camondo bought from Helft, for 250 000 francs a pair of rectangular tureens by Auguste (1782) and a pair of round tureen covers by the same maker and date and two round plates by Louis-Joseph Lenhendrick (1777). In November of the following year, Camondo exchanged the latter pair and 40 000 francs for a second pair of the rectangular tureens (Les Arts Décoratifs, musée Nissim de Camondo, inv. CAM 256 and 257). Further, Helft had, the year before, given to the Louvre a dish and cover with the identical combination (Musée des Arts Décoratifs, don Jacques et Yvon Helft, 1928, inv. 26750 and 26751). It is also possible that the present lot are two of four tureens illustrated in a photograph of a showcase of Auguste's work in the 1926 Louvre, L'exposition d'Orfèvrie Française Civile. The cloches were purchased, in Paris, by the present owner's parents.
Helft gives a clue as to why the dispersal of the Imperial silver took so long: "I had dazzling hopes of success when my clients should come to inspect all these wonders; but as it happened the reception was guarded and cool." p. 29. Indeed, in 1942, after he had been forced to move to New York, he was still offering the Orloff Dish Covers and Moscow verrières sold to Ortiz Patiño, see plate 5.
At first glance the covers and dishes sit well together, despite the difference in dates and makers, probably because Auguste and Lenhendrick cooperated on the Ekaterinoslav service. The dishes can easily be assigned to this service with their prickdot engraved "EK2," as well as their date and maker. The covers must come from the Moscow service with their continuous bands of shallow flutes around the side rather than being separated into four panels, see illustration.
The numbering of the pieces is somewhat unexpected and may have been added later by the Hermitage; it appears to be by type of dish or cover rather than to keep covers and bases together. The present lots are incuse stamped "2" on both dishes and covers. The two pairs of rectangular compotiers and covers from the Moscow Service in the Musée Nissim de Camondo each have 1 to the base and 3 to the cloche. Other platters and plates sold recently have been marked "EK1," whilst the dessert plates from Ortiz Patiño Collection were marked "No3." This eccentricity may give a hint as to how the covers and bases became mixed either whilst in the Imperial Collection or at the point of sale by the Soviets.
Bonhams Head of Silver, Michael Moorcroft said, " We were delighted to be able to offer so many fine pieces from the Burton collection and the high prices achieved are a testament to Barbara and Arnold's taste and discrimination."