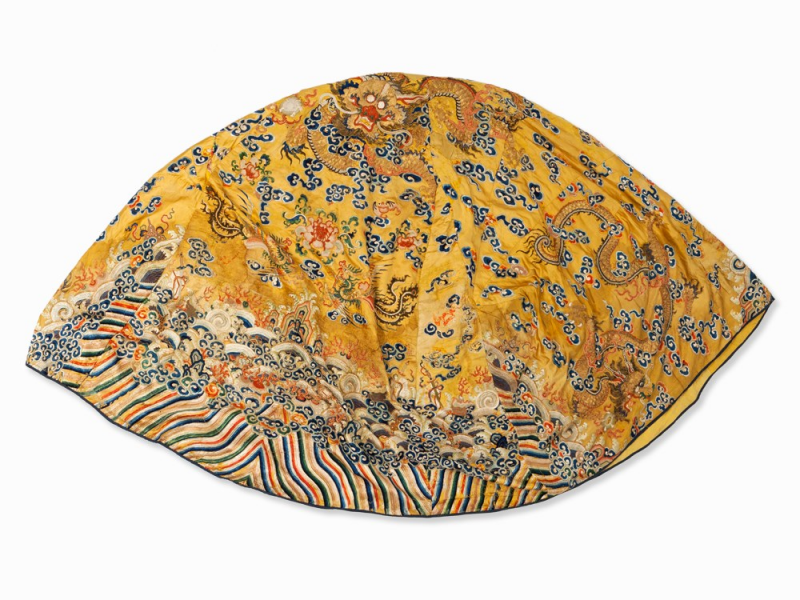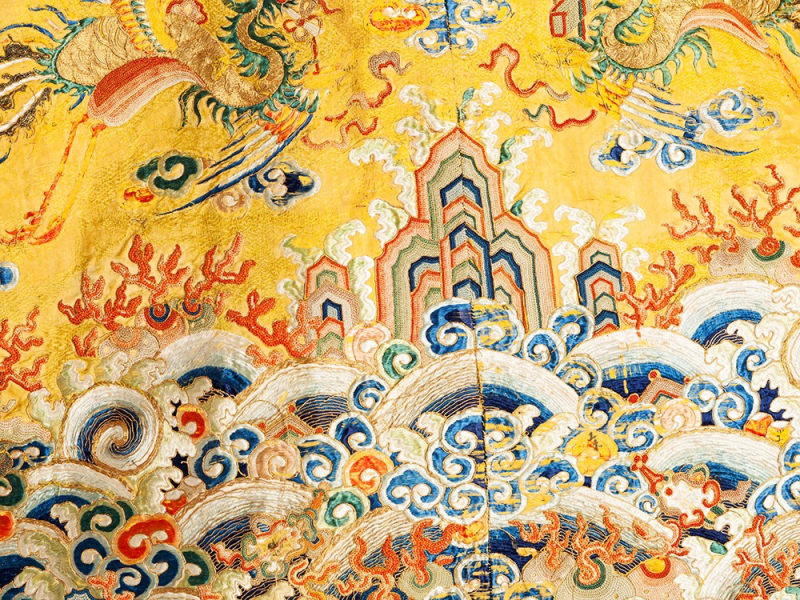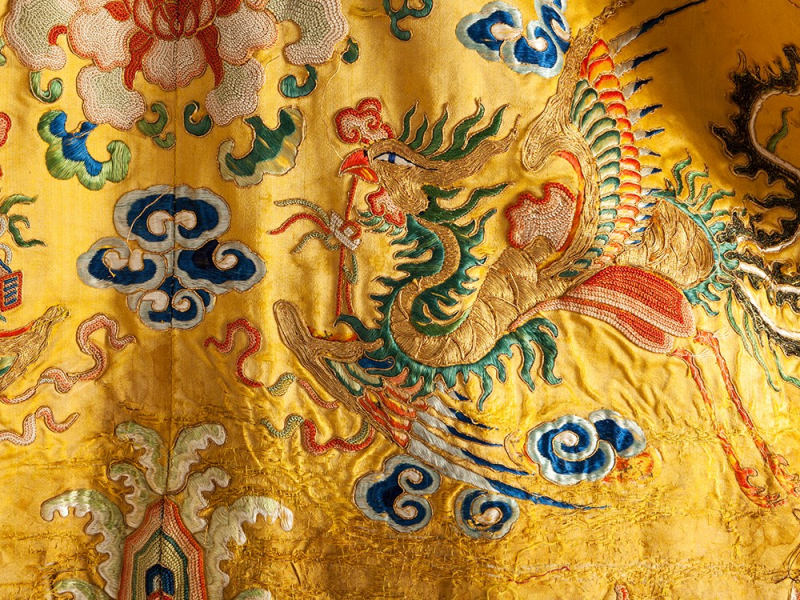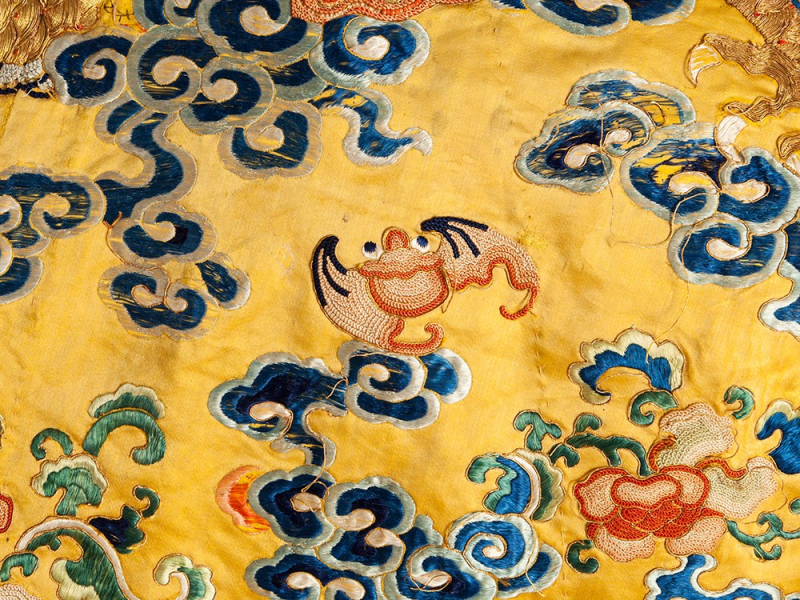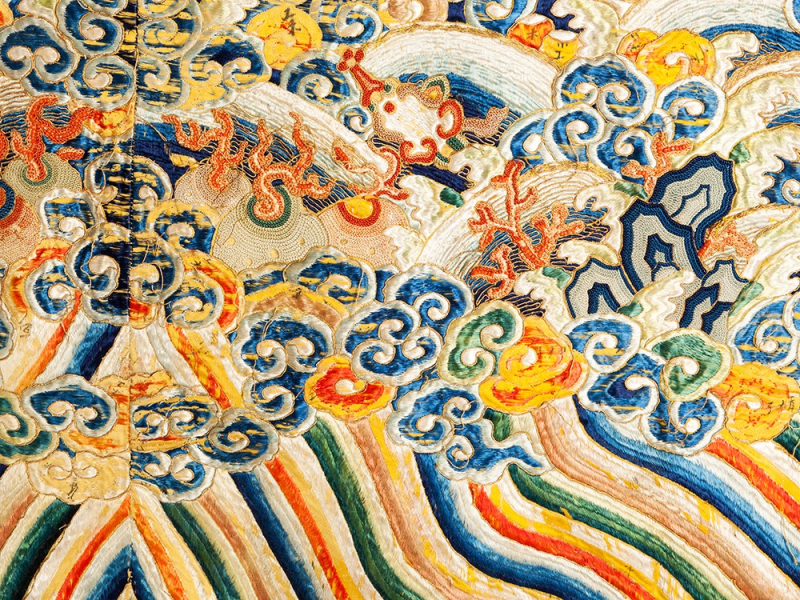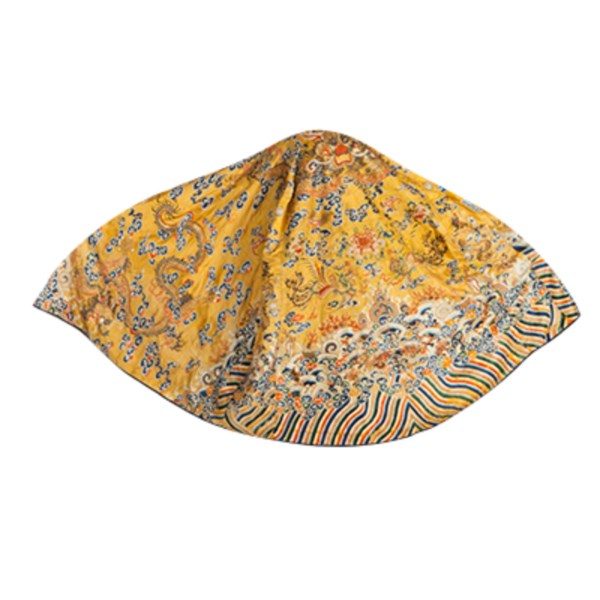 Imperial Silk Embroidery with magnificent details, China, early 19th century. Photo AUCTIONATA
Embroidered silk, gold thread, coral and glass. Assembled from several garments called Mangao traditionally worn over the shoulders by court musicians. Exquisitely embroidered in gold thread and sequins, colored silk thread, coral and moonstones. Depicting ferocious dragons chasing 'flaming pearls' amongst clouds, bats and peonies.Most likely to have been for Imperial use. Appealing, restored condition. Circumference: approx. 487 cm. Estimation : 6 400 € / 8 000 €
Literature: Gary Dickinson & Linda Wrigglesworth, Imperial Wardrobe, Ten Speed Press 2000, pp. 165 and 186
Provenance: Private collection, India
Altogether a most fascinating and unusual piece.
The embroidered silk, which constitutes this canopy, was initially made for another use, possibly for Chinese costumes called Mangao.
These robes were embroidered with large coiling dragons that laid across the shoulders similar to the design of the musicians' robes worn at the Imperial Court or the women's robes from the Han tribe. If the textile was finally made into an umbrella it would have been held victorious above the heads of royalty or a visiting lama. However there is no evidence of a structure, thus the final use of this lovely textile remains unclear.
The dragons are embroidered with gold thread and tiny pearls decorate the whiskers. Tiny beads of coral have also been used in the water and wave pattern.
The bats and lotus flowers are embroidered in Peking knot stitch.
The rest of the silk is adorned in satin stitch embroidery. It is lined in yellow cotton.
Furthermore there are phoenixes embroidered on the silk, symbolizing the empress. As the use of yellow was restricted only for the emperor and his first wife to wear, the present lot could have been a cape made for a royal courtier, probably in this case an empress.
The use of pearls and coral beads also suggest imperial use.
The five-clawed dragons are another symbol of royalty.
Literature: Gary Dickinson & Linda Wrigglesworth, Imperial Wardrobe, Ten Speed Press 2000, pp. 165 and 186.
AUCTIONATA. Art d'Asie, le 26 Juin 2014 à 6:00 pm CET. FRANKLINSTRASSE 13, 4. STOCK, D-10587 BERLIN. Tel: +49 30 9832 0221 - E-mail: vorgebot@auctionata.com