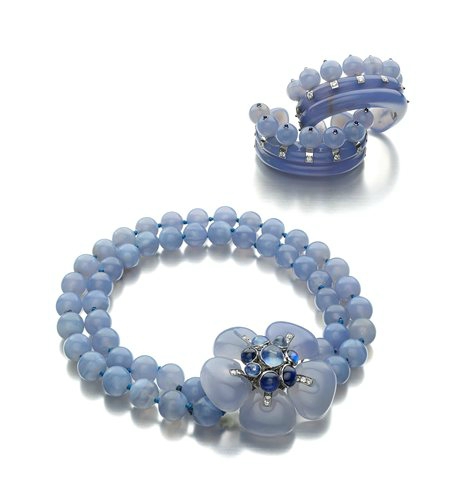 Suzanne Belperron. The Duchess of Windsor's Chalcedony Suite, Circa 1935.
A necklace composed of a double-strand of chalcedony beads and a large flower head clasp with articulated carved blue chalcedony petals centering a cluster of cabochon sapphires, embellished by old-European-cut diamond trim; with French assay marks, set in platinum • 15 round diamonds • 8 cabochon sapphires • With maker's mark • Length: 14 inches, flower clasp diameter: 2 1⁄8 inches.
Belle Époque Diamond and Rock Crystal Corsage Ornament by Cartier, Paris, 1913.
A sculpted rock crystal double bow corsage ornament composed of foliage carved rock crystal ribbon loops accented with diamond details and embellished with collet-set diamond trim and fringe, centering an old-European-cut diamond knot within a two-tiered collet-set diamond surround, suspending a similarly designed detachable pear-shaped carved rock crystal pendant; mounted in millegrained platinum with French assay marks; in the original red leather Cartier box • 298 old-mine-cut and old-European-cut diamonds, total weighing 23.74 carats • 354 Rose-cut diamonds, total weighing 6.06 carats • Signed "Cartier Paris" • Measurements: 4¼ x 4¼ inches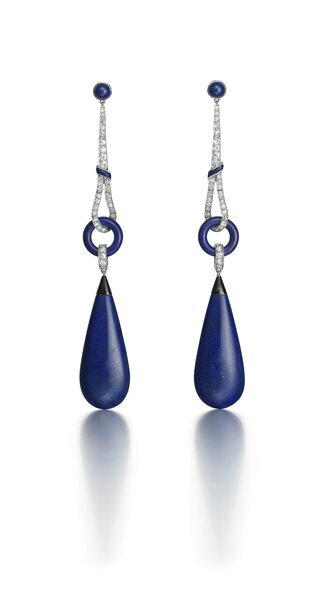 Boucheron Paris. Pair of Platinum, Lapis Lazuli, Diamond, and Enamel Pendant Earrings, Circa 1925.
A pair of earrings suspending pear-shape lapis lazuli drops capped by black enamel, connected to lapis lazuli rings by articulated platinum and diamond segments with single-cut diamonds and enamel detail, the tops set with lapis lazuli cabochons; mounted in platinum; signed Boucheron, Paris with maker's marks.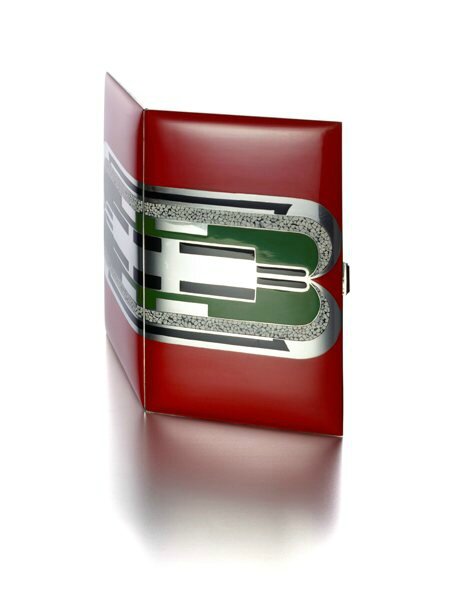 Raymond Templier. Art Deco Silver, Enamel, Lacquer, Eggshell Lacquer, and Onyx Cigarette Case, 1928.
A rectangular silver, lacquer, eggshell lacquer, and enamel cigarette case decorated in red, green, black, and white enamel and white eggshell lacquer, onyx push pin, silver gilt interior, French assay mark for silver, signed Raymond Templier and maker's mark for Jean Trottin.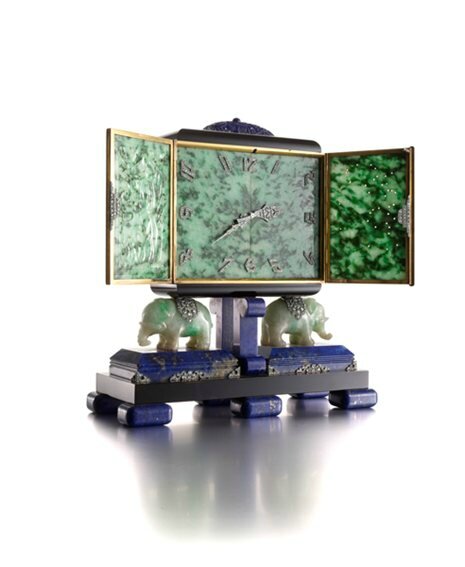 Lacloche. Art Deco Lapis Lazuli, Jade, and Diamond Elephant Desk Clock by Verger Frères for Ostertag, Paris, 1929.
A clock with a black lacquer rectangular case inset with two openwork carved jade paneled doors with rose-cut diamonds, topped with black onyx and carved lapis lazuli, the lapis lazuli push piece reveals a mottled green jade dial with applied rose-cut diamond Arabic numerals and rose-cut diamond hands with mechanical movement, the case rests on the backs of two carved jade elephants, embellished with rose-cut diamond blankets, and a lapis lazuli column, supported by a two-tiered lapis lazuli, black onyx, and diamond base; mounted in 18-karat yellow gold; in a blue fitted leather case; with French assay marks;signed Ostertag and with a mark for Verger Frères
MASTERPIECES London 2014. SIEGELSON STAND B3. 589 5th Avenue, Suite 1501, New York, NY 10017, United States. T 212-832-2666 - F 212-832-2882 - E-mail siegelson@siegelson.com - Website http://www.siegelson.com