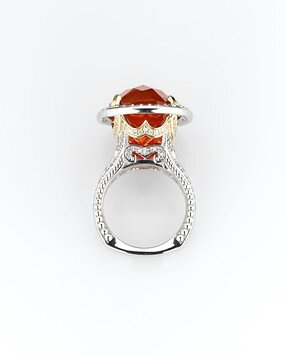 15.68 Carats Mexican Fire Opal and Diamond Ring ~ M.S. Rau Antiques.
The heat of a magnificent Mexican fire opal is balanced by glistening diamonds in this opulent ring. Weighing an incredible 15.68 carats, the rare oval-cut opal displays the signature bold tangerine orange hue for which this unique stone is known. Encircled by 158 diamonds totaling 1.25 carats, this stone reveals all of its best qualities. Set in platinum and 18K yellow gold. Price: $54,500
Thought to bestow courage, stamina, will-power and energy, Mexican fire opals are singular among the world's opals for their bright and almost uniform color. Revered since pre-historic times as symbols of the most ardent love, the gem was believed to have been created in the waters of life. The most beautiful of these rare gems are found in Mexico, and in the Pre-Columbian era, the Mayans and Aztecs incorporated it into their most prized artworks and figurines.