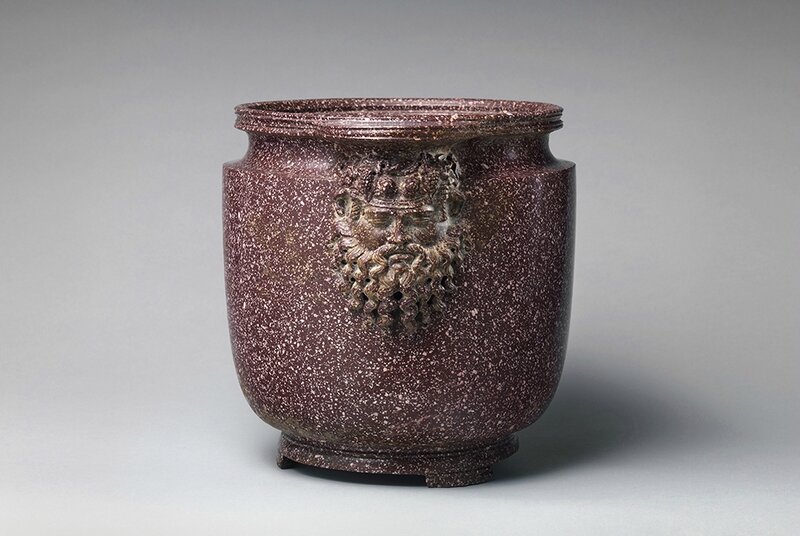 Porphyry vessel with bearded masks. Roman, Early Imperial, 1st‒early 2nd century A.D. The Metropolitan Museum of Art, Purchase, Acquisitions Fund, The Jaharis Family Foundation Inc. Gift, Philippe de Montebello Fund, Philodoroi and Renée E. and Robert A. Belfer Gifts, The Bothmer Purchase Fund, and Mr. and Mrs. John A. Moran, Nicholas S. Zoullas, Patricia and Marietta Fried, Jeannette and Jonathan Rosen, Aso O. Tavitian, Leon Levy Foundation, and Barbara and Donald Tober Gifts, 2014 (2014.215). Image: © The Metropolitan Museum of Art, New York.
NEW YORK, NY.- An important, elaborately carved Roman urn of the first-early second century A.D.—one of the finest porphyry vessels to have survived from classical antiquity—has been acquired by The Metropolitan Museum of Art.
The acquisition was made possible in part thanks to a challenge grant from Metropolitan Museum Trustee Mary Jaharis.
Thomas P. Campbell, Director and CEO of the Museum, stated: "This rare and beautiful vase is a superb example of classical craftsmanship at its best. The public will now have the extraordinary opportunity to see it within the context of other Hellenistic and Roman works in various media, and especially other sculptures made of porphyry, in the collection of the Museum's Department of Greek and Roman Art, one of the major repositories of classical art in North America."
Porphyry is a rare hard, purple-red stone that was highly prized in antiquity for its distinct color. Because purple was considered the imperial color, porphyry was regarded as a royal stone. Under Roman rule, the quarrying of porphyry in the remote eastern desert of Egypt was an imperial monopoly. The stone's hardness made it difficult to quarry, and the need to transport the stone long distances added to its value as a luxury material.
The vessel measures approximately 10 inches (25.5 cm) in height and 9 inches (24.8 cm) in width. It was probably used as a cinerary urn (holding ashes after cremation), a practice that was described in contemporary writings. According to the Roman historian Dio Cassius (ca. 155‒235), for example, the cremated remains of the emperor Septimius Severus—who died in northern Britain in 211—were put in a "porphyry hydria" for transportation back to Rome.
The Metropolitan's urn is of the utmost rarity, having retained the original polish as well as traces of burial deposits. Shaped like a situla—or wine bucket—the vessel lacks the two swing handles that are usually attached above the rim. Instead it has two ear-shaped handles and a large and impressive Silenus mask on either side. (Silenus was the companion and tutor to the Greek god of wine, Dionysus.) Each Silenus has pointed ears and wears a wreath with leaves and berries—all carved in exquisite detail.
The vessel may have originated in an Alexandrian workshop or in Rome, where it would have been made by immigrant craftsmen. It was in the collection of Arturo López-Willshaw (1900‒1962) in Neuilly, France, prior to 1961, and then that of his widow Patricia López-Huici de López-Willshaw (1912–2010). Described as "A Porphyry Mortar, Italian, probably first half of 19th century," the vessel was sold at auction in Paris in October 2012.