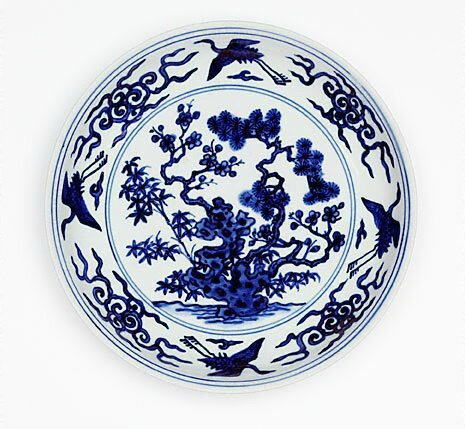 Dish with design of the Three Friends, China, Ming dynasty (1368- 1644), Jiajing mark and period (1522 - 1566), Jingdezhen, Jiangxi Province, porcelain with underglaze blue decoration, 3.2 x 17.6 cm. Gift of Florence Marks, Orwell Phillips and Barbara Selby 1980, 193.1980. Art Gallery of New South Wales, Sydney (C) Art Gallery of New South Wales, Sydney
The Jiajing emperor was a faithful disciple of Daoism. The imperial partiality sparked a wave of enthusiasm for Daoist religion throughout the empire, and set a fashion in the decorative arts. Motifs relating to Daoism were most favourably employed in the decoration of ceramics as seen in this dish decorated in a rich blue with the motif of the Three Friends (prunus, pine and bamboo). The Three Friends are symbolic of independence, endurance and integrity. This new type of bright, strong blue was made from cobalt known as Mohammedan blue.
The Asian Collections, AGNSW, 2003, pg.121.