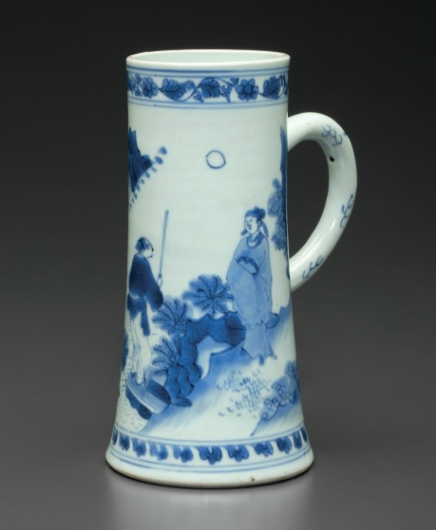 A blue and white tankard, Chongzhen period, circa 1643. Estimate $6,000 – $8,000. Photo Christie's Image Ltd 2015
The tankard is of elongated, tapering cylindrical form with an ear-form handle to one side. The exterior is decorated with a continuous scene of a scholar and an attendant in a landscape, all between an upper leafy scroll band and a lower lappet band. The flat base is unglazed. 7 7/8 in. (20 cm.) high - Lot 3534
Provenance: Alfred E. Hippisley (1848-1939) Collection, according to label.
Winston Guest (1906-1982) Collection.
Heirloom & Howard, Ltd., London, 1984.
Collection of Julia and John Curtis.
Notes: Alfred Edward Hippisley (1848-1939) was born in Bristol. He started his career in the Imperial Chinese Maritime Customs Service in 1867 and served in various capacities in Peking, Amoy, Canton, Shanghai and elsewhere. In 1875 he was appointed Assistant Statistical Secretary, which raised him to the rank of Deputy Commissioner. In April 1882 he became Commissioner. He also served as Chinese Secretary from May 1882 to May 1885, as Chief Secretary from April 1896 to October 1897, and as Postal Secretary from April 1907 to April 1908. By Imperial decree of 1st October 1901 he was appointed an Assistant Delegate to the Treaty and Tariff Commission. Although a leading candidate for the post of the Inspector General of Customs in China after Sir Robert Hart, he never succeeded him. He resigned from the Customs in 1910.
For his outstanding services, he was made Chevalier of the Order of Francis Joseph of Austria in 1874 and received the orders of Double Dragon and Rising Sun in 1904, Dragon of Annam in 1908 and other awards. He was one of those who advised US Secretary of State John Hay in relation to the Open door policy in China 1899-90.
Hippisley had many interests beyond his professional work. He is the author of A Sketch of the History of Ceramic Art in China: with a catalogue of the Hippisley Collection of Chinese Porcelains, published in 1902. The Hippisley collection of Chinese porcelain was exhibited 1887-1912 at the Smithsonian Institution, Washington, D.C.
CHRISTIE'S. AN ERA OF INSPIRATION: 17TH-CENTURY CHINESE PORCELAINS FROM THE COLLECTION OF JULIA AND JOHN CURTIS, 16 March 2015,New York, Rockefeller Plaza