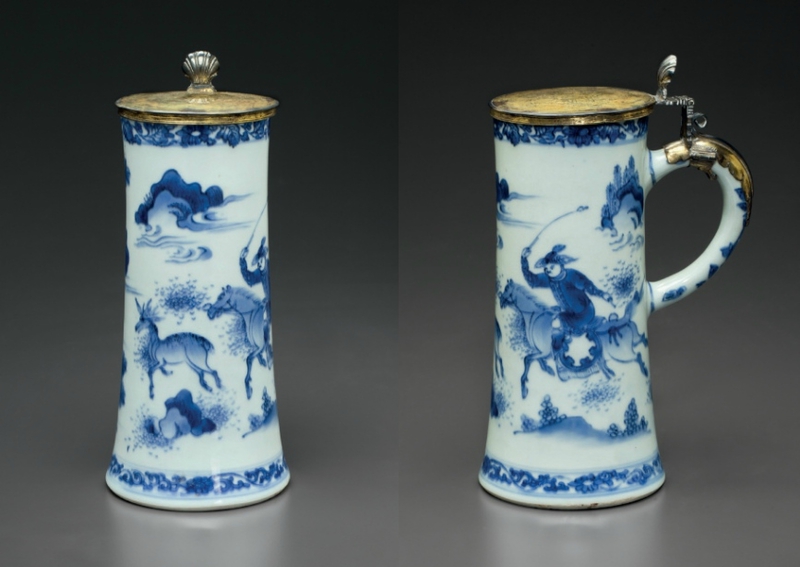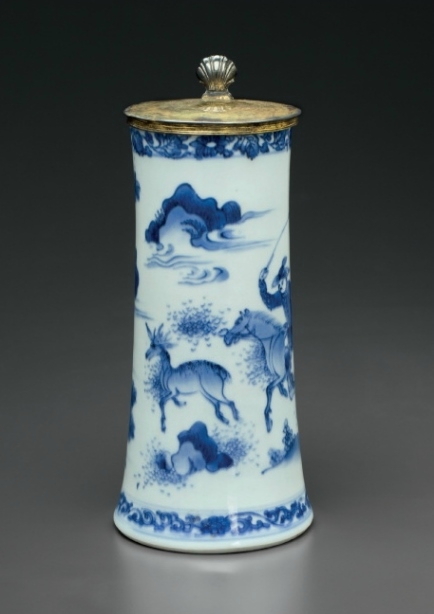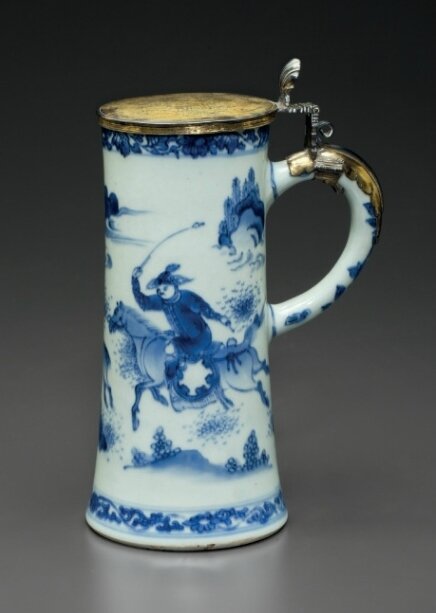 A silver-gilt-mounted blue and white tankard; the porcelain Chongzhen period, circa 1640, the mounts continental, late 17th century. Estimate $6,000 – $8,000. Photo Christie's Image Ltd 2015
The tankard is of elongated, slightly tapering cylindrical form with an ear-form handle to one side. The exterior is decorated with a continuous scene of a equestrian huntsman in pursuit of a deer, all between floral scroll bands. The flat base is unglazed and the handle and mouth are fitted with silver-gilt mounts. 8 in. (20.3 cm.) high - lot 3511
Provenance: Frides Laméris Kunsthandelaar Antiques, Amsterdam, 1984.
Collection of Julia and John Curtis.
Notes: Two tankards of this type, with a similar decorative scheme of a wide, continuous scene between thin scroll bands, are in the British Museum, London, and illustrated by Jessica Harrison-Hall in Catalogue of Late Yuan and Ming Ceramics in the British Museum, London, 2001, pp. 358-359, nos. 12:11 and 12:12. Harrison-Hall notes that tankards of this type, "are modeled after Dutch stoneware or wooden prototypes and were made exclusively for export to Europe with Chinese 'tranistional'-style figurative designs." (ibid., p. 358) She also notes several tankards, such as the present example, with European silver and silver-gilt mounts, some of which are dated, including one in the Hamburg Museum dated to 1642.
For another tankard of this type from the Curtis Collection see lot 3534 in this catalogue. Also see an example from the Butler Family Collection, illustrated by Michael Butler and Wang Qingzheng in Seventeenth Century Jingdezhen Porcelain from the Shanghai Museum and the Butler Collection: Beauty's Enchantment, London, 2006, p. 323, no. 121.
CHRISTIE'S. AN ERA OF INSPIRATION: 17TH-CENTURY CHINESE PORCELAINS FROM THE COLLECTION OF JULIA AND JOHN CURTIS, 16 March 2015, New York, Rockefeller Plaza.