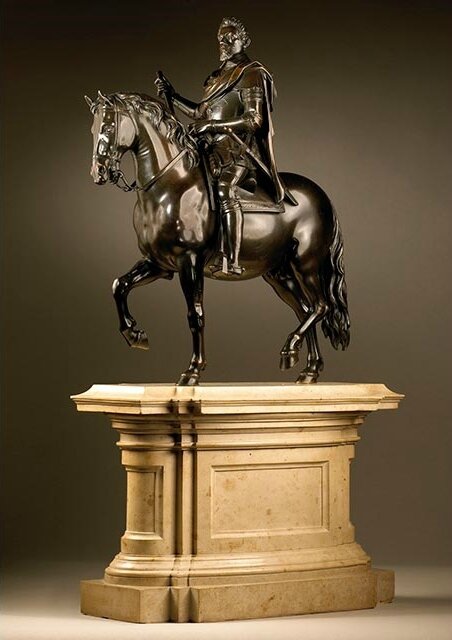 Antonio Susini (1558-1624), Florentine, c.1620, Equestrian Portrait of Carlo Emanuele I, Duke of Savoy. Bronze. 36.8cm high, 58.3cm with base.
LONDON.- A significant bronze equestrian portrait by Antonio Susini (1558-1624) of Carlo Emanuele I, Duke of Savoy (1562-1630), is to be presented at TEFAF 2015 by Tomasso Brothers Fine Art. Dating to circa 1620, the sculpture is considered to have been commissioned to mark the marriage in 1619 of Carlo Emanuele's son and heir Vittorio Amadeo to Christine Marie, daughter of King Henry IV of France and Marie de Medici.
The sculpture has an impeccable provenance, coming by descent to Princess Maria Beatrice of Savoy. Antonio Susini was a Florentine sculptor and principal bronze caster to Giambologna, one of the most important Mannerist sculptors of his age.
Seated on a magnificent war-horse, Carlo Emanuele I (known as 'The Great'), is wearing armour identified with the cross of the Savoyard Order of St Maurice. The bronze is comparable to another version of the same equestrian portrait, now in the collection of the Museumslandschaft Hessen in Kassel and formerly Paris, and its pair, a bronze equestrian portrait of Henry IV of France in the Musée des Beaux-Arts of Dijon. Both works are attributed to Susini.
Priced in the region of €1.5 million, this historic bronze will be a major exhibit at internationally-renowned dealers in European sculpture Tomasso Brothers Fine Art's Stand 165 at TEFAF 2015. TEFAF Maastricht, the world's greatest art and antiques fair, takes place at the Maastricht Exhibition & Congress Centre (MECC), from 13 to 22 March 2015.
The house of Savoy, with its territories in Northern Italy/Piedmont/Turin and S.E.France/Nice, was interconnected with many European royal families: Carlo Emanuele I was married to the Infanta Catherine Michelle, daughter of Philip II of Spain and Elizabeth of Valois. Carlo Emanuele's mother was Margaret of France, Duchess of Berry. His paternal grandmother was Beatrice of Portugal and his maternal grandfather Francis I of France.