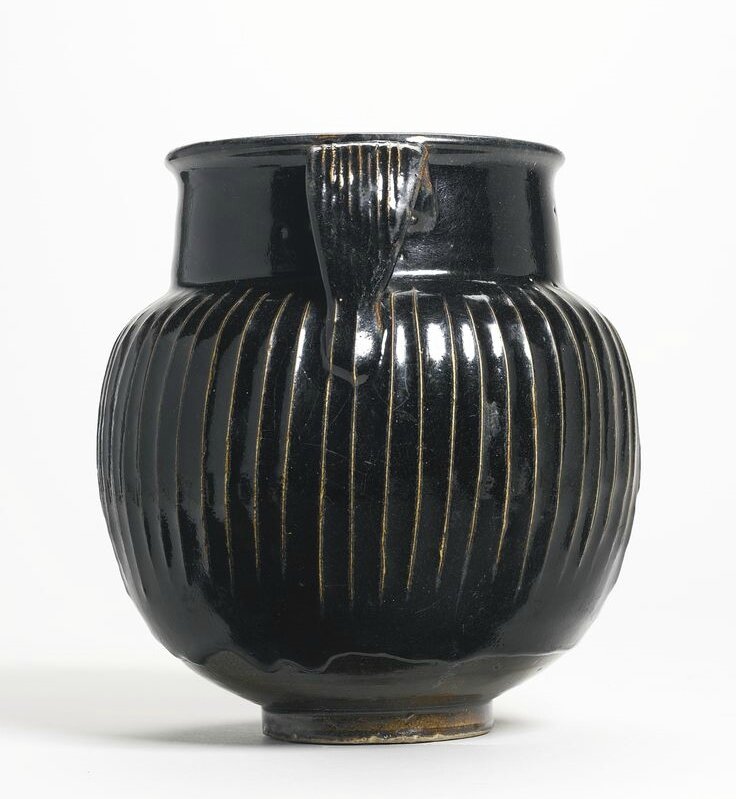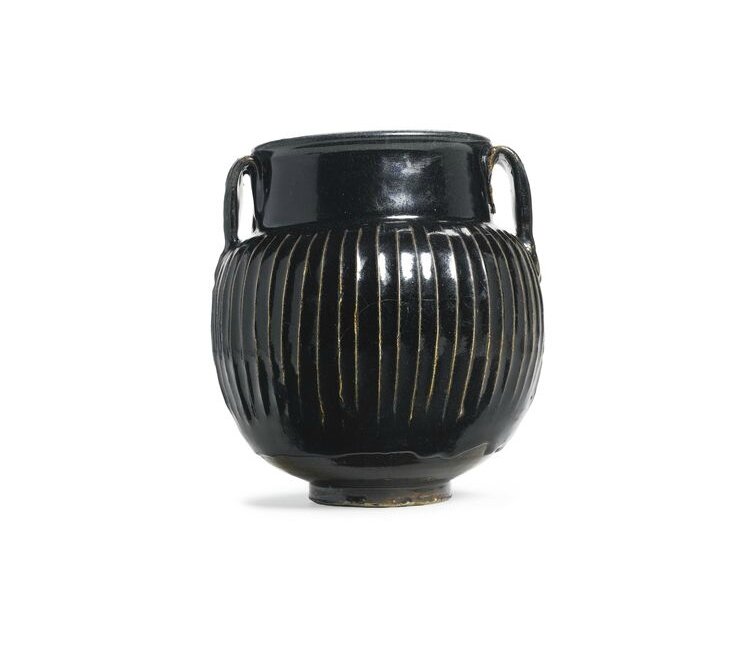 A rare and large ribbed black-glazed jar, Northern Song - Jin Dynasty. Estimate 50,000 — 70,000 USD. Photo Sotheby's.
of superbly potted ovoid form, the rounded sides with sharply defined vertical ribs forming the narrow trails of white slip revealed through the rich lustrous bluish-black glaze, surmounted by an upright neck with lipped rim, applied with two broad multi-ribbed tapering tab handles, the lustrous black glaze applied in more than one layer, falling in an uneven line terminating in thick droplets around the base revealing a pale brown slip underneath, the interior of the foot ring similarly dressed, leaving the broad buff-colored knife-pared footring unglazed for firing. Height 8 1/2 in., 21.6 cm
Ehibition: The Art of Southern Sung China, Asia House, New York, 1962, cat. no. 100.
Notes: The attractive ribs adorning this jar were carefully applied in slip onto the surface of the vessel before the application of glaze. During firing the glaze pulled away from the ribs to result in a striking contrast of delicate white lines emerging from a glossy black ground. A slightly larger example, from the collection of Mr. and Mrs. Janos Szekeres, was included in the exhibition Hare's Fur, Tortoiseshell and Partridge Feathers, Arthur M. Sackler Museum, Harvard University Art Museums, Cambridge, Mass., 1995, cat. no. 61, where it is noted that these ribs were first used on ceramics during the Tang dynasty in imitation of Tang lacquer and silver, and emerged as a decorative category by the 12th century (p. 176).
A slightly smaller example was included in the exhibition Heaven and Earth Seen Within, New Orleans Museum of Art, New Orleans, 2000, cat. no. 30; another, from the collection of Frederick Mayer, was sold at Christie's London, 24th June 1974, lot 51. See also a slightly larger example in the Idemitsu Museum of Arts, Tokyo, included in the Museum's exhibition Cizhou Ware of China – Its Charm and Taste, Tokyo, 2005, cat. no. 30; and another, from the collection of Capt. Dugald Malcolm and now in the British Museum, London, illustrated in Jan Wirgin, Sung Ceramic Designs, Stockholm, 1970, pl. 53k. Similar shards have been excavated at a number of kiln sites in Shandong, Hebei and Henan provinces, for example see one from the National Museum of History, published in The Ancient Kilns of Henan Province, Taipei, 2002, pl. 255.
Sotheby's. Chinese Art through the Eye of Sakamoto Gor – Ceramics, New York, 17 mars 2015, 10:00 AM