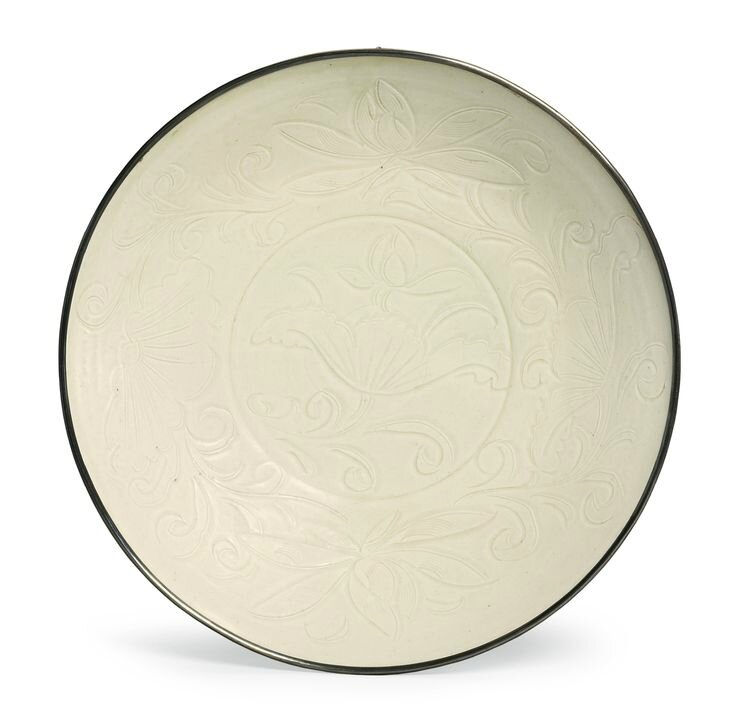 A carved 'Ding' 'Lotus' dish, Northern Song dynasty. Estimate 80,000 — 100,000 USD. Photo Sotheby's.
the interior freely incised with flowering lotus borne on a curling stem issuing a small flower bud within an incised line medallion, the shallow rounded sides with two further blooms, large veined leaves and curling stems, all under a transparent ivory-tinted glaze pooling in the recesses, the glaze underside with characteristic 'tear' marks, the rim bound in metal, Japanese wood box. Diameter 9 3/8 in., 24 cm
Notes: Dishes of this type more commonly feature a single continuous lotus spray dominating the surface. The present example is unusual for the bold symmetrical pattern of two lotuses along the cavetto which beautifully juxtapose the flowing, elegantly drawn blossoms and leaves of the central design. A dish with a similar pattern but with a foliate rim is illustrated in Selection of Ding Ware, the Palace Museum's Collection and Archaeological Excavation, Beijing, 2012, pp. 196-197, no. 81. A dish of similar form in the National Palace Museum with the same motif around the sides but incised with achilong in the center is illustrated in China at the Inception of the Second Millenium, Art and Culture of the Song Dynasty,Taipei, 2000, p. 135, no. II-21. Dishes of similar size and form but carved with a single lotus include one sold in these rooms 23rd March 2011, lot 513 and another in our London rooms 14th May 2014, lot 59. A smaller example with a chilong at the center and lotus on the sides was sold in these rooms 16th September 2014, lot 104.
Sotheby's. Chinese Art through the Eye of Sakamoto Gor – Ceramics, New York, 17 mars 2015, 10:00 AM